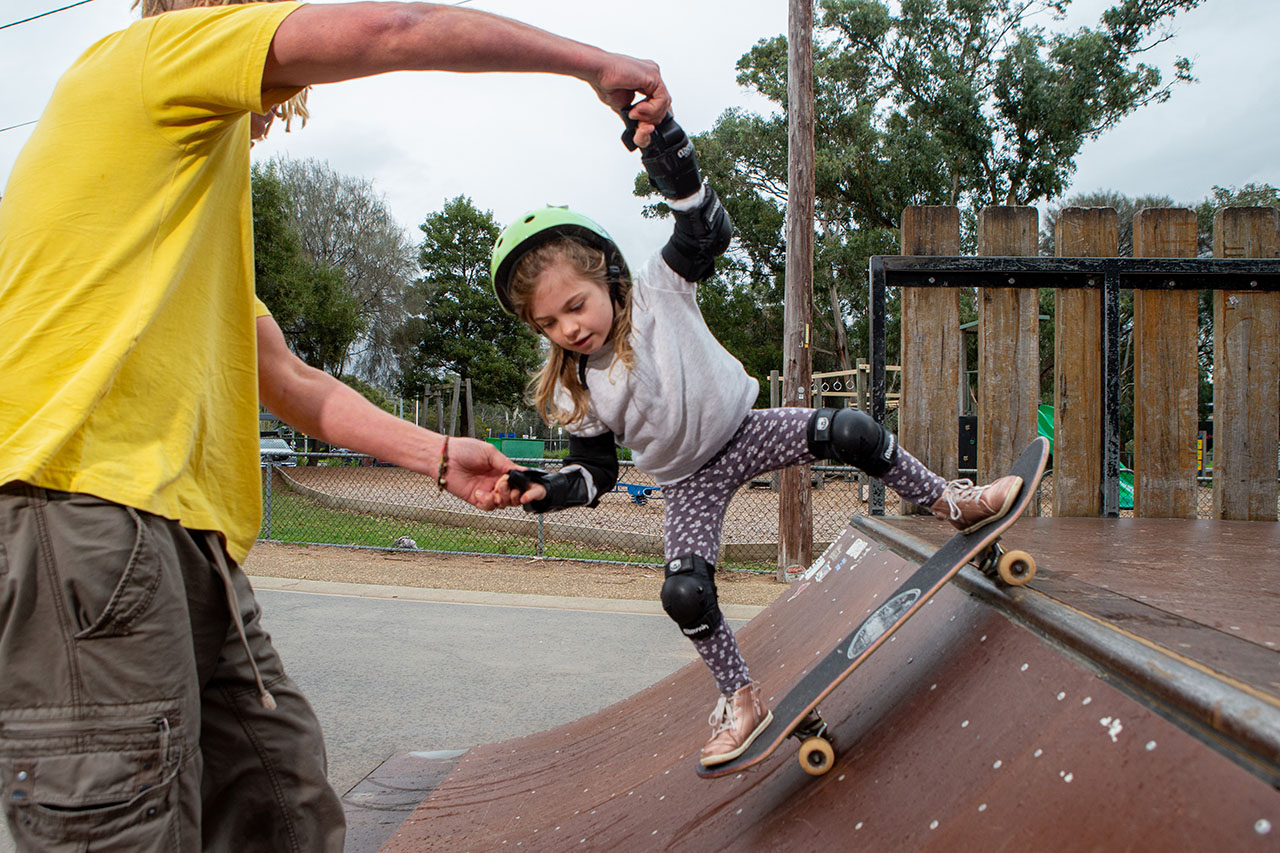 By Joe Novella Photos Gary Sissons
Find yourself near Balnarring Skate Park during any day of the week and it's highly likely you're going to bump into Craig 'Mitch' Mitchell and a bunch of kids (a.k.a Groms) who are hanging on his every move. But Mitch isn't there just to put on a show. No, he's there to teach those kids how to skate; even more than that, to fall in love with the sport of skateboarding.
Mitch developed his love of skateboarding at a young age. "My mum bought me my first skateboard when I was eight-years-old and that skateboard went everywhere with me," he said. But skateboarding wasn't the only board sport Mitch developed a passion for. "When I was a teenager, my dad took me to the snow and I saw a snowboard. That was like a lightning strike for me. I went home and sold everything I had and washed cars and mowed lawns and bought a snowboard. My next challenge was getting to use it.
"Snowboarding is expensive; getting to the snow, lift tickets and so on. My family wasn't super wealthy, so the only way I could snowboard regularly was to get really good at it and get sponsored and companies would pay for me to go snowboarding. Accordingly, I trained every day with trampolines, jogging, gymnastics, martial arts and anything I believed would give me an advantage in competitions. I eventually became good enough that I was sponsored by some of the biggest companies in the industry and was able to travel around the world with their help and support."
Mitch no longer competes in snowboarding competitions and devotes his time to both skateboarding as an event organiser and coach, and his most important job as a father to three kids. All of Mitch's kids share his passion for skating, particularly his 10-year-old daughter, Indy, who is now good enough to be a 'sponsored' skateboarder with her skate gear and clothing being supplied by local peninsula business, Trigger Brothers.
Mitch's move from purely a competitor into skateboard coaching was a natural progression. "After moving to the peninsula from Mansfield," Mitch said, "I started taking my kids to the local skate parks and while I was coaching my own children, I found that I was basically coaching every other kid at the skate park as well, and that's when I decided that coaching was my calling."
Nowadays, Mitch's passion has turned into a fully-fledged skateboarding coaching business named Progression Skate Sessions which caters for all abilities from beginners to advanced skaters. "When I first started my skate coaching business we had five kids in our first session and all were boys. The next week it doubled, so I opened up a Facebook page and then the business gathered momentum really quickly. Before I knew it, I was coaching full time at Balnarring Skate Park, Mt Eliza Skate Park and Hastings Skate Park.
"For the first six months it was just boys, but I noticed a lot of young girls watching the boys and really looking like they wanted to join in, but not feeling like they could approach me. So, I started approaching their parents and before long I had girls in our group skate sessions as well. Other girls would see us at the skate park and they would join in and now I coach more girls than boys! I am even running a mums and girls-only skate session during school hours when the skate parks are quiet."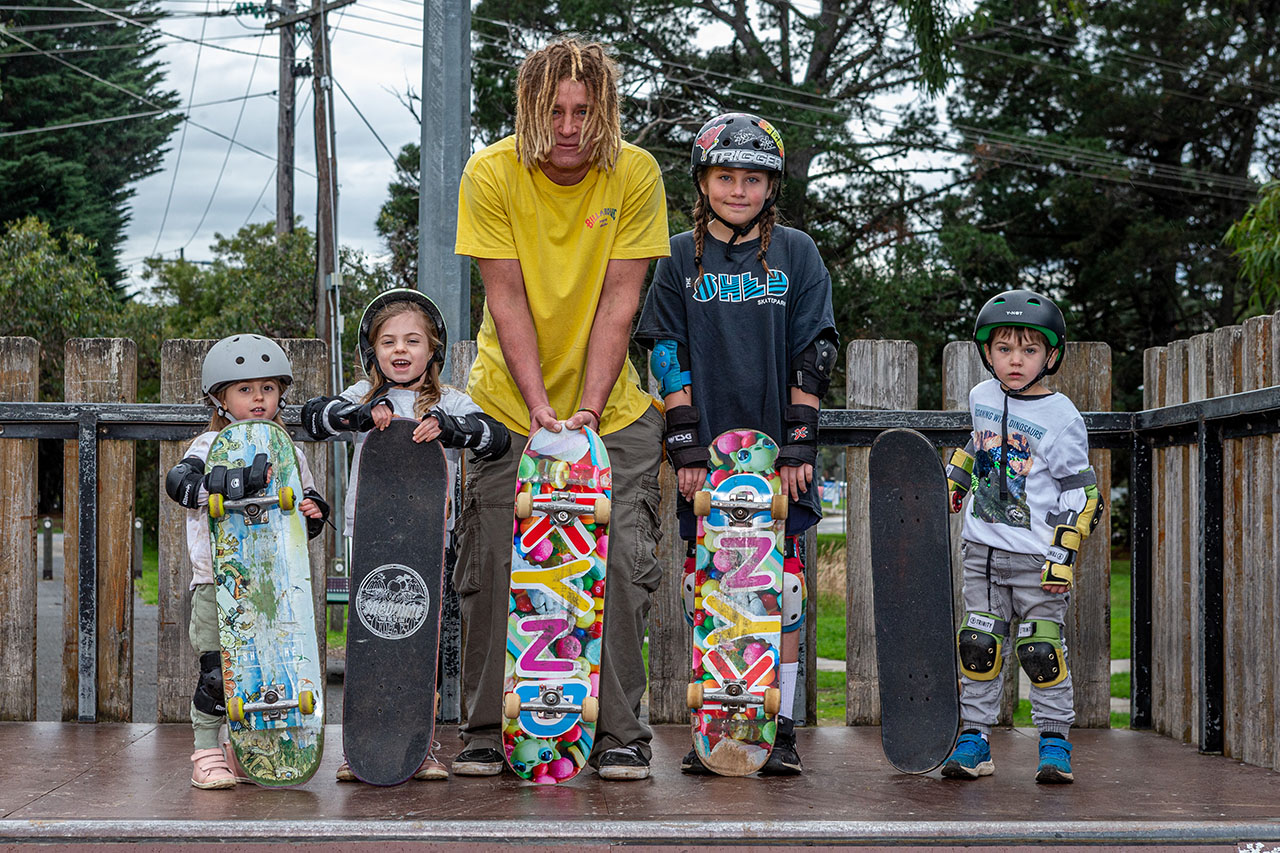 Mitch's business has really taken off with almost 2,000 followers on the Progression Skate Session's Facebook page, and approximately 500 kids that he coaches, sometimes reaching up to 150 children a week. But it's not all about numbers and dollars for Mitch.
"I coach a lot of these kids without charging," he said, "as what I do has never been about money. I consider many of the kids I coach and their families as my friends. Some of the children have now been coached by me for five years and I have watched them grow up."
Mitch also coaches kids with special needs, from those on the Autism Spectrum to one particular boy who has Down's Syndrome. "Despite their perceived limitations," said Mitch. "I have watched these children excel in their physical and emotional capabilities. Skateboarding doesn't discriminate. All these kids need is the right coach or guide to help make skateboarding safe for them and they can progress quickly and learn to navigate a skate park the same way every one else does, but at their own pace."
I have watched these children excel in their physical and emotional capabilities
The reason Mitch's business has taken off so quickly is due to the many benefits of skateboarding – physical, mental and social. As Mitch explains, "Some of the benefits that come from my coaching include fitness, balance and especially balance in motion. Kids also develop persistence as sometimes you may have to repeat a trick or a technique 100 times until you get it right.
"Other benefits include the social aspect of group skate sessions and the skate park community. I have watched so many friendships develop between the children and even between the families of the children. Also, not every kid wants to play a team sport and normally those children can be a little shy; skateboarding is the perfect sport for some of those children not interested in team sports."
Mitch is now focusing his attention on starting a series of competitive skateboarding events on the peninsula to be known as 'The Mornington Peninsula Skate Park Series'. The event will include six comps, one to be held every second month starting in January next year. "The skateboarding community on the peninsula deserves great events," said Mitch. "These events will give our local skating community a reason to keep skating and keep progressing."

---
FB: Progression Skate Sessions
Insta: @progression_skate_sessions