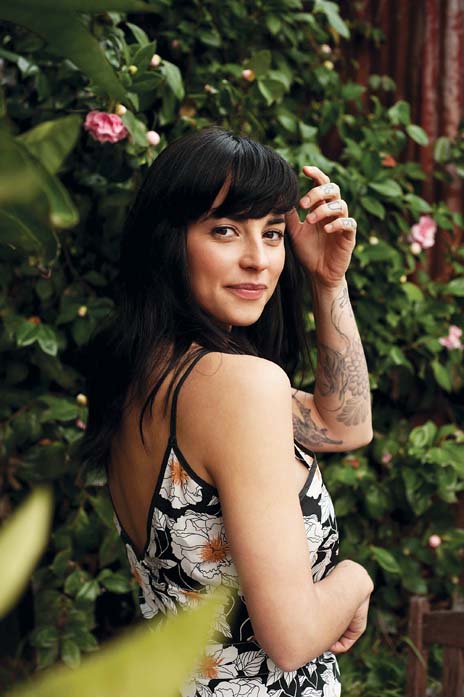 Growing up on a farm in north Queensland, street artist Loretta Lizzio never would have dreamed she would be making a living as an artist and adorning buildings with her wonderful images to create a more wonderful aesthetic experience. But that is exactly what happened last month when the peninsula got a taste of the ethereal artist's talents with her wall art at the Big Picture Fest in Frankston. For three days, Frankston city centre's skyline was transformed, with local and international artists creating works on buildings and walls throughout the bayside city.
A Melbourne based artist, Lizzio channels the uninhabited wilderness in her works. Animals, from the mildest to the barbaric are the vessel Loretta uses to burrow into and reveal her own deeply layered self. Through her obsessive line work, she captures a sensuous desire for freedom, adventure and love using pen, pencil and oils.
"Wall art work began as a crazy series of events," said the artist. "I had my very first art show and one of the art works that this DJ duo wanted had already sold but they asked me to paint it on a wall in their home. That began an amazing collaboration and before I knew it I was painting a second wall art piece for them."
That was six years ago and was the catalyst for a range of wall art projects for people either inside their homes or as exterior paintings.
Growing up in far north Queensland, Lizzio says art was never really considered a career path.
"I always had the art as a hobby. Mum and Dad said I would draw and paint on everything from the time I was little, but didn't think it was possible to actually make a living out of it," said the 31 year old.
After studying to be an art teacher, Lizzio decided to take the chance and work solely as an artist, and it was a risk that has paid off to this day.
"I worked in a café and met other artists, then saved up to hire a space for an exhibition. That's when I met the DJs and it took that chance meeting for my career take off."
Working mainly as a studio artist these days, Lizzio says it's fun to get outdoors and do wall art and she tries to do it at least once a month.
"The Frankston wall piece is a young woman lying in the woods, on her side, and immersed in greenery. I based the image on the shape and style of the wall. You have to take into account any pipes and windows and make sure you stay true to your general style," said the artist whose style is all about nature, being lush and beautiful with lots of greenery. "I think it is my country upbringing that reflects in this style and I have always had a love and yearning for these natural elements."
The inaugural Big Picture Fest was a three-day festival that brought the community together with renowned street artists who have been commissioned to revamp drab walls in high-profile locations across the precinct.