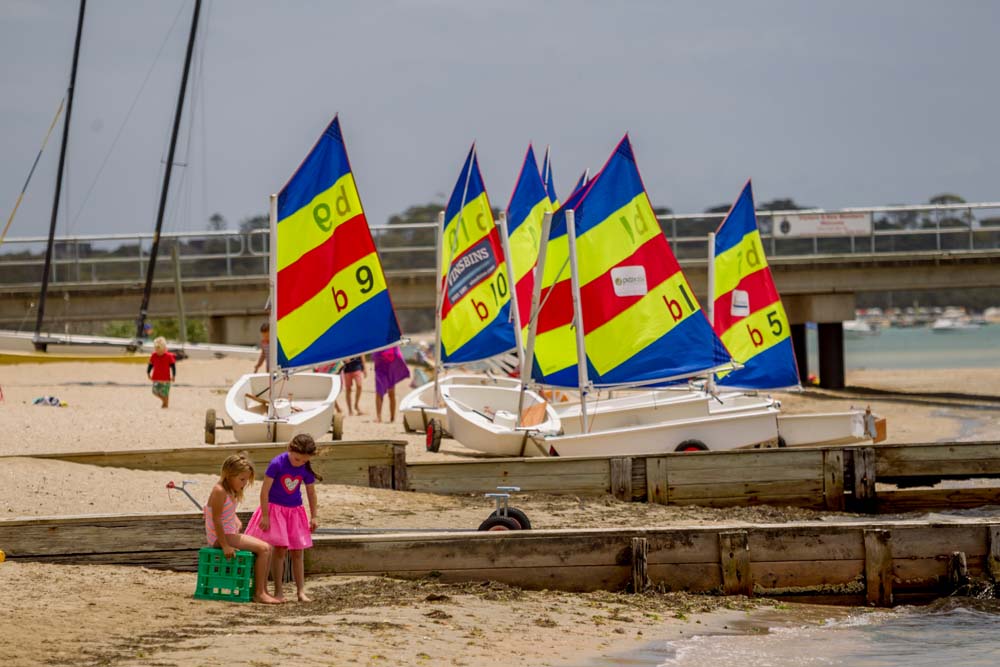 Blairgowrie is located on a thin strip of the Mornington Peninsula, facing Port Phillip Bay in the north and Bass Strait in the south, nestled between the popular beach resorts of Rye and Sorrento. Blairgowrie is 87 km south of Melbourne.
---
Population: 4,627
---
Blairgowrie has an area of 6.3 square kilometres
---
Blairgowrie has a compact commercial centre  situated opposite the Bay beach, featuring a supermarket, speciality shops and cafes.
---
Popular for holiday makers and families, it has calm and safe sandy beaches that front onto Port Phillip. Also fronting Port Phillip is the extensive Blairgowrie Yacht Squadron boat harbour which is a hive of water craft activity.
---
Spectacular walks and scenery can be enjoyed in the Mornington Peninsula National Park which runs along the rugged Bass Strait coastline. There are numerous walking tracks along cliff tops, through sand dunes and down to the beaches below. Koonya Ocean Beach, at the end of Hughes Road, is the most easily accessible, with a lookout at the car park providing views down to the rocky outcrop of Pelly Point and inland across Blairgowrie towards the bay beach. Other places of interest along this scenic coastline include Bridgewater Bay at the end of St Johns Wood Road, Pearses Beach and Dimmicks Beach.
---
Blairgowrie Jumping Rock is a special attraction of the area, and suited for dare-devils. Situated in Bridgwater Bay, the scenery is as beautiful as you'd expected it to be so you can marvel at the breathtaking view before diving from the 10m rock into the pristine waters.
---
Blairgowrie's was originally named Canterbury. Later it was known as Sorrento West. After the Second World War it was renamed Blairgowrie. The name Blairgowrie was taken from an old estate called 'Blairgowrie House' owned by Dr. John Blair who adopted the name from a Scottish Village north of Strathmore .
---
The Honorable Michael O'Grady bought over 140 acres of land around the Blairgowrie district and built his 6 room house "Villa Maria" in l872. He was a prominent figure in public life and in Irish circles in Melbourne In the 1860's and 1870's and his career was very fully described in The Advocate after his death.
---
The late 1940's and 1950's saw a period of extensive sub-division and opening up of all the Blairgowrie area north of the Melbourne Road, and, east of St. Johns Wood Road, through to the Ocean Park.
---
In 1954, the Club Constitution was completed and the name changed to the Blairgowrie Yacht Club. Later that year the name became Blairgowrie Yacht Squadron to avoid conflict of the initials with the Brighton Yacht Club. The next two years saw a period of intense co-operative effort in building the Club House. It was a memorable occasion on the evening of 9th November 1957 when Commodore George Pizzey welcomed Miss Australia to the new Clubhouse.
Coffee Safari
Freshly brewed coffee is a must-have for weekends away and the Mornington Peninsula's coffee haunts are second to none. Here are just a few to check out when you head down to this beautiful part of the world.
Saint Ernest
2827 Point Nepean Road
Known for their friendly service, Saint Ernest offers breakfast, lunch and dinner with a focus on sharing their modern Australian dishes. The beverage list champions local and international wines, while the coffee is a seasonal blend coffee from Axil coffee roastery.
Panda Blairgowrie
2871 Point Nepean Road
From coffee to cocktails, breakfast to dinner, Panda caters for all occasions.Seating is also available in the rear courtyard, and out the front.
Blairgowrie Cafe
2837 Point Nepean Road
Located opposite Blairgowrie Beach, dine indoors or under an umbrella al fresco. Great selection of coffee and meals from breakfast and lunch to afternoon tea.
What to do
Take in a walk along Montforts & Koonya beaches and discover secluded parts of the peninsula coastline and bushland.
Try some rock jumping at Bridgewater Bay or maybe a bit of fishing off the Blairgowrie pier, which is also a popular spot for scuba diving. The Blairgowrie Yacht Club offers both locals and tourists a variety of water activities. Relax and unwind at one of the many restaurants and cafes there.
Photography: Yanni & supplied