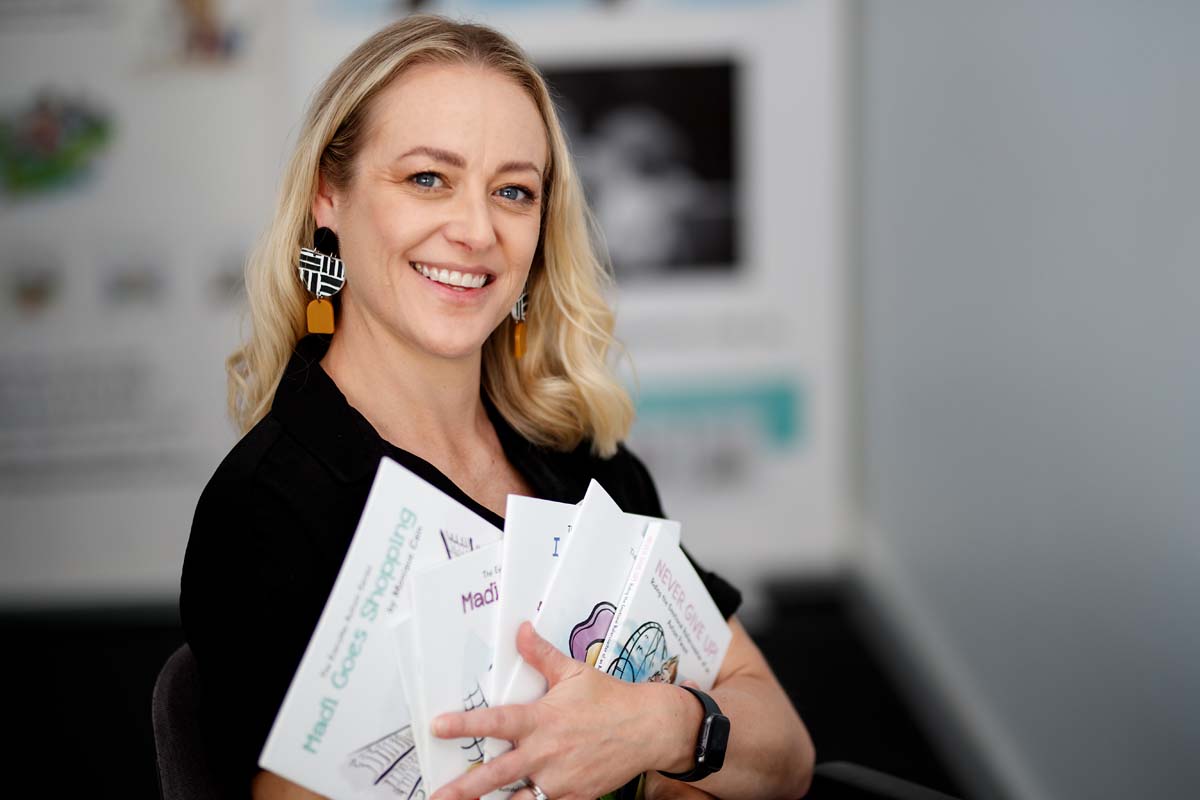 By Erica Louise Photos Yanni
Neurodiversity, the concept that certain developmental disorders are normal brain variations, is now widely accepted. However, raising children on the autism spectrum comes with a unique set of challenges that many parents are unprepared for.
Rosebud author Monique Cain has had first-hand experience of the complexities of raising two autistic children, and has become an avid supporter and spokesperson for spectrum families.
Monique's daughter Madi was diagnosed with autism at the age of three. By this time, the couple had Thomas, their second child.
"We felt that something wasn't quite right with Madi as she had delayed development compared to other children her age. But we were still shocked when we received the diagnosis. We knew nothing about autism."
With a non-verbal toddler and a new baby, this was a difficult time for Monique and her husband. They took it upon themselves to learn as much as they could about autism and, as Thomas grew, the couple also noticed delays in his development. His behaviour presented differently to his sister, but Thomas' language had not advanced by eighteen months, and he appeared to have sensory issues.
"We sought testing for Thomas because, by that time, we knew the importance of early intervention. At the age of two, Thomas was also diagnosed with ASD (Autism Spectrum Disorder)."
Family life revolved around the numerous appointments and therapies associated with children on the spectrum. The challenge of doing absolutely everything in her power to help her children impacted Monique's mental health.
"Our lives were full-on. On top of the appointments, we couldn't go anywhere without Madi running off or someone commenting about behaviour, the way she dressed, or her unusual traits. I wasn't coping and was offered counselling; the best thing I ever did."
Monique's counsellor suggested she take up writing as a way to express her thoughts. When Madi attended kindergarten, Monique saw an opportunity to write a story about her daughter's differences. She self-published her first book and took it into Madi's class.
"Her kinder teacher loved the book, saying how it helped her better understand Madi. She read the book to the grade, which encouraged questions from the other students. The book remained in class so that if other kids wanted to take a look, they could," said Monique.
Writing became Monique's therapy as she felt compelled to become her daughter's voice while offering guidance to other families also dealing with the diagnosis of autism. She then wrote Madi Goes to School, a second story equally well received by her daughter's primary school.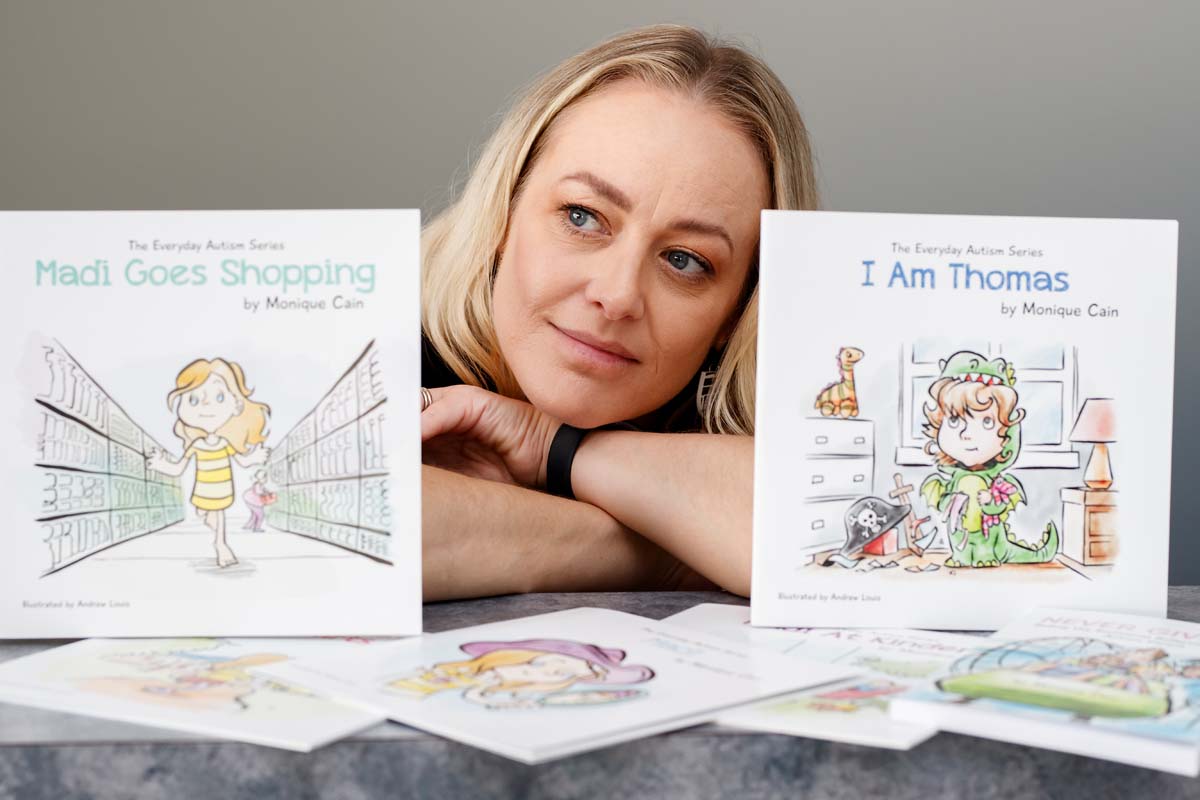 "The principal made every teacher at Madi's primary school read Monique's book so that all staff members would be aware, not just of Madi, but of all students who might act differently."
Madi Goes to School became the second instalment in The Everyday Autism Series, with four Madi books released in 2016. Each story is written in a simple rhyming and informative way, to help children and adults understand autism. A fifth children's story, inspired by Monique's son and titled I Am Thomas, was released shortly after.
"Thomas had similar challenges, but these presented differently because everyone on the spectrum is different. So I thought I had better do a boy version."
Twelve months on, Monique published Never Give Up based on her family's lived experiences with autism.
"I had been writing a blog for some time, so I combined all of my writings and poems and produced a book based on our family's journey. Sharing the good, the bad and the ugly, I discuss what we did, who we saw, and what we learned along the way."
Monique's role as an autism advocate has grown across the Peninsula and in the wider community. As well as supporting differently-abled children through The Everyday Autism Series, Monique educates others to be kinder and more understanding of those with neurodevelopmental conditions.
"Before kids, I had no idea what I wanted to do professionally. After both our kids were diagnosed and our experiences, I knew exactly what I needed to do".
Along with fellow local Kiran, who is also the mother of two autistic children, Monique is in the process of establishing Spectdrum, an online and offline support network for spectrum families. She does this while juggling her day job supporting her family's accounting business and the sales management of her book series.
Through The Everyday Autism Series, Monique received a number of messages from parents after their child's initial autism diagnosis. They weren't sure what to do, who to see, or where to start. This need for information inspired Monique and Kiran to establish a judgement-free platform for people to connect with.
"Spectdrum is about marching to the beat of your own drum and finding other people to march with."
While Spectdrum is in its early web development stage, the website will include resources such as professional assistance available on the Mornington Peninsula, therapy sessions, as well as links to websites and further information.
"There is so much information out there that people don't know where to find the information they need when faced with the initial diagnosis. We hope to change the status quo with Spectdrum."
Plans for 2022 include inviting industry professionals to host interactive sessions and providing chances for local families to meet up and share their stories, successes, and challenges.
---
Follow Monique's journey on theeverydayautismseries.com.au and be one of the first to sign up to Spectdrum at spectdrum.com.au.
Peninsula Essence – February 2022