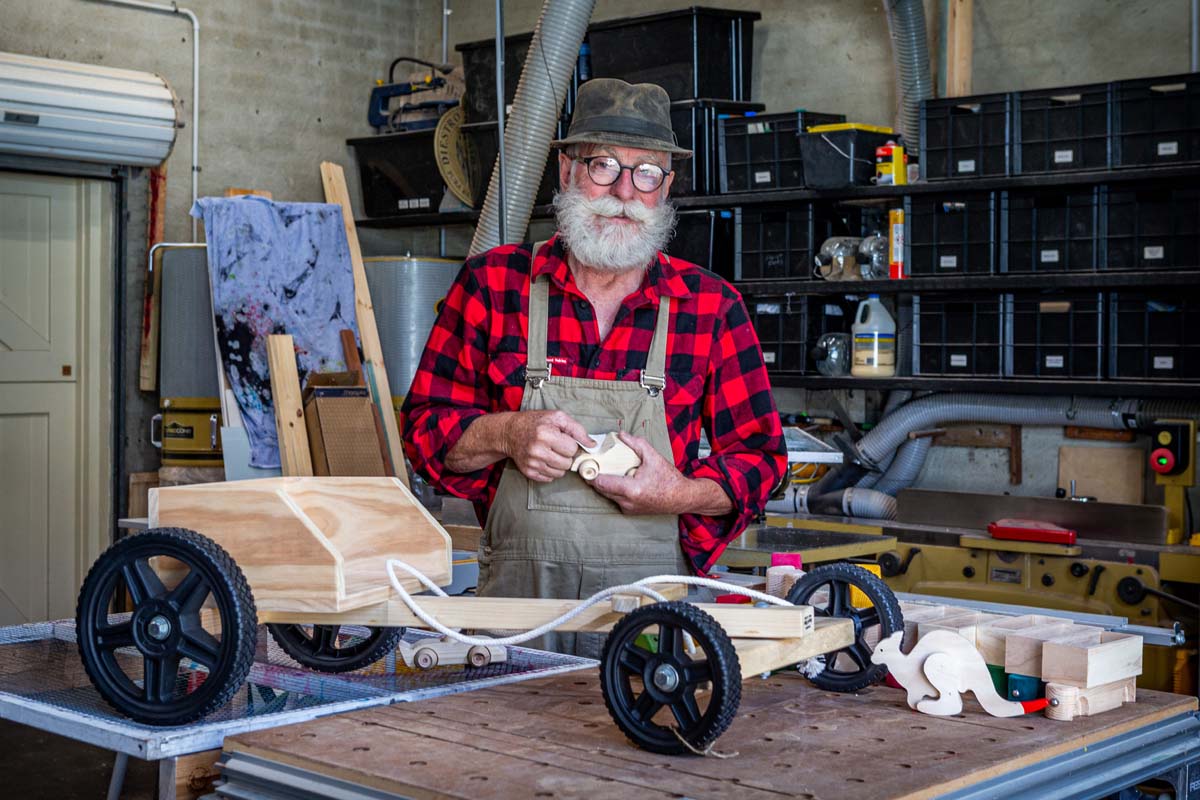 By Joe Novella Photos Gary Sissons
Watching Steve Morrison and his wife Bonita stare out over their beautiful Mt Eliza property, you get a strong sense of the pride they feel for their special patch of the Peninsula. Their hard work has transformed their patch from bushland covered in brush and blackberry thickets, to a place of beautifully manicured gardens, fenced paddocks and wide-open spaces gently sloping down all the way to Balcombe Creek.
The Wooralla Drive property was an idyllic setting to raise the kids and is now a great place to entertain their seven grandkids, with plenty of space for the little ones to run wild. It's also the location for Steve's workshop–the birthplace of Grandpa's Toyworks – a project I'm keen to learn more about.
Steve had just got off the mower before our meeting and after a quick tour of his workshop he escorted me around the homestead, past two dogs that threatened to lick me to death, to a balcony with views of the acreage that makes up his backyard. "It's a stunning place," I said as I took a seat and took in the views. He nodded and replied, "Yes, it is, and a lot of hard work." A fact echoed by his wife Bonita, who joined us with refreshments, but I got the feeling both of them don't mind rolling up their sleeves. In the background, I heard the sound of horses.
"Horses have for years been a part of our lives," Steve said as he pointed out towards agistment paddocks. "My kids learned to ride here and as part of local pony clubs. We have always been part of the Peninsula's equestrian community and I had a keen interest in breeding Andalusians, a Spanish breed. We no longer breed horses, but we continue to have them on the property as part of agistment services we provide."
Horses are not the only passion Steve has; he is also an avid woodworker. Steve's passion for working with sustainably sourced timber has given birth to his latest venture – Grandpa's Toyworks – and the reason for my visit. The workshop's motto reads, 'No batteries, no screens, just good old-fashioned fun' and it sure lives up to its motto producing handmade wooden toys based on designs that were popular decades ago when high-tech meant having brakes on your billy cart.
"We offer a growing range of toys," Steve said, "Billy carts, stilts, toddler trolleys, little wooden cars and trucks, wind wands, wind sabres, hopping kangaroos, Jacob's ladders, ball and cup games and many more. All of our raw materials for making these toys have been salvaged from worksites around the Peninsula or from local timber suppliers and are always FSC (Forest Stewardship Council) approved. Everything I offer for sale has been made here in my workshop using small power tools and by hand. I only make small batches and I'm constantly evolving my products and techniques."
For a long time, Steve's passion for woodworking played second fiddle to his professional career in printing and design. "At school, I always thought I'd end up in a trade, but I discovered design and ended up doing a Diploma of Art and Design, majoring in Industrial Design. My qualification took me into packaging design initially, but soon on to graphic design and a long career in the printing, design and advertising industry.
"I bought a small design agency and enjoyed the cut and thrust of business life; the most rewarding part being growing the company and helping my employees develop into the best version of themselves. But the day came when I looked around the room and realised I was the oldest person there. I was also commuting from Mt Eliza to offices close to the city and later Moorabbin, and that was becoming too much. Time to sell up and retire, I thought."
Like a lot of retirees, Steve found the transition to retirement tough. "I just couldn't handle the boredom and lack of regimen to be honest." Not one to sit around, he looked for hobbies to keep him occupied, including reigniting his passion for woodworking.
"I loved the idea and feel of working with wood from day one when I discovered it as part of my education at Niddrie Tech, and it has never left me. So, when I retired at age 58, I decided to start up 'Steve the Handyman' doing small jobs for clientele, mainly from the local community. I did it for 12 years till I decided I really should retire, or at least slow down.
"And that's when I decided to revive an idea I had parked for many years: to make old-fashioned, handmade toys. Toys made the way they used to be, strong and solid. Toys like the ones I had as a child, like the ones I made for my kids. I still had all the tools, and I had a great workshop at home, and I had time, so why not?"
Georgia, Steve's third eldest daughter and a talented graphic designer and his wife Bonita, a qualified bookkeeper, were instrumental in helping Steve's toyshop vision come to life; Georgia building the website plus social media promotion and Bonita looking after the books.
Steve's seven grandkids helped with testing the new toys, quality control and new product ideas, so all bases were covered. Once the business was up and running, Steve's greatest challenge quickly became keeping up with demand for his toys.
"So, any signs of retirement on the horizon?" I asked. "I don't think so," Steve laughed. "I'm in my seventies now, but I love what I do. It keeps me young and my mind focused, so I almost feel at one with the piece of wood I'm shaping. Most of all, I love the look on the faces of kids young and old, when they feel and play with my creations."
---