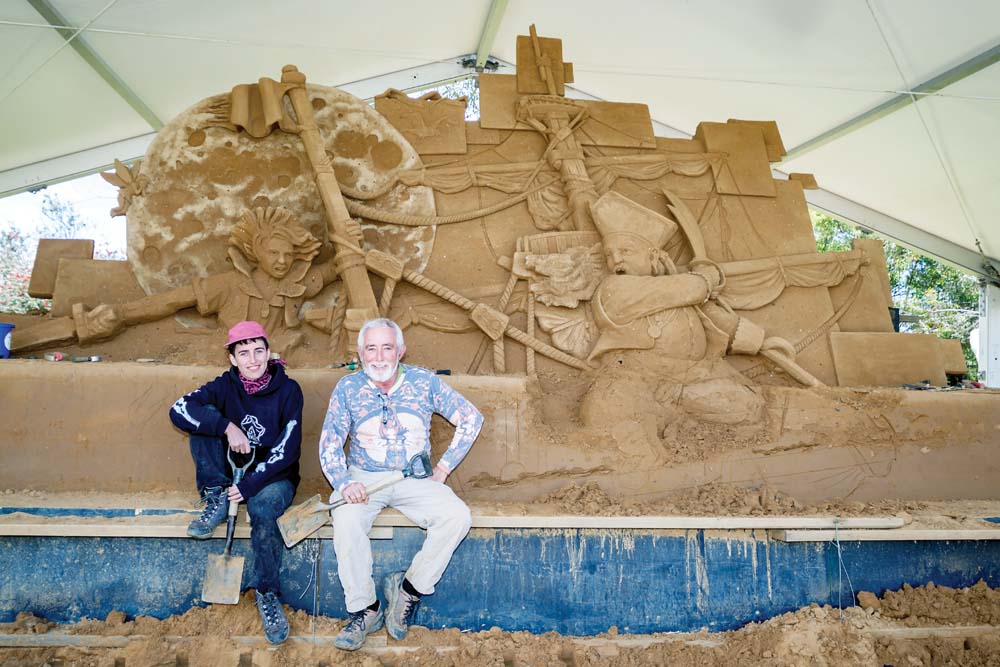 RYE father and daughter Jim and Anna McCauley are carving some special memories as they work alongside each other on the southern peninsula's newest attraction – Sand Sculpting Australia presents Peter Pan.
They have joined 13 other award-winning international and Australian sand sculptors as they intricately carve 3500 tonnes of sand into Peter Pan themed artworks along the wetlands and garden pathways of Boneo Maze.
Jim has been involved with the sand sculpting movement on the peninsula from the beginning. In 2000 he approached the Rye Action Group with the idea of a sand sculpture exhibition and competition on the Rye Foreshore.
Jim was involved with enticing the world champion, American Kevin Crawford, to Rye and establishing an event that has offered a long-standing connection for many families. The event attracted the support of Vic Health, Mornington Peninsula Tourism, and Vision Australia, who ran it for many years.
Jim was so inspired by the sand sculptors he met that he decided to learn the craft himself. "I feel as if I'm the longest apprenticed sand sculptor ever," he said. "Each time I return I learn new skills from other experts. Before that I'd only ever built sand castles on the beach. I started off helping with the basics, like windows and doors, and then I became more and more confident. Before I knew it, I was designing and working on my own sand installations."
Talented daughter Anna, 26, was urged to enter the event's summer sand castle competitions before continuing on to explore arts at Rosebud Secondary College and study at Frankston TAFE. Since graduating Anna has travelled Australia designing and sculpting her own installations in sand and other mediums.
Sand Sculpting Australia's return to the southern peninsula is like a homecoming for Jim and Anna, who lives in Alice Springs where she works in an art gallery while creating her own red-earth sand sculptures.
The two have been working alongside each other sculpting the pirates' lair of Skull Island and adding touches to Peter Pan and Captain Hook. These four-metre-high sculptures will take up to two weeks to complete.
"When that last grain of sand falls into place, it's a sense of relief that the piece is done. You can just step back and enjoy it," Jim said.
Reflecting on what makes sand sculptures so special, Anna said: "Sand is very tactile, it's such a lovely material to work with and the results speak to so many. While other art forms can be exclusive, everyone has some form of connection with sand sculptures.
"An eight-year-old and an eighty-year-old can both be just as curious and equally delighted when they see the sand sculptures" adds Jim.
Sand Sculpting Australia at Boneo Maze opened on 15 December and will run though until 28 January.
Friday night Big Kids Can Play wine and dine packages also available.