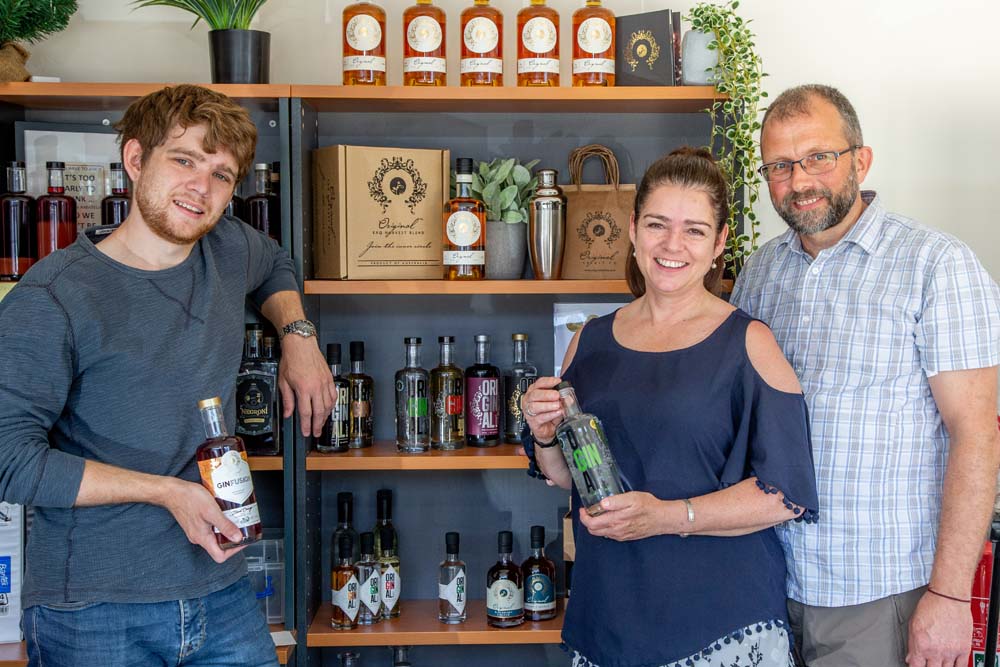 By Melissa Walsh Photos Gary Sissons
When the Richartz family set their mind to something, they never do things by half which is why the team of Barbara, Christoph, Felix and Darcy have created award-winning gins in their first year of operation.
Crafting things has been a family tradition for generations, with mum Barbara recalling her Dad growing up in a wine region in Germany where he made cider and brandies and where they regularly went to visit.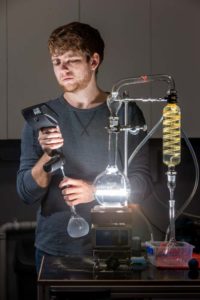 "My Dad grew up in a wine region called Mosel where we had orchards and the family always made cider or fruit brandies. It's a tradition I grew up with. My mum used to make her own herbal schnapps which is very common in Germany, a drink which is a little bit medicinal. It was something you drank after dinner to help digest your food," said Barbara.
It was a natural progression for Barbara and Christoph to dabble in making their own digestive but soon the hobby turned into something that was in demand.
"It was always a hobby for us and we started with a very small back factory in Carrum Downs which we outgrew so quickly when people started wanting to drink it," Barbara said with a laugh. We made the digestive first with the help of a well-known distiller from Germany who has a PhD in all-things-distilling. He came out to Australia and helped us to set up our small still and refine the recipe for the digestive."
Always being a fan of gin, Barbara and Christoph decided it was time to delve into gin production as they couldn't rely wholly on sales from the digestive.
"We started making gin, then limoncello and tawny which is like a port, and we made each recipe to our own taste which has proven to be very popular," said Barbara. "Our limoncello for example is more lemony tart, with less sugar which lots of people like."
As their range started to grow and they started selling at markets, people loved the story behind the range.
"I love being able to explain the history and how the drink was made, what ingredients we use and give people a chance to meet the maker," said Barbara. "There are great food markets and festivals around the area that give us the opportunity to talk face to face with people."
The Original Spirit Co moved into their new premises in Somerville around 18 months ago and have almost outgrown the entire space.
"Everything is made small batch and with lots of love. I believe that is the reason why our gins taste so great and why we have won so many awards," said Barbara, whose gins have taken out three prestigious awards in the international spirit world.
The Original Spirit Co Classic Dry Gin was awarded Double Gold, Best in Show Gin and Best in Show Un-aged White Spirit at the 2017 World Wine and Spirits Competition held in New York. Later that year, the same gin won Gold in Hong Kong. And just last month, Original's Classic Dry gin was not only awarded Gold for the second year in a row in Hong Kong but also the Trophy for the best London Dry gin in the competition.
"It is amazing to think our gin has already won these awards from the best competitions all around the world," said Barbara. "The 2017 competition in New York was the first time entering our classic dry and we thought that we would just give it a go and see what happens."
The Original Spirit Co uses traditional botanicals such as juniper berries and coriander seed and compliments those with Australian-grown native ingredients to produce their aromatic and well-rounded dry gin.
"It is going ahead so well we feel after such a short time that we are now outgrowing the factory in Somerville," said Barbara however she is determined to stay small and personal.
"Most importantly we still a have a really small handcrafted copper pot still that holds just 135 litres which is tiny so everything we do is micro-distilled and produces the best quality."
Choosing the peninsula for their first distillery was a no brainer according to the family.
"We love it down here and it is the food and craft brewing capital of Victoria. People on the peninsula really appreciate finely handcrafted products and our gin is very much in that category," said Barbara. "We make everything ourselves, from the gin, to the bottling, heat sealing and applying the labels and even deliveries. So when we say handcrafted, we really mean handcrafted."
While Christoph, Felix and Darcy are all about production, Barbara is hands on in the office taking care of the administration and making sure the world knows about their wonderful craft distillery.
"We want to provide high quality, small batch spirits to our local community and to those who like interesting drops. We continuously develop and distil new spirits to share with our friends and customers. Although we do not have a cellar door at the present time, we are at a number of markets around Victoria and you can purchase online," said Barbara.
"Our philosophy is quite simple; source the best ingredients and help them reach their natural potential. All of our spirits are handmade and produced in micro-quantities to ensure the best possible quality and taste. Our ingredients are sourced manly from Australian suppliers. Many are grown organically; some are even foraged from the wild. We consider distilling to be a seductive balance between science and art. We use traditional techniques and methods to achieve the best result.".
---