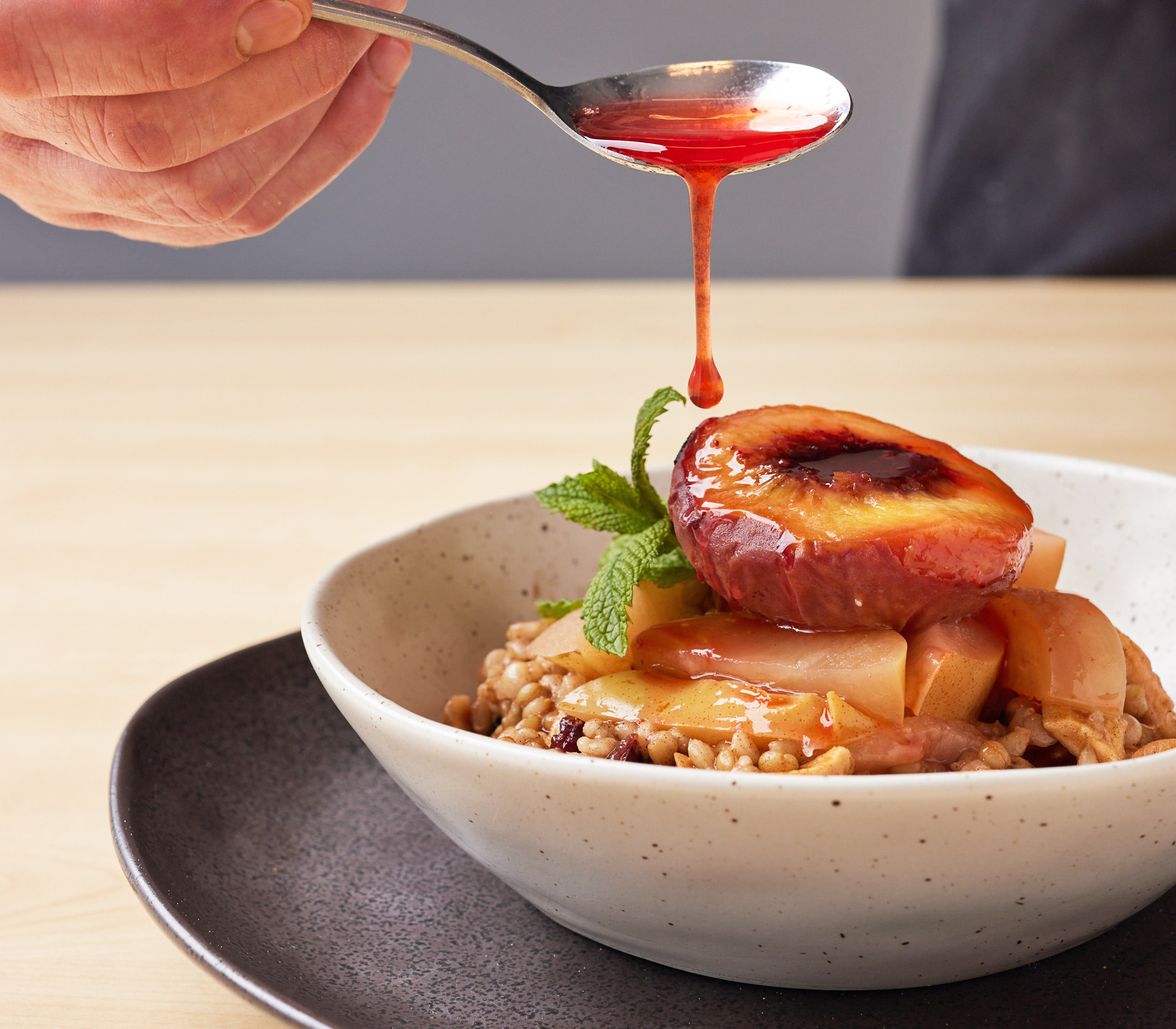 Ingredients
1 Pear
1 Apple
1 can ETCH Sparkling – Bush Apple & Kakadu Plum 
1 Peach
1 tsp Raw Sugar 
1 tsp Vegetable Oil
60 g Freekah
60 g Pearl Barley
60 g Pearl Cous Cous
4 tbs Caster Sugar
8 Strawberries
1/2 tsp Chai Spice
250 ml Coconut Milk
80 g Assorted Dried Fruits
Prepare the poached fruits
Slice the cheeks off the pear and apple. Cut into chunky slices.
Bring 3/4 can of ETCH to the boil, then reduce heat until only simmering.
Add the fruit and poach for 6 minutes, or until soft.
Prepare the caramelised peach
Destone peach and cut in half. Align on a lined baking tray.
Sprinkle with raw sugar and a drizzle of oil, roasting in the oven for 15-20min at 180°.
Prepare the grains
Boil each type of grain separately, as they will each take different amounts of time to cook.
*Refer to the packaging of each grain for preparation instructions.
Prepare the strawberry compote
Slice 4 strawberries for garnish.
Take 4 remaining strawberries and place in saucepan with the caster sugar and remaining ETCH sparkling.
Slowly bring to the boil and then blitz.
Assemble
Place the grains, coconut milk, chai spice and dried fruits in pan, bring slowly to the boil.
Portion into serving bowls.
Microwave poached fruit and caramelised peach for 1 minute.
Layer with sliced strawberries, then poached fruits, then caramelised pear.
Pour strawberry compote over top to finish.
Serve immediately while still warm.
Enjoy.
---
By Elements Eatery. Photo ©willowcreative.