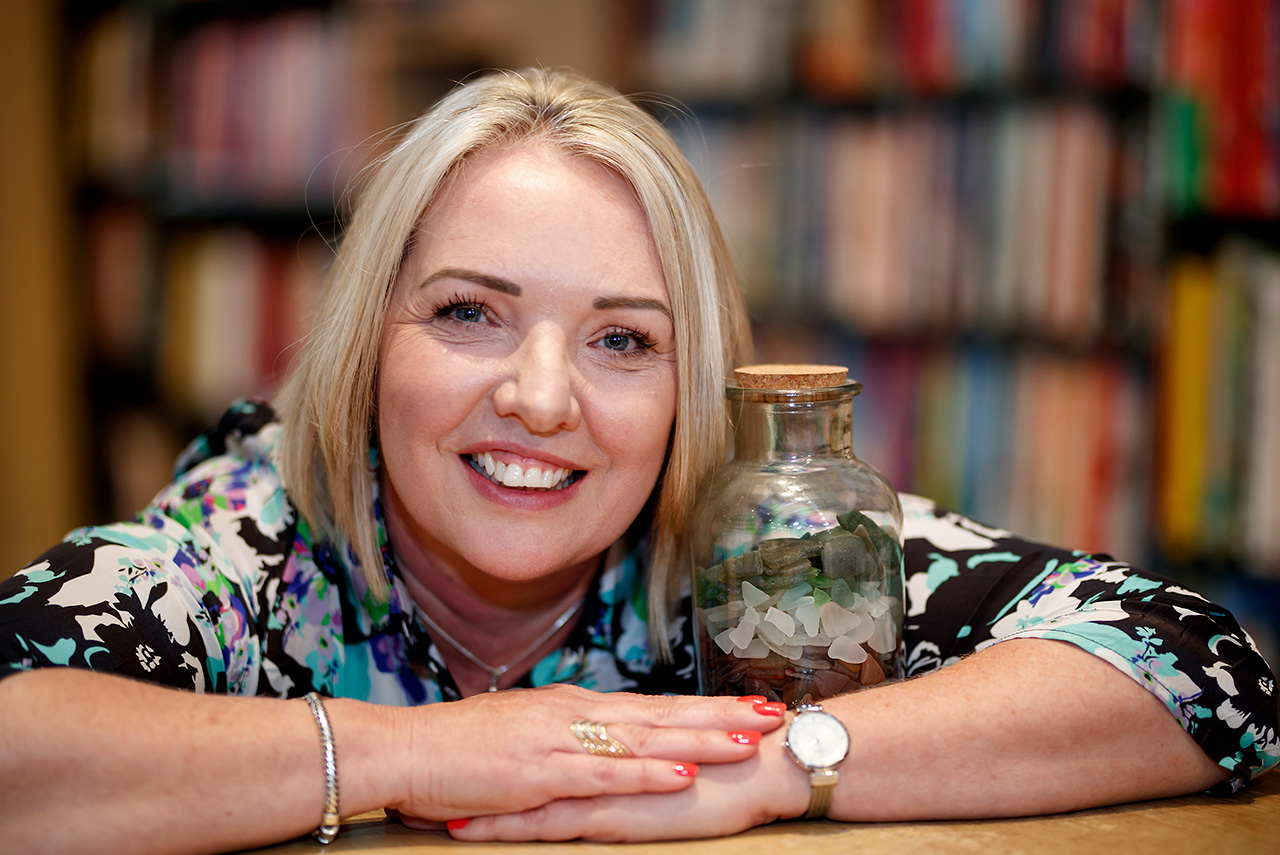 By Muriel Cooper Photos Yanni
Peninsula children's author Rebecca Fraser has always been an enthusiastic beachcomber. During lockdowns she was lucky to have the beach in her allowed 5-kilometre radius. Rebecca says, "Beachcombing, a pastime I'd always enjoyed for its meandering freedom, became my physical and emotional salvation."
As she collected sea glass, the idea began forming for a middle-grade children's novel. (Middle-grade children's books are written for ages seven to eleven.)
"I could hear the characters talking to me as I walked along the beach," she said.
Rebecca knew she was a writer from a very young age. "I was born fascinated with words. I was a voracious reader from a very young age and started writing fiction early; probably when I was about seven or eight. I tinkered with stories, composed endless poetry, and whenever it was a family member's birthday, indubitably, a poem from me would accompany their gift."
In the mid-2000s, when her life was more settled, Rebecca began taking her writing more seriously. "I honed my craft, researching markets, networking with other writers, learning industry standards, expectations, and pitfalls, and submitting, submitting, submitting." In 2015 Rebecca completed a Master of Arts in Creative Writing.
"While I certainly don't believe you need formal qualifications to be a writer, the degree was a personal goal of mine, and professionally I felt the qualification would add credence to my creative writing workshops, StoryCraft."
For those wanting to pursue writing as a career – apart from formal qualifications – Rebecca advises joining organisations like Writers Victoria and local writing groups like Peninsula Writers' Club.
The most challenging thing about writing for Rebecca is work/life balance.
"As often as I can, I schedule a block of consecutive days to escape to a writing retreat, usually with a group of writing friends, and never too far from home. I find removing myself completely from my home environment and focusing purely on the writing really maximises my momentum and productivity." Rebecca wrote much of her current work in progress at a writing retreat at Police Point Cottages sponsored by the Mornington Peninsula Shire.
Asked what she finds most enjoyable about writing, Rebecca says, "It's always a joy to receive feedback from a reader who has really connected with a story and has taken the time to tell you. It's also incredibly fulfilling to watch people you've mentored grow and thrive and tread their own path to publication."
I love to tackle stories that explore the human condition
Rebecca writes for all ages and in all genres, including speculative fiction, sci-fi and horror, but in all of them, she says, "I love to tackle stories that explore the human condition. They allow readers to explore their place in the world and ask, what if?"
Rebecca gravitated towards middle-grade writing when her son (now 14) was born. She wanted him to read the kind of stories she loved reading as a child and wrote 'Curtis Creed And The Lore of The Ocean' as part of her Masters'.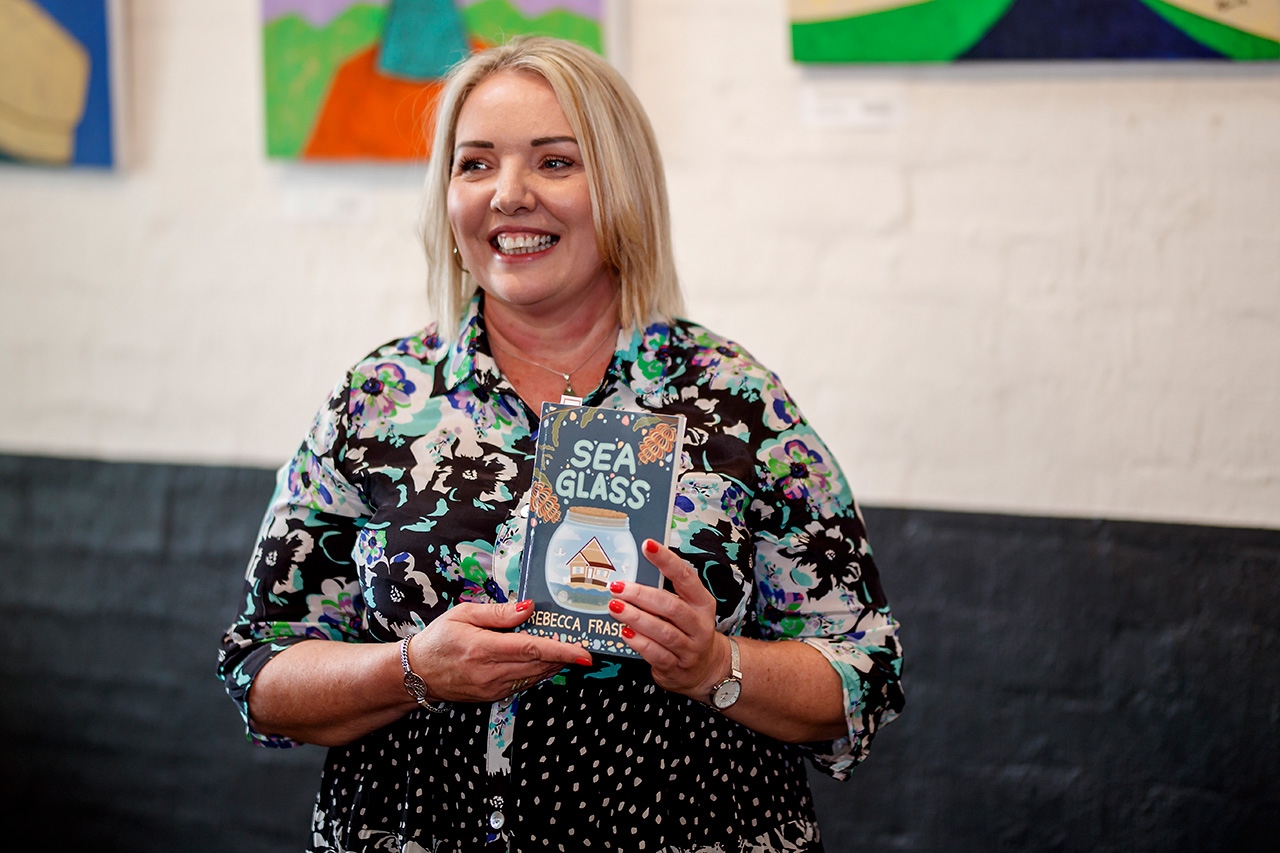 "I also believe that, when writing for children, we do have a responsibility to create books that allow kids to see themselves represented no matter their family structure, their ability, ethnicity, spirituality, gender, or sexuality. In my opinion, there's never been a better time for healthy and inclusive approaches to literature."
In 'Sea Glass', young Cailin discovers a treasure not only in the sea glass but also in a cherished relationship with her grandfather, and Rebecca explores the connections between children and their grandparents in the book. Not having grandparents close by when she was growing up made Rebecca appreciate the visits she had with them even more.
Sea glass not only inspired Rebecca's book but is collected worldwide and used to make beautiful jewellery. There's a mystique around where the glass originated. It's formed from at least twenty years of being tumbled and worn by ocean waves and sand and can be over a hundred years old. The salinity of the water causes the frosted appearance and can't be reproduced by mechanical tumbling. Rare colours are orange, red or black. Red and other brightly coloured glass can come from car lights, old lampshades, and stained glass windows.
Rebecca is lucky enough to have found a piece of black sea glass formed from the earliest bottles to land in the bays – probably from rum-running pirates! Another of Rebecca's favourite pieces is a beach glass lavender-coloured stopper, probably from a perfume bottle, that she found by a river in Tasmania; not sea glass but beach glass. Rebecca says the kind of sea glass you're likely to find varies on where in the world you are looking for it and depends on currents, channels and the type of shipping that has passed through over the years. Pieces of pottery called sea shards are also prized. Rubbish tips are good places to look, too, as rubbish removed from beaches often contains sea glass.
When asked to choose between workshops, editing and writing, Rebecca says, "While it's rewarding to share my skills and knowledge with aspiring authors of every age and ability, and fulfilling to polish the words of others through the editing process, and while I love the varied and interesting work of copywriting, I just wouldn't feel myself if I wasn't telling my own stories. I'd definitely have to pick the author's hat above all the others I wear!"
'Sea Glass' was launched recently at Antipodes in Sorrento and is available from Peninsula bookstores and online. For more information about Rebecca's books and workshops, visit her website.
---