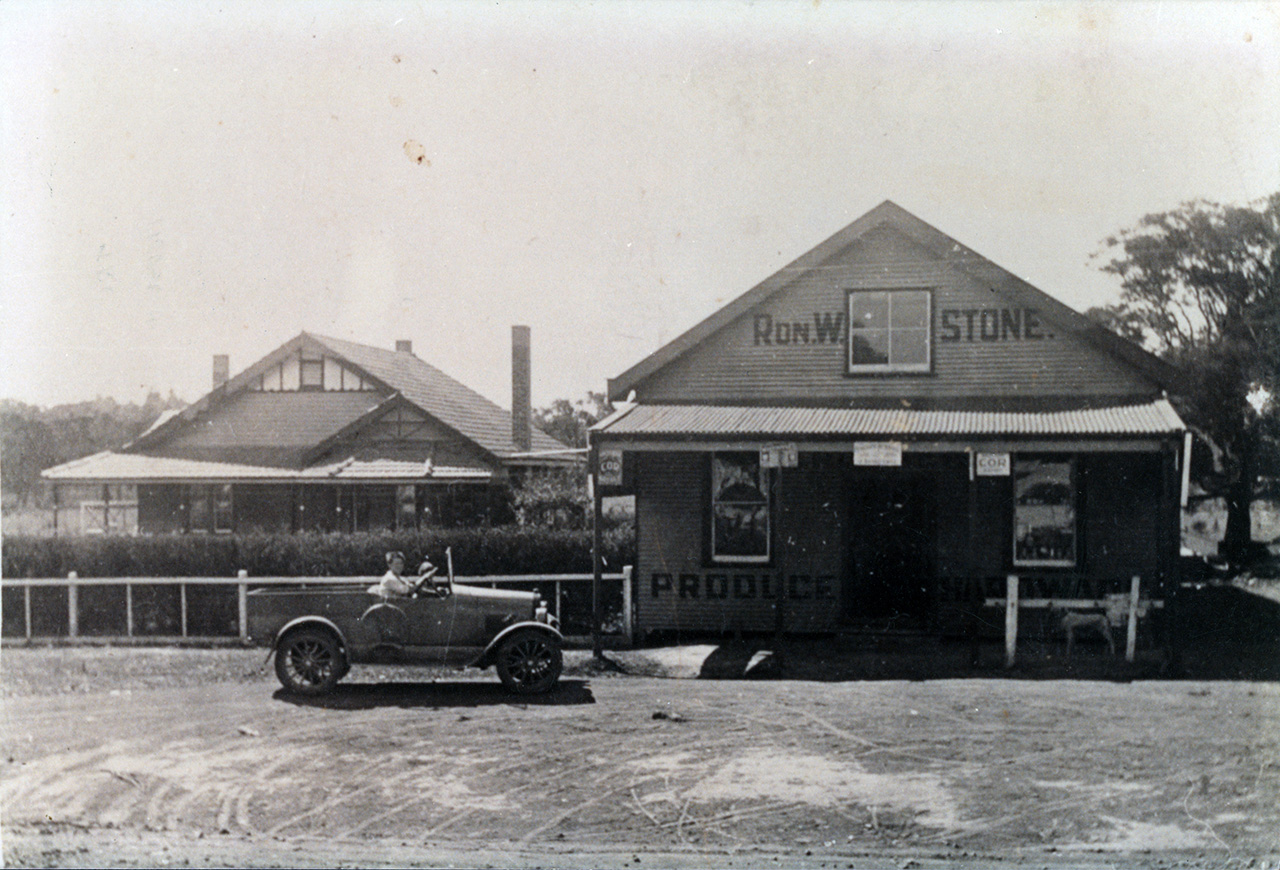 By Ilma Hackett
A problem? "Go and see Ron Stone. He will know what to do!" This was the advice given to residents of Somers during the middle decades of the 20th century and nine times out of ten Ron had the answer. Ron Stone kept the general store. He also ran the post office and was the local real estate agent. He had helped set up the progress association, tennis club, foreshore committee, school, kindergarten and the caravan park. He was a member of the fire brigade, and also a Justice of the Peace. There was little that went on within the Somers community that Ron did not know about. Was it any wonder he was known unofficially as "The Mayor of Somers"?
From Brighton to Balnarring
Ronald William Stone was born in Brighton in 1897, the fourth of nine children born to Ernest and Annie Stone. Their eldest son died in infancy. Ern had a shoe shop in the city but in 1908 he exchanged the boot and shoe trade for that of a general store keeper when he bought the 'Junction Store' in rural Balnarring on the Mornington Peninsula. The couple's last child, Vernon was born in Balnarring. The store, on 140 acres of land, had a house attached to it and the family settled into their new home. Ron was then ten years old and the ride to Balnarring by horse and cart remained etched in his memory. He transferred to the Balnarring State School along with his older sister, Muriel and younger brother, Russell. Russell's twin died the year the family came to Balnarring. When Ron was fifteen he went to Rupanyup in the Wimmera to live with an uncle and learn the grocery business. The outbreak of the first World War took away his older brother, Ernest, who enlisted and left for Europe. 1914 also brought the death of Russell at the age of fifteen. Ron returned from the country to help his parents in the Balnarring Store. Two of his younger brothers, Bill and Cliff were still at school and Vern was a four-year-old.
The war and his homecoming
Several months after his eighteenth birthday in 1916, Ron joined the infantry. His battalion, the 39th, was sent to France. There, near Armentières, Ron was wounded whilst on guard duty. He was shot when the gun of one of his companions accidentally discharged. Ron was admitted to hospital. On recovery, he re-joined his unit only to again be hospitalised after collapsing in the trench suffering from "strain of general service". He was repatriated to Australia. 'The Age' reported he had been invalided suffering from shell shock.
After he returned to Balnarring the local community gave Ron a "Welcome Home" on 3 August 31917. It took the form of a social evening with entertainments that included Mr Stacey singing "Pack up your troubles in your old kit bag" and Mr Buckley Senior, with persuasion, dancing an Irish jig at the conclusion of his item. Ron was presented with a framed Letter of Address and an inscribed gold medallion as a token of the community's gratitude. His parents helped him readjust to civilian life and he opened a hardware and grain store on land a few doors up from the general store. The new store stocked all manner of goods – poultry food, seeds, gardening tools, kitchen utensils, ammunition, farming requisites, chaff, wheat, oats, and maize. A prominent advertisement in the local paper announced its opening, stating the owner was a returned serviceman and a prominent footballer.
Ron was an athletic young man, five foot ten in height and a good all-rounder at sport. He loved the outdoors; swam, fished, went boating, shooting and rabbiting, and played a number of team games, notably football, cricket and tennis. As captain of the Balnarring football team his "fast and pacy" play saw him consistently named best on the ground. Ron trained briefly with Essendon but the distance to Windy Hill was too far for him to keep attending regular practice as he wanted to stay on the Peninsula.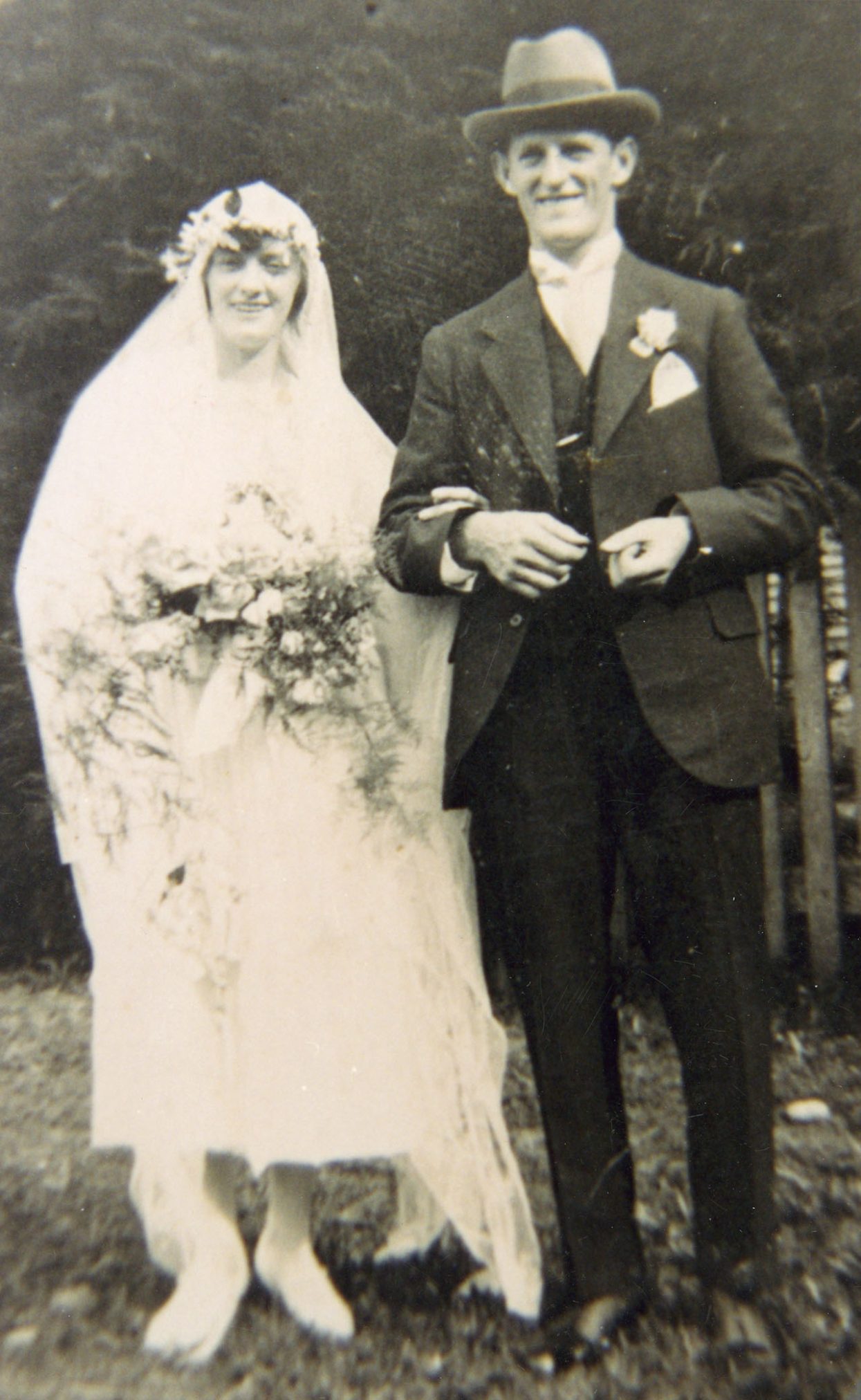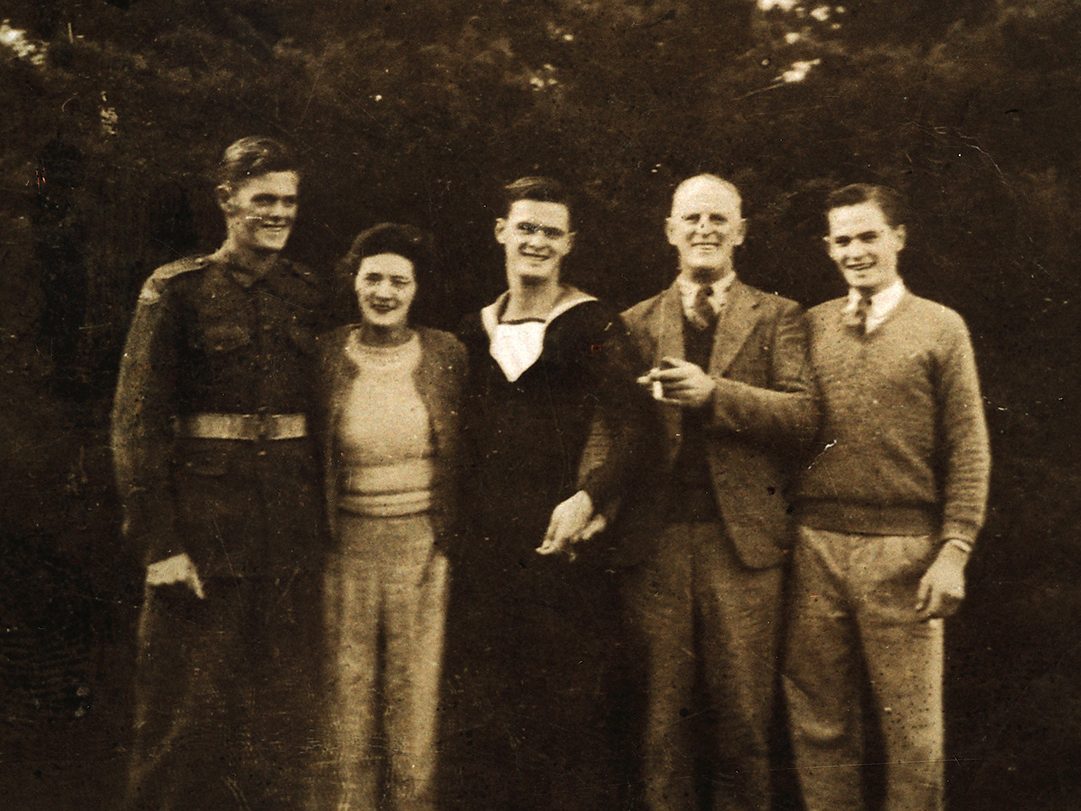 A New Start
In 1921 Ron and Gertrude Berryman were married in the small Methodist church in Merricks. Gertie was one of the daughters of Louis and Annie Berryman, then owners of 'Warrawee'. The Berrymans came to Balnarring just a few years before the Stone family and he and Gertie had been at school together. Ron built the house 'Truronda' on land beside his store and here they welcomed the first of their children, daughter Dorothy, in 1922. She was followed by three sons, Ray in 1924, Bob, 1925 and Frank in 1926.
Around this time the railway line was being extended from Bittern, through Balnarring to Red Hill, and Ron and his brother-in-law secured the contract to supply food for both the railway workers and their horses.
In the middle years of the 1920's subdivision was taking place along Balnarring's coastal fringe. Tulum was already a popular beach where Ron's parents had opened a beach store and where, tragically, Ron's younger brother, Cliff, died in a shooting accident in 1925. That year Ron became the agent for Knight and Harwood. He took people interested in buying a seaside block to inspect the subdivision, Palm Beach, in what was called East Balnarring. It was a beautiful area of clifftop allotments overlooking the bay, with wide beaches and a creek at the base of the cliffs. East Balnarring was hemmed in by large farms and the naval base on nearby Hann's Inlet. It was away from major roads and so promised a peaceful place for a holiday or permanent retreat. Blocks sold well. Ron loved the area so much that in 1926 he purchased land on the corner of Camp Hill Road and the Boulevard where he built a store/ café /real estate office and a house with views across Western Port Bay. Photographs he took were turned into postcards promoting the area and he sent several of these to David Mairs, previous owner of the sub-divided farmland, writing: "Á beach that . . . promis[es] to be one of the most popular seaside resorts around Western Port. I have bought a block opposite this spot and intend putting up a commodious café à la beachie".
His family moved to Balnarring East in 1927. At first Ron left someone in charge of the hardware store in Balnarring but it didn't do well and it was sold. His new general store stocked basic items plus sweets, drinks and ice creams. On November 1, 1927 Ron opened a post office.
East Balnarring at the time had no power, no water and the roads were unmade tracks. In 1927 Ron initiated a meeting of residents with the aim of forming a progress association. At their first meeting, at the store, the group drew up a list of things they wanted done to improve the growing community. Turning cart tracks into proper roads was a priority.
Somers is born
One early change was to give the new community its own identity by choosing a name. Several names were suggested and the choice narrowed down to two: 'Nareena' an Aboriginal word meaning "peace and quiet" or 'Somers' in honour of Victoria's Governor General. (Lord Somers had recently established a boys' camp on land donated from the 'Coolart' estate.) The lot owners voted and Somers was chosen.
The coastal foreshore was managed by the Balnarring Beach Foreshore Committee, a group formed as early as 1914 to control use of the foreshore and prevent the destruction of the foreshore's vegetation. The new progress association formed its own foreshore committee to oversee local matters. As much of the inland area had been grazing land Ron encouraged residents to plant trees and shrubs. He also had tourism in mind and tried to make the beach more accessible and attractive. As he had written on one of his postcards, he cut tracks through the growth on the cliffs to the beach below or to the bridges built to span the creek.
Ron's older children were now of school age and were enrolled at the Balnarring school. During the week they stayed with their grandparents at Warrawee, returning at the weekend. Ron turned his attention to getting a school for the growing community. He wrote to the Education Department, requesting a local school. The number of all the children of Somers residents was submitted notwithstanding that several of them were four years of age or younger and two went to a private school in Melbourne. A school materialized. The Department negotiated to hire the newly-built hall of the Legacy Camp for a school room with Mr J. Charlton as the head teacher. Palm Beach School No. 4458 (later to be Somers State School) opened in January 1930 with just eight pupils, three of whom were Stones. Legacy retained use of the building out of school hours and during vacation time. It was not a satisfactory arrangement but it continued until a new school was built in 1957.
Stone's Boulevard Store & Café
Ron's businesses did well. Gertie had started up the Boulevard Café in one half of their building. She supplied light refreshments as well as complete meals. The cafe was popular. Gertie hired a Balnarring lass to help in the house and café. She lived with the family during the week and went home at weekends. Other local girls were employed to help in the store and the post office when Ron organized for a telephone exchange in Somers rather than through Bittern. Ron was largely responsible for electricity coming to Somers and Gertie cut the ribbon as the first switch was flicked on in 1934. During the lean years of the 1930s many people paid at the store "on tick", adding to their account to be paid at the end of the month. The Stones did not press for payment from those who were struggling and, in some instances, overlooked what was owing. It was business based on trust and kindness. Ron kept a tin of broken biscuits on the counter to hand out to children. He had a soft spot where children were concerned although some were at first intimidated by his loud and somewhat gruff voice. When teacher, Mr Francis, took his charges to the beach for swimming each Friday afternoon during the warm months, they stopped at the store for ice creams on the way back. The teacher and the storekeeper alternated in paying for them.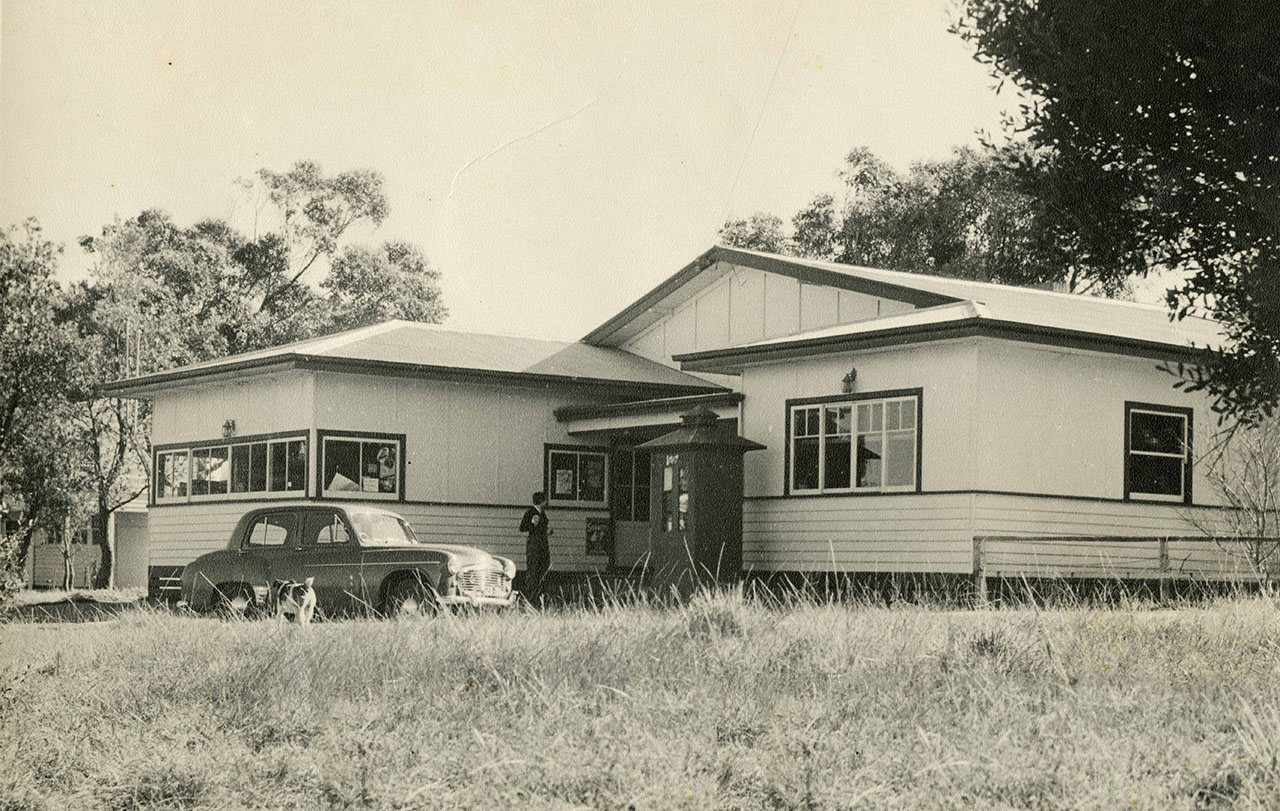 The family kept poultry in big sheds behind the store, some two to three hundred hens. There was also an incubator for raising chickens. Eggs were sold both locally and sent to Melbourne. When they were old enough Ron's sons helped out by making deliveries by bicycle. Bigger orders, even though they were few, were delivered in his small green van. Once someone ordered a sack of potatoes and Ron could not remember who had made the order. He left a sack of potatoes at each place, free of charge. Son Ray, had the milk run. He collected milk from neighbouring farms for sale at the store. Daughter, Dorothy, helped serve in the café, a job the boys refused to do although they did help in the store. To attract holiday-makers to Somers, Ron obtained land across the road from the store and opened a caravan park. On-site cabins were built and a central pavilion. This eight-sided pavilion doubled as a community hall and became the centre of social life in Somers. Ron organized dances and film nights. He also organized outdoor sporting events on the beach and, in the evening, table tennis in the front room at the store. A keen tennis player, he was instrumental in having a public court built in Garden Square and a tennis club formed in 1937. All his family enjoyed tennis and, as adults, played competitively with the Somers team.
Ron's family inherited his athletic prowess and were above average all- rounders in whatever sport they took up. His sons played cricket, tennis, golf and football. In 1946 a May edition of the Weekly Times stated, "Bob Stone, son of Ron Stone, former Balnarring footballer, is showing promise with Hastings. If he turns out as fast and brilliant as his dad, Bob will be a star." (This prediction came true. Bob went on to be recruited by Melbourne and played several games with the senor team before the war intervened. After the war Melbourne wanted him to return but he did not want to leave the Peninsula. Instead, he starred with the Hastings team and was recently named a "Legend of the Club".
When Frank was 15 and Bob 17, they were presented with the Royal Humane Society Award. The youths had saved a five-year-old from drowning in a back yard well.
Ron's father, Ern Stone, died in 1936 and, after the Junction Store at Balnarring was sold in 1941, Ron helped his mother, Annie, secure a small house next door to his home in Somers. She continued to live there until her death in 1947.
R.W. Stone and Sons – the family expands
With the advent of the Second World War in the 1940s the Stone boys joined the Forces. Ray went into the army, Bob and Frank, the navy. So did Vern Stone, Ron's younger brother. He was killed in New Guinea. Ron and Gertrude ran many activities in aid of the war effort. An Air Force Initial Training School was opened in Somers in 1941 bringing a stream of young trainees. To provide entertainment for the servicemen, dances were held in the Pavilion. These were organized and chaperoned by Ron. Among the airmen was a young physical training instructor, Stan Byrne, who met, courted and wed Ron's daughter, Dorothy. The couple made their home in Somers. Ray, the eldest son married and he and his wife also settled in Somers. After the war the store's name was changed to 'R W. Stone and Sons Post Office and Store', with Ron forming a partnership with Ray and son-in-law Stan Byrne. It was now a family business. His other two sons, Bob and Frank, saw their future in farming. They gained experience working at nearby 'Korbanui', a sheep property, and both went on to become sheep farmers.
When Gertie died in 1951 Ron was bereft but he continued to be actively involved in his community. He lent his support to getting a kindergarten for Somers. His daughter-in-law, Jean Stone, Bob's wife, had held a playgroup for tiny tots on her front lawn for a number of years. Somers had a growing population of young families and a need for a permanent pre- school centre was apparent. Ron acted as president for the group.
He continued to run dances on a Saturday evening in the caravan park's pavilion. Music was supplied from his collection of Victor Silvester dance records and old-time dances were programmed on a slotted board. His taste in music was often at variance with that of the young crowd but the dances were well attended. At year's end he arranged a New Year Eve's party to which everyone in the community came.
In 1954 Ron re-married. His new wife was Therese Parsons and in 1957 they welcomed a daughter, Geraldine. Ron had known Somers from its earliest days and in 1962 he started to pen a history of Somers. It was a work that was never completed. His interest in matters historical was not limited just to Somers as evidenced by a scrapbook he kept of articles, cut from newspapers, about the Peninsula's history. He enjoyed taking his young grandchildren on his knee and telling them stories about the "good old days". He was always on hand to give advice to and share his knowledge with anyone who sought it. The nickname "Mayor of Somers" amused him. Ron died in 1967 at the age of 70, a man recognized and respected throughout the community that had been his home for forty years.
In 2006 a plaque was unveiled in the sports grounds in Camp Hill Road, Somers. Fittingly the grounds had been re-named the R.W. Stone Reserve in honour of the man who helped found and who had contributed so much to Somers.
The Stone legacy
Somers Primary School remains a focal point in the community. It resisted amalgamation in 1950 when most of the district's small schools closed and the Red Hill Consolidated School opened. In 1983 it again successfully opposed being merged with the primary school at Balnarring. Today the school has 211 pupils and a teaching staff of eleven as well as the principal and vice-principal. In addition, there are the office staff, supportive staff for pupils with special needs and visiting staff who give lessons in specialist subjects.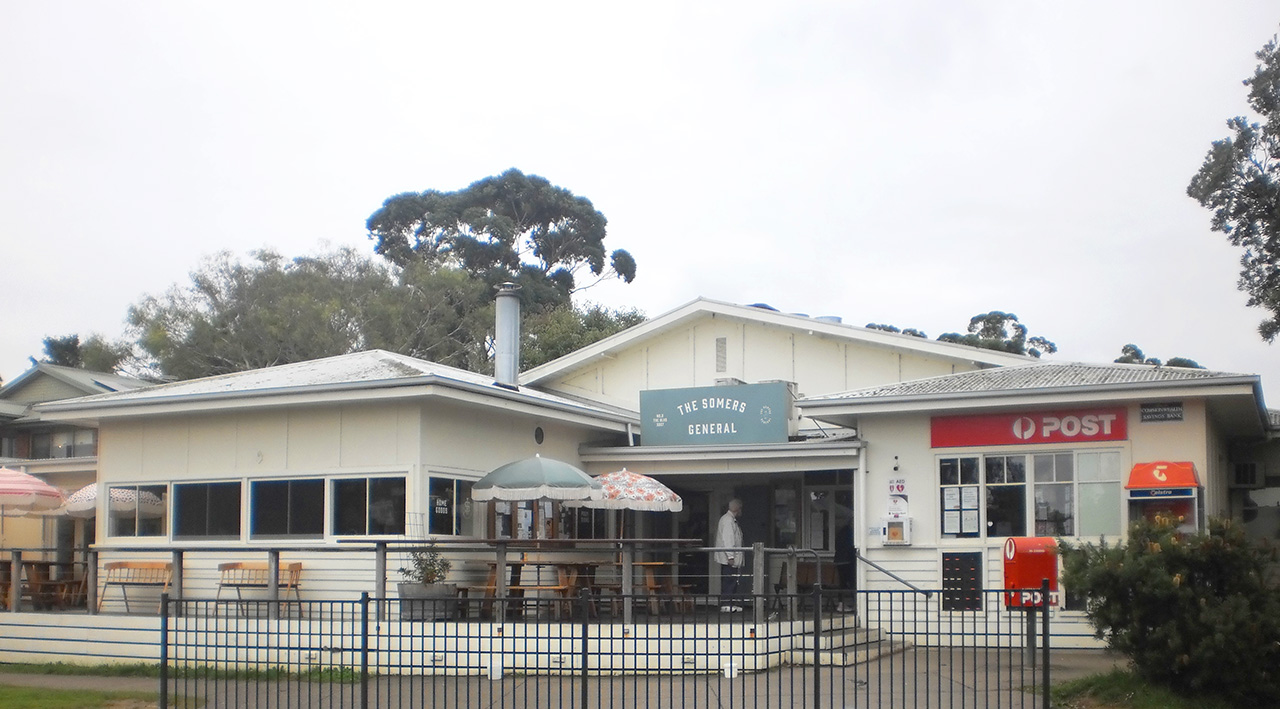 The general store remained "Stone's Store" until Ray and Stan retired in 1978, bringing an end to just over 50 years of Stone ownership. Newspapers reported, "an era of Somers history has ended". Not only for Somers; it had been eighty years since a Stone had first opened a store in the district. 'Stone's Store' was sold and, like most of the small local general stores, it evolved into a coffee shop cum café. Today known as 'Somers General' the store provides both dine-in and takeaway food and sells artisan ware.
Acknowledgements:
Interview with the late Ray Stone from Balnarring Byways . . . vol 4, published by Balnarring & District Historical Society.
Obituary of R.W. Stone
All our Somers by Bruce Bennett and The Old General Store by Bruce Bennett
Interview with Sue Byrne.
Photographs: Stone Collection held by B.D.H.S.