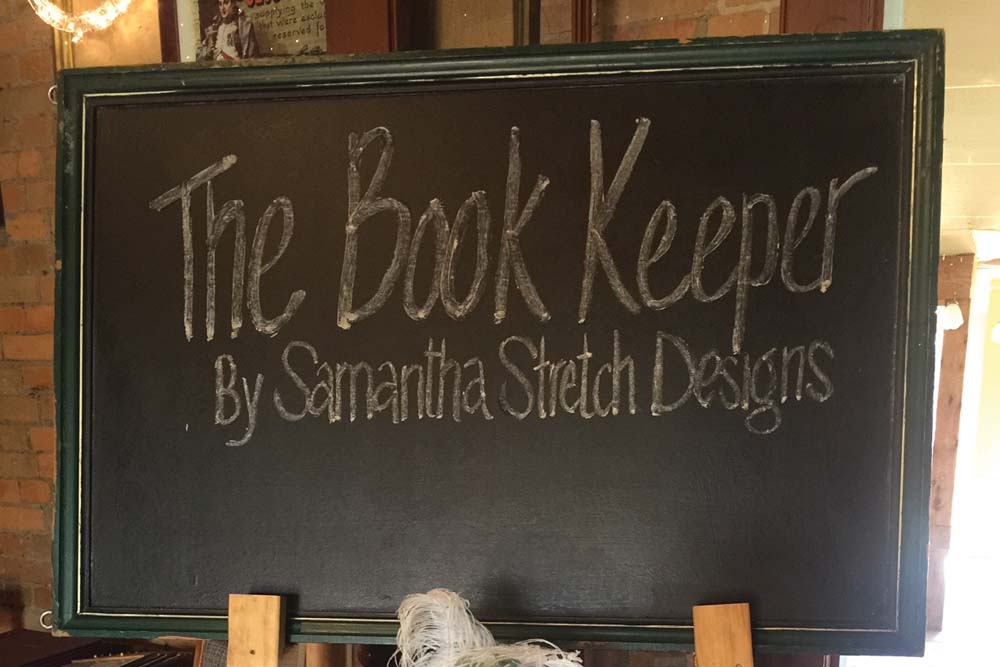 Sometimes when you have a passion, it can be many years before it comes to fruition. That was certainly the case for UK born Samantha Stretch who studied design at university and has always loved the arts but worked in the corporate world for most of her life. These days, the times have changed and finally Samantha is able to share her passion and creativity with the world after starting her business, The Bookkeeper Table Art.
"The inspiration for my Table Art came from loving the idea of savouring and celebrating the past but in a new and modern way," said Samantha. "A different quirky combination to be appreciated in a different way from the expected."
Samantha believes that as our world becomes more paperless it is important to capture books and memorabilia and she does this with her table art designs.
"I love the concept of keeping the tradition of books and memorabilia alive and have been inspired over the years by the concept and ceremony of afternoon tea and high tea, in particular," said Samantha who decided to put the two together to come up with the table art pieces. "Rather than them being lost forever, it is my way of recycling and conserving the past; repurposed to be admired again, to be cherished in a different way. That is why I named the art 'Bookkeeper'."
A far cry from the travels of a corporate high flyer with a career that has taken her from the UK to Hong Kong and finally the Mornington Peninsula, Samantha has finally found her calling and cannot wait to display her magnificent pieces at markets and galleries.
"The great thing is my business management positions at places like Nike Hong Kong and Westfarmers Australia have given me the sound base and skills to start my own designer range of table art which I both exhibit and hire around the peninsula," said Samantha, who came out to Australia 11 years ago. "I have always wanted to make something of my own and love recycled and old wares from op shops and vintage stores. My home is  a combination of old and new. I renovated my house with my partner and I was finding all these old things I liked and wanted to use them in a different way; some from family, op shops and vintage shops and stalls."
With the book being the base of the table art, Samantha allows her love of books to shine.
"All books have a history and important part in time, holding valuable words, and to be able to combine the books with silver pots, plants, china and jewels makes a beautiful and unique piece of art for your table centre, book shelf or display cabinets, "said Samantha.
"It means these beautiful pieces of china, teapots and books are not stuck in a cupboard but out on display for the entire world to see and admire."
These days Samantha can be found scouring second hand book stores, vintage shops and op shops, as well as the odd garage sale for treasured items to turn into her tabletop creations.
"I use two books as a base, and combine the ornament like china cups or silver sugar bowls, teapots filled with jewels or plants to create a decadent and slightly off centre look," said Samantha of her art. "These are perfect for a table setting for a high tea, and inspired by the concept of the pomp and ceremony around such elegant afternoon teas, reminiscent of a bygone era."
While Samantha has only been creating her table art since April, she has already attended a wedding expo, and has interest from people wanting to hire her art for high teas and special occasions.
"It is very exciting to be part of this wonderful creative endeavour and I am thrilled to be bringing new life to these magnificent old world pieces."