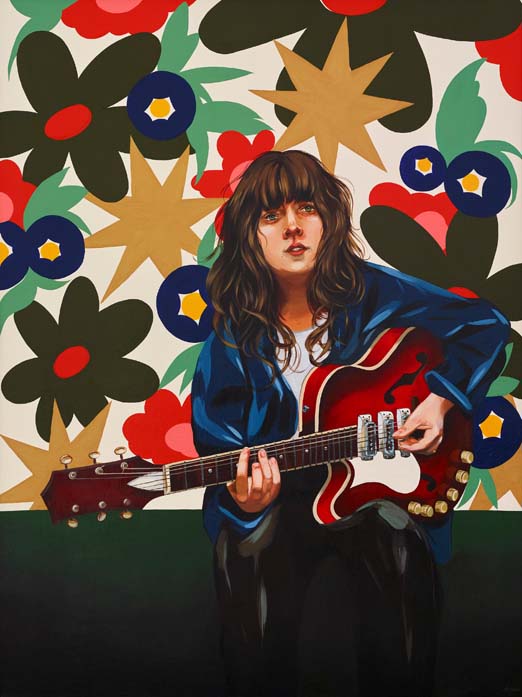 By Andrea Louise Thomas
Being a finalist in the Archibald Prize is a really big deal. It's one of the most prestigious art prizes in Australia. To pull that off as a first time entrant in a field of nearly 800 entries is all the more impressive, but that's exactly what Melissa Grisancich did with quiet conviction.
"I'd never entered a competition before. I wasn't considering the option of not being a finalist. I was so adamant that it was just going to work out," she says. Working with single-minded intensity and focused on getting her portrait of Australian singer/songwriter, Courtney Barnett completely right, it never occurred to her that her painting would not be one of the 57 finalists selected.
When that hotly anticipated email came announcing that her painting had been chosen, her first thought was, "Well all that hard work paid off. I'm glad I got in!" she says. While she felt excited and overwhelmed, she was not surprised and it's that sort of understated confidence that makes this young painter a success.
Ironically, Grisancich says she is not a portrait painter, but having visited the Archibald Prize over many years and having observed that it often featured the same artists (and not enough of them women), she thought she should give it a go. When she decided to enter, her only choice of sitter was her friend Courtney.
Courtney Barnett has become a huge success in the alternative/indie rock scene for her quirky half-talking, half-singing style and her witty, observational lyrics focused on true stories set in Melbourne's northern suburbs. She is a real individual in an industry that tends to homogenize women and that's exactly why Grisancich chose her. "She's quite an inspiration for women who don't want to conform," she says.
Music idol to both Grisancich and Barnett is American 'punk poet' singer/songwriter, Patti Smith. In her Melbourne concert she roared, "This is my weapon of choice!" with reference to her guitar. It was this quote that inspired the Archibald Prize entry title: Courtney Barnett and her weapon of choice. For her 30th birthday, she had the pleasure of seeing both Smith and Barnett in concert together and it made a lasting impression.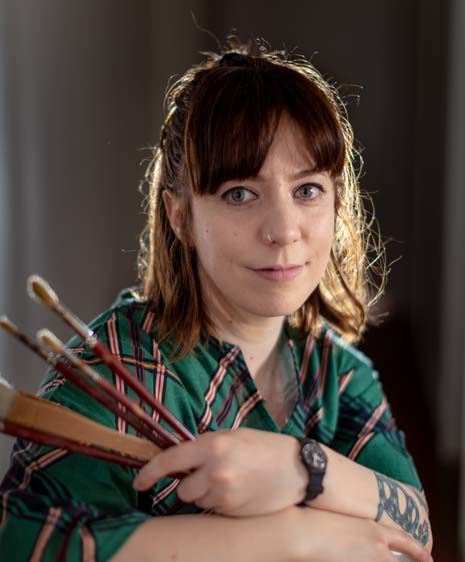 She invited her sitter to see every step of the portrait process so Barnett had a lot of input. It was she who suggested doing bold wallpaper patterns in the background and using really bright colours. The two also discussed the composition. Both women are the same age and share similar interests so it was an easy-going collaboration. The connection between them is evident in the painting. "She's really chilled and down-to-earth. She's got a warmth about her. I wanted to capture that, " Grisancich says. It's fair to say this a quality they both share.
When her first grade teacher at Mount Martha Primary School asked the students what they wanted to be when they grew up, Grisancich immediately said she wanted to be an artist. She was a quirky kid who liked to make things, collect things and share her handiwork with friends and family. Artistry just came naturally.
When it came time to make a decision about tertiary education, art was the obvious choice. She studied painting, sculpture and printmaking at Frankston's Chisholm TAFE. She then went on to RMIT where she completed a Bachelor of Fine Arts in Painting. She also got a Diploma of Education to teach high school, but quickly came to the conclusion that it was not for her. She was only ever going to be an artist.
Vintage art and objects inspire Grisancich's style. She paints in vivid colour with bold patterns reminiscent of decades gone by. Her sculpture is often made from repurposed objects. Flowers, palm trees, big cats (she loves panthers in particular) and the female form feature in her paintings.
Clothing brand RVCA discovered Grisancich and invited her to join their Artist's Network Program. She's been one of their feature artists for six years now collaborating on lines of clothing featuring her paintings. RVCA sent her to San Francisco to promote the brand and sponsored her exhibition there.
When not painting in her studio, she can be found at the RVCA Corner Gallery in Collingwood where she hangs shows, curates exhibitions, sells artworks and talks art. Currently she is mounting an exhibition called Spring Time 3.0 that showcases female artists from emerging to established.
Next up for the artist is a solo exhibition with a truly novel concept. She wants to create an installation in the form of an old lounge room filled with found objects and her artwork. She will hand craft every single detail in the exhibition. Sound interesting? Melissa Grisancich is one to watch! Stand by…
---
The Archibald Prize exhibition is at Geelong Gallery until November 18th 2018