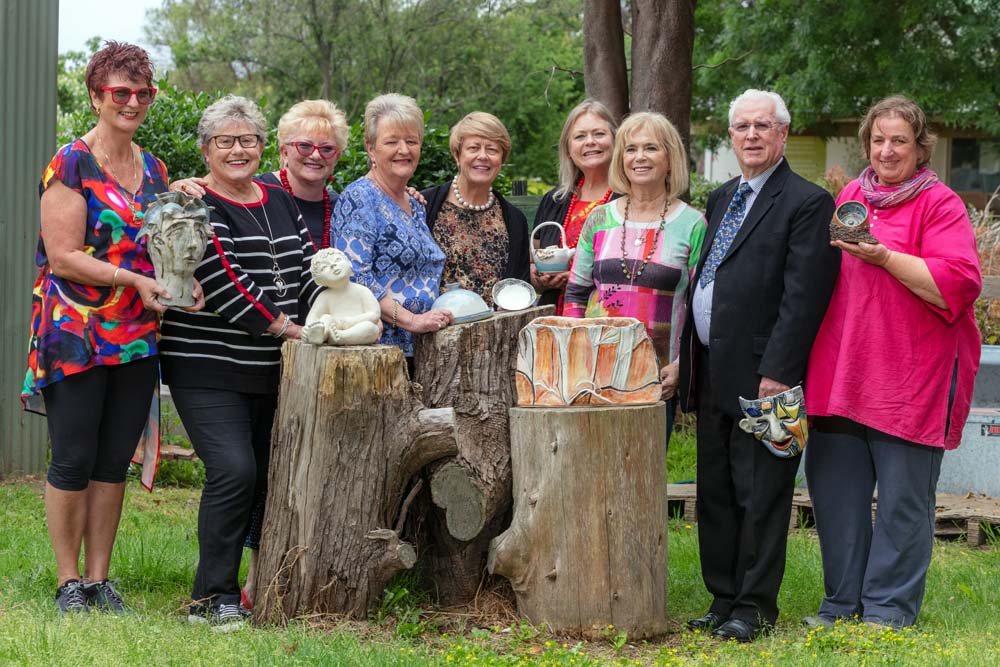 There's nothing like getting your hands stuck into clay and it's this love and passion that brought a rather eclectic mix of artists together to debut with their first ceramics exhibition.
The ten individual ceramic artists present a unique and personal exhibition of their vastly different work, which will be held at Oakhill Gallery throughout November.
The exhibition will showcase the work of the ten artists, highlighting both the diversity of the medium and the artists themselves.
"Human beings have used clay to express themselves both functionally and artistically since Palaeolithic times, yet it is forever new, confined only to the imagination and the skill of the artist," said one of the group which ranges from all ages and walks of life, with the most senior member and mentor, 90 year old Seaton Grant.
Patricia Langton, Prue Scott and Michelle Hryniewski work as fairly large scale sculptors.
"Our pieces all have an immediate and dynamic quality which is boldly expressive and highly individual," they said. "Michelle's pieces for this exhibition are reminiscent of 60's pop art: exuberant and dramatic and they reflect her extrovert personality."
For Prue her works take one into a re-imagined underwater world of reefs and sinuous forms, while Patricia's work anchors one in the terra firma of the Australian outback.
The work of Rosemarie Stynes is at once solid and whimsical. Her sculptures for this exhibition include a delightful interpretation of beachside bathing boxes and two sculptures of little boys that were inspired by her grandchildren.
A lifetime of skill honed on the potter's wheel produces Kaye Price and Kip Turner's beautifully conceived and finished pots.
"Our techniques range from porcelain and gold lustre to high fired wares to the ancient Greek tradition of black ware," said Kip.
Seaton Grant, who recently celebrated his 90th birthday, is the group's cherished elder and constant inspiration.
"I have been a potter since the 1930's and sculpted all my life. I have had several exhibitions and draw my inspiration from Henry Moore and Picasso," he said.
Jackie George chose the landscape of the Mornington Peninsula as her theme for this exhibition. Light and amusing, with charming elements of surprise her detailed and intricate work evokes the bay's translucent water on a summer's day.
Susan Drerup is clearly influenced by the potters of the 70's English studio pottery movement, particularly Hans Coper, Lucy Rie and Mary Rogers. She works in porcelain and fine stoneware, producing fine, delicate and beautifully crafted small decorative pieces.
For Kathy Coffey, her work displays a notable love of clay. A fairly recent student of ceramics she approaches her work with a sense of adventure and a lively interest in continuing the learning process which all potters eternally follow.
---
This wonderful eclectic mix of work can be seen at the Earth Into Fire exhibition from Sunday November 4th until November 29th 2018.
Oakhill Gallery, 100 Mornington –Tyabb Road, Mornington.
Phone 5973 4299
www.oakhillgallery.com.au