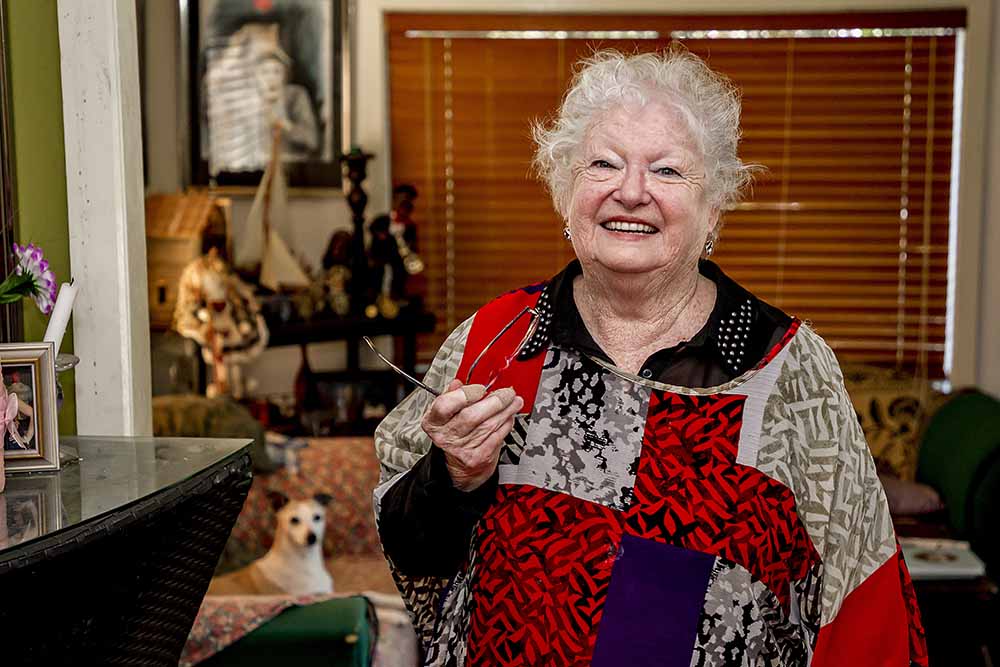 The adage "age is just a number" could not be more pertinent to the effervescent peninsula local, Wendy Burgis, who just celebrated her 80th birthday. For this personality who has marched to the beat of her own drum for the past eight decades, this milestone was going to go off in style. Instead of a quiet gathering with friends and family, Wendy achieved her most treasured birthday wish and went skydiving.
"It was the most fun thing I could ever do, and I wasn't even scared," says Wendy from her peninsula home. "It's funny, it's only after I saw it on the TV that I realised what a big thing it was. I actually thought 'I can't believe I did that'".
Wendy said she had wanted to do a sky dive for some time; ever since she was introduced to light planes fifty years ago.
"It was a big thing and I am absolutely thrilled that I did it. About 50 years ago we were living in Bentleigh and an advertisement came up that said that if you wanted to become a pilot they were offering ten free lessons.
I thought it would be great and applied for it. I went up in the plane and came ninth  in the competition which I still have the certificate for to this day," said Wendy who was a mother of three at that stage. "As it turns out, you had to be in the top five but it did open my eyes to flying and the thrill of jumping out of a plane."
Wendy says she has always had an adventurous spirit, whether it be jumping out of a plane, treading the boards on stage, or dancing in the golden years of television.
It is little wonder this pocket sized dynamo chose a light plane jump to celebrate her 80th birthday for Wendy has lived an extraordinary life, starting when she worked at her first job in a circus as a dancer at the tender age of 15.
"I was a dancer and loved it and started working at Wirth's Circus which is where the Arts Centre is now. We did the pantomime during the day, and opened on Boxing Day but two days later it burnt down which was so sad. It also meant I was out of work."
For this colourful character, and passionate dancer, there was plenty of work to come, with years doing theatre and pantomimes until television arrived.
"I ended up working at The Tivoli in Melbourne and even though I was a quite unassuming girl, I loved dancing on stage. I even dyed my hair red to get a part in the show 'Pyjama Game' and travelled all over Australia and New Zealand with that show," she said.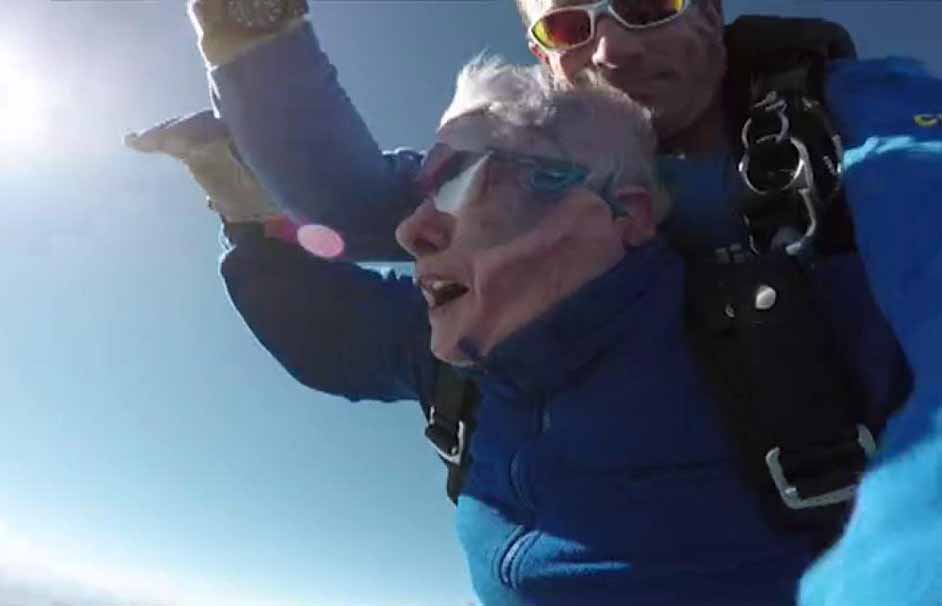 With her mother and father being sensible, they insisted young Wendy also have a back-up plan so she did a course at Stotts Business College.
"It actually served me well and I have used my skills as a bookkeeper during various times of my life," she said.
By far the most exciting thing for Wendy was working in the theatre for all those years and the experiences she will never forget.
I was examined by Dame Margot Fontaine for my ballet but it didn't mean a great deal to me at the time," she said with a laugh. "It wasn't until ten years later that I realised how incredible she was. I was only 16."
Working in TV with her husband is another feather in this talented thespian's cap, doing Bandstand and lots of early TV gigs as a dancer.
"I was 22 when we married and my husband was 18 years older than me," said Wendy describing another way she has managed to walk her own unique path. "I guess that was a little bit out there for those days but he was great. We were together until he died 26 years ago and we both started in television in Sydney. We built a house in Sydney where I did designer clothes for children and had my own business as well as dancing parts."
It was 1972 when the family moved to the Mornington Peninsula, and Wendy says it was a great place to raise the school age children.
'In fact, I decided to go back to school when the kids were at school. It was 1982 and one of my daughters was doing year 12. I was working at Delgany with the deaf children and decided I wanted to go back to school to learn how to write. My husband said I had to return as a mature student so that's what I did," said Wendy. "I remember talking to my teacher and commenting that I hadn't had a pass with any of my essays. I asked him which one was close to getting a pass. He said I probably wouldn't pass literature but I did it my way and passed. So I showed him."
Wendy is also an artist and loves doing water colours these days.
"When we moved down here I started doing a bit of art as well. I love painting clowns and skies, especially with the beautiful skies down here on the peninsula. I did ballet paintings, abstract things as well, and have them all displayed around the home," said Wendy, who has fostered children, looks after her son who is unwell, and is living proof you can't keep a good woman down.
"My biggest advice is that you have to stay positive. There will always be things that are negative but there is always an adventure out there if you look hard enough."