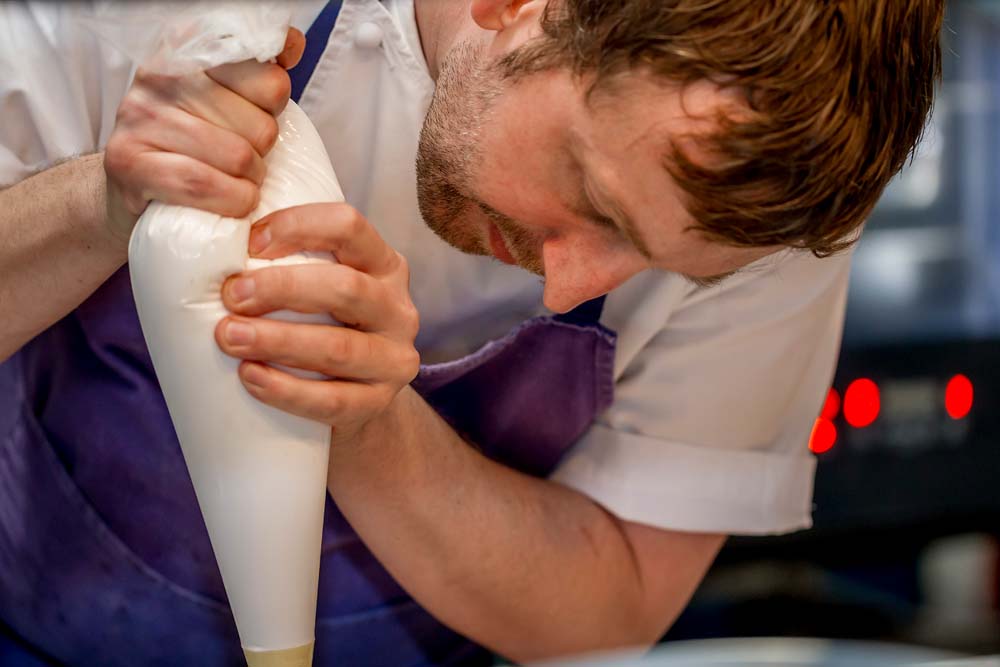 By Melissa Walsh   Photos Yanni
UK chef, Shane Horsley is the master of French cuisine, having trained at a Michelin star restaurant Le Manoir Aux Quait'Saiso, and then finding his way to Australia with his wife.
Shane is a master chef whose magical dishes are inspired by the fresh local flavours of the Mornington Peninsula to create authentic, unpretentious French fare that complements the local and French wines behind the well-stocked bar at Le Bouchon.
In keeping with the casual atmosphere that owner Stephane has created, the food at Le Bouchon is classically French in its quality with a casual and relaxed ambience for families, friends and special occasions.
"I have been trained in French cooking from the time I was 15 living in England. I started working at a golf club and quickly moved to a French restaurant where I began my journey and love of French cooking," said Shane. "It was a couple of years later that I was working with a sous chef who asked me to go to Paris with him to work in another one star restaurant. I learnt all the classic French techniques there and fell in love with the French way of cooking."
Shane's passion for French fare is obvious in the unspoilt and unpretentious dishes he creates at Le Bouchon.
"It is all about creating tasty food with French techniques but letting the ingredients speak for themselves. We do beef bourguignon, classic confit duck leg and we make our own terrines, sauces and desserts. We don't overcomplicate the food as the natural produce speaks for itself. It is just a matter of adding to the flavours," said Shane. "Our classic French desserts are always popular with chocolate fondant, lemon tart, soft centre chocolate pudding, souffles, and pastries to classic cassolette, snails in garlic, parsley, almond, pernod, anchovy butter, steak tartare, traditional hand-chopped eye fillet, noix de st Jacques, and seared scallops, cauliflower puree and beignet."
At Le Bouchon, the philosophy is to create simple and honest food by using the finest locally sourced produce. With head chef, Shane Horsely at the helm the tradition continues in the new, larger premises in Balnarring.
Recipe
Braised Beef Cheeks for Beef Bourguignon

INGREDIENTS
1kg Beef cheeks (cap off)
600ml Red wine
8 Juniper berries
8 Whole white peppercorns
10 Sprigs of thyme
2 Bay leaves
1 Brown onion
1 Carrot
1 Stick celery
3 Cloves garlic
Salt & Pepper (to taste)
600ml Beef stock
Note: – use a heavy based pan large enough to take all the cheeks, vegetables & the braising liquid together, also with a tightly fitting lid
Garnish
500g Creamy smooth mashed potatoes
150g Small button mushrooms (halved)
120g Kessler Fleisch ( cut into lardons)
METHOD
Place beef cheeks in a container large enough to take half the wine, vegetables, herbs & spices
Add half red wine, peeled and halved vegetables, thyme, bay leafs, peppercorns & juniper berries
Cover with cling film & refrigerate for 12 hours to marinade
Remove beef, vegetables, herbs & spices from the wine and dry on a clean, dry chux cloth. Reserve the wine
In a small saucepan slowly bring marinade wine to the boil and carefully skim off the crust
Heat a heavy based pan to high heat, season cheeks with salt and pepper, add a little oil to pan as well as the cheeks and caramelise on a medium heat until light golden brown all over
Remove cheeks from pan, turn down heat & add vegetables. Caramelise for a few minutes until lightly browned
Pour off any excess fat from vegetables add both red wines and bring to boil
Return cheeks, herbs, spices and stock to pan bring to boil cover with a tightly fitting lid and place in a preheated heated oven at 150 degrees for 3 hours.
Check your beef is soft to the touch if still firm allow to cook for a little longer
When beef is soft allow to cool and then refrigerate until completely set in the beef stock (approx 6 hours)
Remove beef from set beef stock and cut in half
Heat set beef stock and strain through a fine sieve
Reduce stock by 2/3 then add your beef cheek halves and allow to continue to reduce until meat is hot sticky & glazed
Meanwhile sauté the mushroom halves & Kessler Fleisch lardons until mushrooms are soft and lardons are lite golden
SERVING SUGGESTION
Add mushrooms and lardons to meat and serve with creamy mashed potato
---
Le Bouchon is at 10 Russell  Street, Balnarring.
Phone 5983 2012