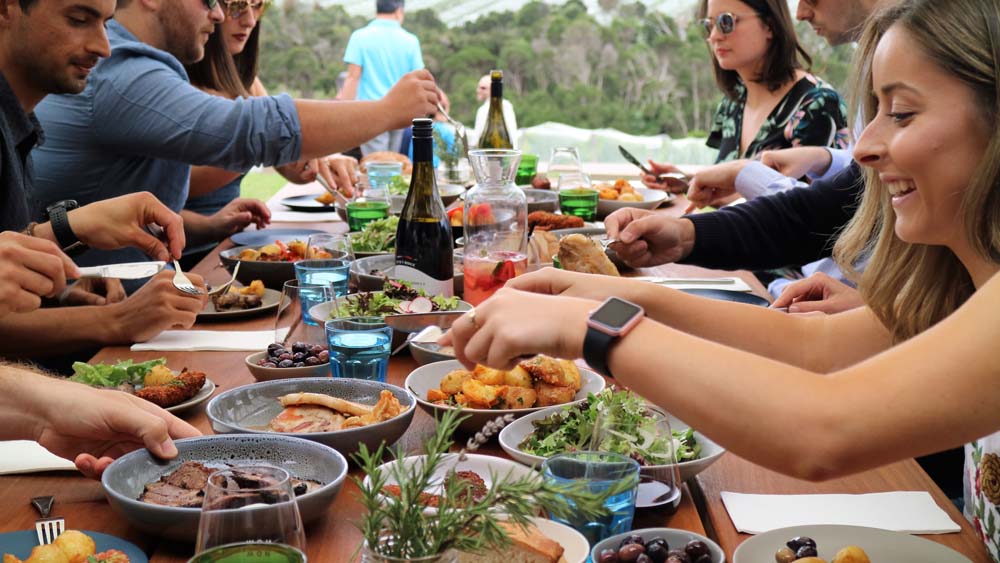 If you didn't know already, Tucks Ridge in Red Hill South is now owned by neighbouring Montalto. Under their expert hand and rebranded as 'Tucks', the estate has been transformed into a buzzy and fun-filled winery experience.
The stunning views across green-tipped vines remain, but the expansive outdoor terrace has undergone a serious upgrade. Communal outdoor tables accommodate the crowds lining up to enjoy the top-notch food marching from the kitchen. A new menu, drawing heavily on international influences and designed to complement the estate-produced wine list, is the perfect wine food; a tempting curation of the very best dishes from across the globe.
Start with crunchy croquettes oozing with gruyere, or pakoras flecked with a firecracker sauce. Move on to cured trout, watermelon and fennel – almost too pretty to eat – before settling into the light, pillowy parmesan gnocchi with English peas, or tender sticky pork with chinese bbq sauce and wilted greens. For dessert, the decadent dark chocolate baked ganache with honeycomb and banana ice cream is a standout… although you may have to fight for your share.
Mix and match with your favourite Tucks wine and enjoy an epicurean feast to linger over.
---
Tucks is at 37 Shoreham Rd, Red Hill South.
Phone 5989 8660