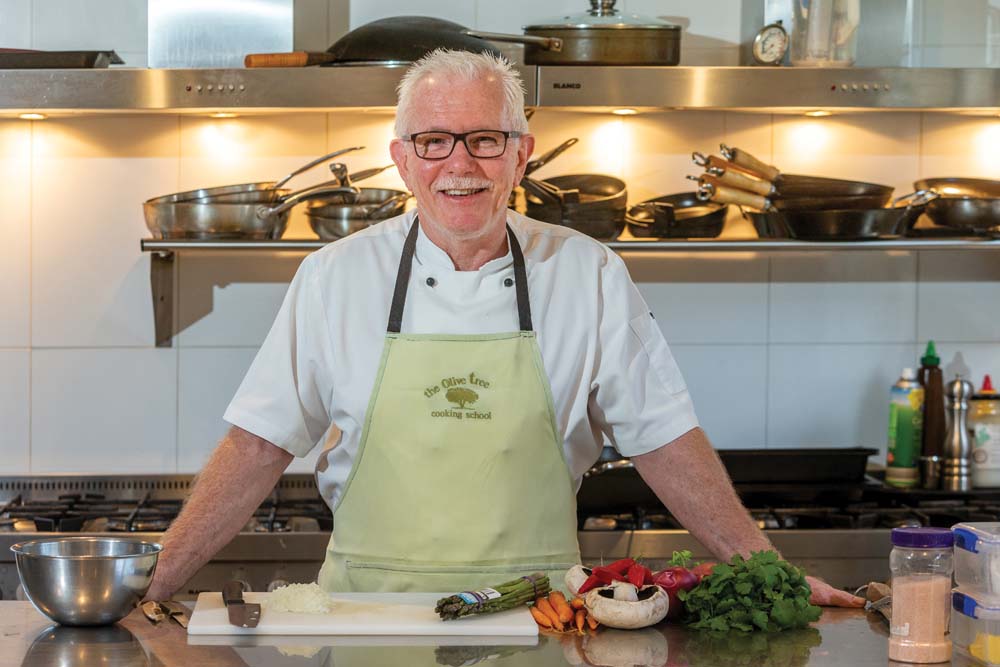 By Melissa Walsh Photos Garry Sissons
Melbourne is undoubtedly the culinary capital of Australia, and the Mornington Peninsula has its own chef's hat restaurants galore, gourmet eateries, vineyards and cafes. Shows like MasterChef, My Kitchen Rules and Jamie Oliver's Food Revolution grace our TV screens with food and are a big part of our everyday life, but not everyone can cook. That's where Garry Cowled can help with his fabulous culinary skills at The Olive Tree Cooking School.
After five decades as a chef, Garry certainly knows his way around a kitchen and still loves cooking food every day. In fact, this passionate chef still prepares meals for his grown up children and grandkids.
"I have always wanted to be in the kitchen, even after working in the industry for 50 years," said Garry whose experience goes back to working as a chef, chef instructor at T.A.F.E., and several food related businesses which he has owned and operated. "My passion is cooking and the greatest satisfaction I gain is from imparting the knowledge and skills I have to people who share the same passion for cooking and entertaining."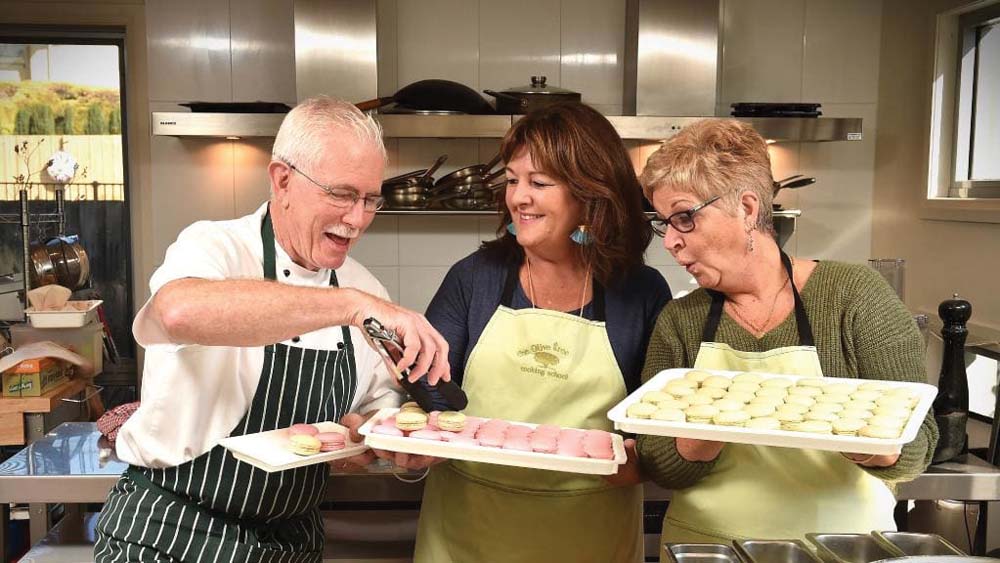 Garry started the cooking school at the top of Olivers Hill in 2011 but it was always in his mind to do one day.
"I had talked about this for years and one day my wife said 'Why don't you just do it?'", said Garry with a laugh. "After much searching for suitable premises we decided to convert the downstairs area of our home into a purpose-built kitchen where students could come and enjoy cooking in a relaxed and comfortable facility. Our aim is to give the students the knowledge, skills and confidence to approach cooking as an enjoyable experience with the pleasure of sharing their dining table with family and friends."
Family and cooking have always gone hand in hand with this chef, with fond memories of special occasions sitting around the dining table. The Olive Tree Cooking School is Garry's chance to share his skills and knowledge with people who share his passion for cooking and entertaining.
"We have a lot of fun in our classes, whether it is beginners cooking right through to speciality dishes and desserts," said Garry, who provides hands-on training in both basic skills and advanced cooking techniques.
A row of olive trees lines the front courtyard, with a Mediterranean mix of vegetables and flower beds, which leads to the light kitchen and preparation area on the first floor where the magic takes place.
The ambience alone is relaxing and reminiscent of Tuscany, creating the perfect place to hone your culinary skills, while enjoying a glass of local wine.
"I source as much of my produce from the local area, using a great greengrocer in Frankston to get any produce that I cannot grow, and our favourite butcher in Mt Eliza, Kevin, has been there for years," said Garry, who has participated in the world renowned Culinary Olympics in Germany. He has won more than forty medals, thirty of them gold, in various cooking competitions in Australia and overseas.
"We have a great variety of classes to choose from. I do a terrific beginners course which covers various cooking methods, to specialty courses with savoury dishes and sweets as well as special occasions. You can also tailor your own class, or organise a special event like a team bonding, bucks or hens days, or birthday party for instance. We have a lot of people who buy a voucher for a class for birthdays or anniversaries, and it makes a great Christmas present."
Classes at The Olive Tree Cooking School include cooking with lamb, beef, chicken, fish and pasta, cake making, macaroons and desserts, Christmas fare, high tea, cake decorating and more.
"I love to combine cooking with fun and entertaining, and the odd drop of wine," said Garry with a laugh. "You have a great afternoon while gaining confidence along the way to share your cooking with family and friends."
---
The Olive Tree Cooking School is at 623 Nepean Highway, Frankston South.
www.olivetreecookingschool.com.au