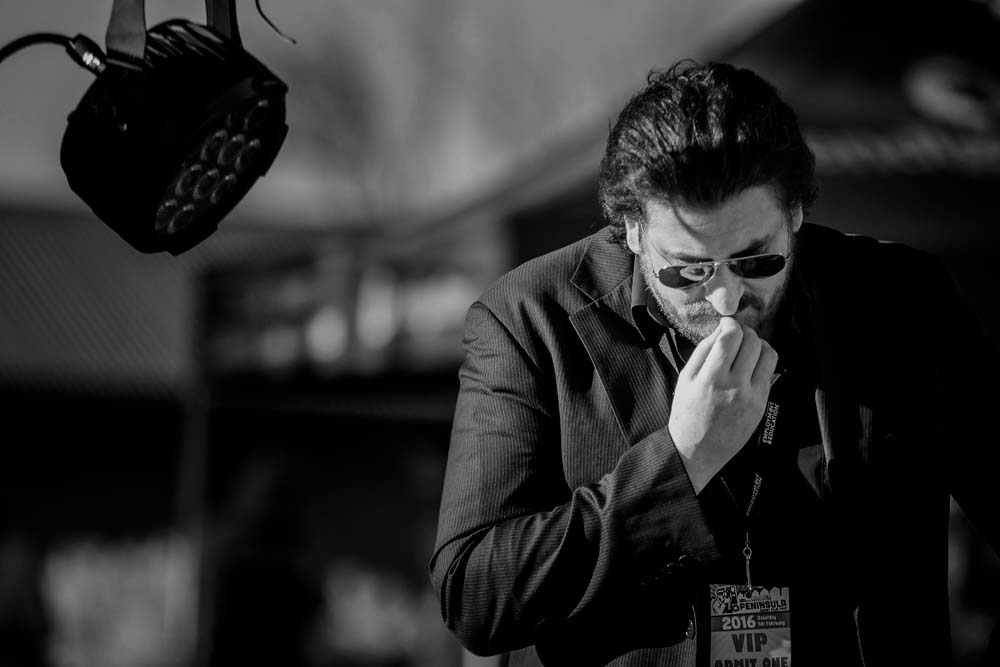 Resident festival judge, versatile actor, and regular visitor to the peninsula, Lachy Hulme talks about his life, new role as the "fake tough guy" in Romper Stomper, and love of the Peninsula Short Film Festival that keeps him coming back year after year.
Tell us about the new series for Stan: 'Romper Stomper'. How did your involvement come about?
When the producer John Edwards called me and told me he was remaking Romper Stomper it appealed to me as John and I have worked together for many years. Australia is going through sequelitis or remakitis as I like to call it. Everything is a sequel or being remade and none of them really appealed to me but Romper Stomper was the first time I thought there might be some legs in there. It centres on the son of Russell Crowe's character which resulted from the brief liaison with Jacqueline McKenzie in the original film, and is a legitimate sequel with a very powerful cast.
You look completely different as the character of Blake. What preparation did you do to change your appearance for the role?
The first description of my character is that he is a silver backed gorilla, so I had to start power eating and lifting weights to get that thick neck. The character is the leader of a group called Patriot Blue which is a far right extremist group. He runs a business and has his mansion down at Point Cook but, behind that exterior hides a dark and violent person. To change my appearance I sat in the makeup chair for hours, making sure I had the right blonde hair colour and the $10 hair cut look. Getting into the mindset was something different and not a pleasant thing to do. It is a very dark place so you don't want to stay there for too long. They are racists, homophobes and mentally disorganized. They are revolting people but they have a story to be told, and we tell this story by the point of view of the right wing extremists who are essentially a terrorist group.
Was it hard to not stay in character when you are playing such an intense role?
I realised very quickly there was not going to be any benefit from staying in this character so I was only in character form action to cut as it was too dark a space. Sometimes I love staying in character if it's fun to play. Murph in the Hollowmen made me feel smarter than I actually am. I loved playing Kerry Packer, but this guy is a dark space and you don't want to spend too much time there.
How did you get into acting?
I have always wanted to be an actor and did my first play when I was seven. I did a couple of movies back to back that I thought showed versatility, an adaption of Macbeth with Sam Worthington and Victoria Hill, and then Boytown with Mick Malloy. I figured I would be able to show the people of Hollywood how diverse I can be, so went to LA but I couldn't even get arrested there. I was going for leads and not corpses on CSI Miami, I wanted to play the 60 year old mentor and roles like that but the casting directors and producers didn't believe I could do a role like that. It was the end of 2007 and within three months of coming home to Australia I was working doing the Hollowmen with Working Dog, and  haven't stop working ever since.   I often say to people the biggest trick on the human race is California's ability to export itself as a paradise.  It's not; it's a bomb site. Detroit with palm trees.
Is it necessary to go to LA to be a successful actor?
People still do it but I know for me if the US had worked I would be very wealthy but very unhappy. I don't like the area as there is no lifestyle but the money is amazing.  I grew up in Melbourne; my family had property on the Mornington Peninsula for four generations so I spent half my life on the peninsula and in Melbourne where we had a great lifestyle.  Getting cast in the Hollowmen which was a big hit opened a lot of doors.  Thank God John Edwards then saw in me this ability to do a wide range of character roles, which is ironic as that's what I had tried to do all along in Hollywood.
What was it like with the Working Dog guys?
I owe so much to Jane Kennedy who is going to be one of the judges at the Peninsula Short Film Festival.  Mick Malloy is the MC, and Anthony LaPaglia is another judge. I'm thrilled Jane is doing it this year, as I really do credit Jane and the Working Dog guys for my current success. The first week I got back from LA there was a big rap party for a radio show Tony Martin did and that's where I met the guys from Working Dog: Jane Kennedy, Rob Sitch, Santo Cilauro, Tom Gleisner, and we straight away hit it off with all of them but I felt like I'd known Jane for years. The next day she said to Rob "we should write the lead role for Lachy in the political satire you are writing". They had been asking about me anyhow and I had wanted to work with these guys for my entire life, I was blown away being on set with them, one of the things I am most proud of is the Hollowmen. We then did Any Questions for Ben? and then The Speechmaker which was the one and only stage show they wrote for Melbourne Theatre Company.  We sold out before rehearsals had even started.
What are your favourite moments in your career? People you have met? Films etc?
Meeting Jane and all the guys at Working Dog, and certainly John Edward's .There is a stunt coordinator whose name is Chris Anderson who is a legend in the Australian film and TV industry, I met him in 2001 when I was shooting the Crocodile Hunter movie with Steve Irwin. I just finished working with him coordinating the stunt scenes on Romper Stomper. I have been luckier that most in that 99 per cent of the people I work with have been wonderful. I think the trick is to take the work seriously but don't take yourself seriously.
How did you become involved with the PSFF?
This will be the sixth year we have done it. Steve Bastoni and I are very old friends; we met in 1999 at the Noosa Film Festival as we both had feature films we were in. I was a fan of Steve's work and we did Matrix and Crocodile Hunter together as well, I think the world of him. When Steve moved down to Rosebud and got involved with the community down there I was helping with some of the acting workshops. He told me he wanted to do it the first time and organised this old flea market warehouse where they put in seats. It was winter, and he was terrified it was going to not work but on the night there were queues around the block, so they got a bigger venue the next year and held it on the Village Green. I had so much fun that first time I said "Count me in" every year.   I'm technically meant to be a guest judge but they can't get rid of me. I call myself the thing that wouldn't leave and have now been couch surfing the festival for six years.
What do you think of the quality of films?
It has been consistent from day one.  You get a mix every year. There's stuff that is eye opening, and every year I am surprised at the talent and quality of film making. That's what makes it exciting. You walk in knowing it is going to be good and that's why the crowds keep getting bigger as the word is out how good it is.
Do you spend much time on the peninsula?
My family lived on the peninsula for four generations but have sold up now. I keep my finger in the pie these days through the film festival which is my favourite event of the year. We even have Cobb's popcorn as our principal sponsor this year and there's nothing more appropriate than a popcorn company sponsoring a film festival.
Do you have any other projects on the go?
I just did a great thing with Tony Martin and Sarina Rowell called Childproof. They had written these six half hour sitcoms about a couple who didn't want to have children and the world hates them as a result. They shopped the project around and couldn't get support from networks.  One said it was too niche and only people without children would like it, to which Tony famously replied "that's like saying the only people who watch Mash were surgeons in the Korean War". He decided if he couldn't get it made he would do it himself and put a cast together at this year's Melbourne Fringe Festival. We read two episodes a night in front of a live audience to packed houses and it has all been bagged up into a podcast which is now the number one comedy podcast in Australia.
What is the best thing about your profession?
The best thing about show business is you get to see and do things other people rarely can. When I was shooting Power Games the prequel to the Kerry packer story where I played Sir Frank Packer we played a scene at the printing press where he shuts down the publication of the newspaper.  I got to actually shut down one of the biggest printing presses in the world while acting in a scene and then turn it on again.  You look at your fellow actors  and think "well that's something you don't get to do every day".  The next thing you find yourself being dragged behind the Croc Hunter's truck on a dirt road in far north Queensland going 80km an hour while
Steve, just before filming, sits on the back of the truck and pulls out a live two metre king brown snake saying "don't worry if it bites you I have the anti-venom in my sock". Who gets to say they have done that?  I know its acting and the fun is doing these wild adventures.
---
First published in Peninsula Essence – January 2018