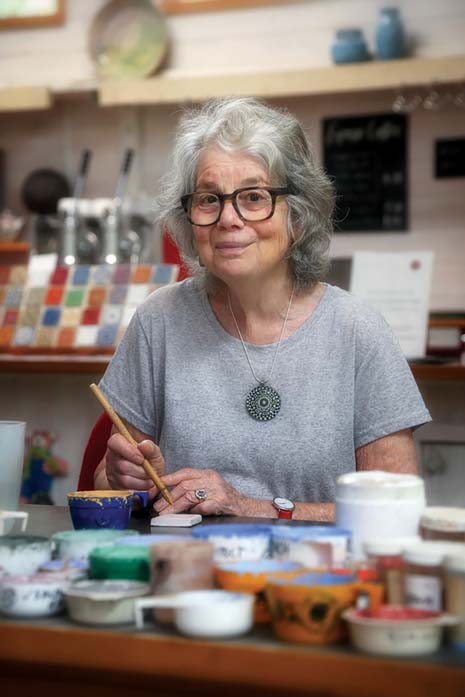 By Andrea Louise Thomas Photos Gary Sissons
One of the many pleasures of living on the Mornington Peninsula is discovering its hidden treasure. As well as spectacular scenery, the Peninsula is rich with creativity. Down a lush bushland gully in Red Hill resides a real hidden gem, the Marion Rosetzky Gallery. It's filled with light, colour and a variety of beautifully handcrafted wares. Working quietly away with nothing but birdsong for company is its humble proprietor. What she creates is unlike anything else in its field because she does what she does differently and her method cannot be replicated.
She paints intricately designed tri-coloured decorative tiles. When her three tile styles are put together they reveal a repeating pattern that is mesmerising. Each tile is similar, but not exactly the same to any other because every tile is hand painted. While comparisons could be made to the decorative styles of Moorish architecture or the dot paintings of Aboriginal cultures, Rosetzky's work is totally unique and uninfluenced. Her own style has evolved over many years and really could not be mistaken.
Rosetzky was born and raised in Melbourne. Her parents were Hungarian and German immigrants. They had high hopes that their daughter would become a doctor so she was not encouraged to be artistic and, in fact, she didn't think she was creative at all. She started her professional career in public service and then nursing. It wasn't until her youngest son was in kinder and a friend put a lump of clay in her hands that she became connected to her artistic side and discovered that she loved it.
She worked for many years as a self taught potter while her three children were in school. Her work developed to such a fine standard that she started selling to galleries and exhibiting in shows. When her children were grown up she decided to pursue a fine arts degree in ceramics at Prahran College (now Victorian College of the Arts). Coincidentally, she ended up at orientation day with her youngest son, David, who was beginning his studies at the same time in a different discipline. The kinder clay story came full circle, except this time the son was a bit embarrassed that his Mum was driving him to school.
Time at college gave her a chance to experiment with glaze techniques and decorating because she felt drawing wasn't her strength. Whilst at Prahran College, one of her teachers was Australian surrealist sculptor, Deborah Halpern. "She sparked me. She gave me permission to play, " Rosetzky says. So she started experimenting with techniques and applications and painting her ceramic ware differently.
Having visited the Peninsula over decades with friends and family and having had a holiday house in Shoreham, when she and her partner decided to leave the city for the sea change, she hoped they would find a place near Shoreham. They looked at lots of properties, but didn't find exactly what they were looking for. They had nearly given up the search when they looked at the last listing. When they saw the five acres of bush land they now call home, they fell in love with it. Initially, they camped in the machinery shed on the property until they built their mud brick home. It was during the designing stage that she says, " I thought it would be crazy, because I worked with ceramics, not to have a go at decorating the tiles for our new home." Then one thing lead to another.
The National Gallery of Australia was looking for an artist to create decorative tiles for their Rubens and Renaissance exhibition to sell in their gift shop. Her work had caught their attention. They sent her some transparencies to show what they were after. "They were the antithesis of my rather naïve drawing. The Renaissance decoration was very precise with curls, neat and very organised. So I had a go and what I now do has come out of that. It's much more refined than what it was at that time, but I've stuck to the same patterns. I just alter the way the colourways go," she says. She's been decorating her tiles for twenty-five years and still finds it meditative and satisfying.
Marion Rosetzky's Gallery is not just about her own work. It is features the varied creations of many fine artists working in textiles, ceramics, jewellery, glass, leather, wood and paper. There are even glass earrings and pendants incorporating her tile designs made by a local glass tile jeweller. A number of Australian artists are represented, but there are also fair trade goods from far points of the globe. One of the other lovely things about a trip to the gallery is a chance to have a chat with the artist who makes a killer cup of coffee. So, wind down the sign posted driveway to discover a quiet oasis filled with art and the aroma of espresso amidst the eucalypts.
---
Marion Rosetzky Gallery
650 White Hill Road, Red Hill, Victoria
Open 11am – 4pm most days & by appointment. Please phone before coming to be sure the gallery is open. Telephone +61 3 5989 2557
First published in Peninsula Essence – January 2018