By Andrea Louise Thomas Photos Gary Sissons
Mornington Peninsula landscape photographer, Mark Gray, is a determined man. Once he has an image in his mind, he is going to capture it no matter how long it takes. His longest wait to record has been five years. That's five years of returning to the same place at the same time in the same season and waiting for everything to align so that he can get that perfect shot. His portfolio reveals an astonishing number of perfect shots, which is evidenced in the number of awards he has won internationally. Determination and patience are two virtues that have made Gray's photographic career an established success.
Photography wasn't Gray's first artistic pursuit – it was street art, which gave him a keen eye for colour and composition. He took these skills into his first profession as a web designer, a job that requires exacting composition and acute spatial visualisation. At the same time, he was working as a DJ on the Melbourne music circuit, which further fuelled his creativity.
Ultimately love led Gray to photography. On a romantic weekend away with his partner in Apollo Bay, he was awakened at dawn by a beautiful glow coming through the curtains at their holiday accommodation. The light and colour attracted him and he stole outside to try and capture it with a digital point and shoot camera. The result just didn't do justice to the extraordinary beauty he had witnessed, but there started his second love, landscape photography.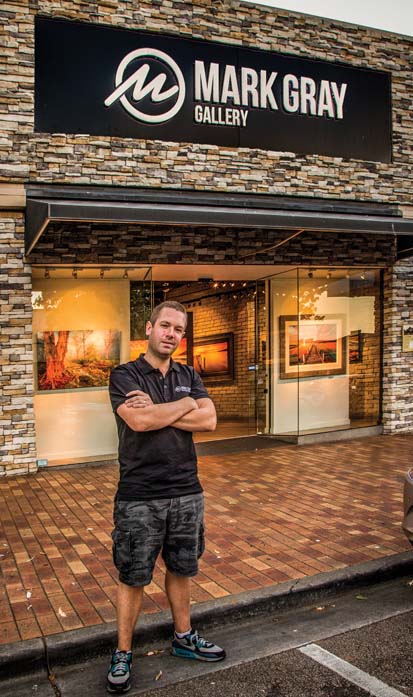 Growing up on the Mornington Peninsula meant holidaying with the family in Rosebud every year. He spent most of this time at his grandmother's favourite beach in McCrae where a lifelong connection to the outdoors began. During these visits to the holiday house, Gray discovered his parents' collection of photographic books. He was intrigued and inspired by the images he saw, particularly those featuring scenic wonders of the world and the 'top end' of Australia.
Gray feels the Peninsula is perfect for photography because it is unique in many respects. There is the colour to start with. For instance, the turquoise water of Safety Bay is spectacular. When there has been no rain for a long time the clarity of the water is exceptional. The peninsula's geology is incredible too. He finds the rock shelves along the beaches from Portsea to Blairgowrie a great source of inspiration. They present photographic opportunities he hasn't found anywhere else in the world. When the right tide and swell combine, the rock shelves create little waterfalls.
Half an hour before and after sunrise or sunset is when the 'magic light' takes place. This is when Gray is on the scene looking for the right set of circumstances that will make a stunning image. He doesn't use coloured lenses or digital manipulations to create his photographs. He relies entirely on nature. The key to getting the right shot is, " Seeing the image in your mind before you create it. That's where the art comes in," he says. Of course, being in the right place at the right time is essential. Gray invests a great deal of time in planning where to be and when to be there.
While he believes that light is the single most important aspect to creating a great image, there are other considerations that are vitally important. The position of the camera is key. He uses camera position to compose the image he has in mind. Timing is also critical to getting a great photograph. The position of the clouds, the breaking of the waves and other aspects of nature have to be just right.
Gray has traveled the world extensively shooting all kinds of scenery, but he tends to gravitate to water as his predominant theme. He loves the ocean, beaches and rock pools because they remind him of his summers on the Peninsula, but he also finds a connection to water in other places, such as, the mountains of the alpine regions, particularly in places like Norway and Iceland where he is off to this month.
One of the most noticeable features of Gray's work, outside of the breathtaking images themselves, is the scale of the fine art prints he produces. Some are as large as 3 metres. To get the kind of clarity and definition he gets in a print that large is a sort of magic all its own. He feels the size of the photograph is very important in transporting the viewer into the scene. Originally inspired by the panoramic photographs of Australian landscape photographers, Peter Jarver and Steve Parish, Gray has definitely developed his own signature style featuring vivid colour and iconic scenery.
While the equipment can be important, Gray says, "You can take brilliant shots on basic equipment." As for the decision between using digital photography or shooting on film, Gray says both have their virtues. "Digital encourages more experimentation because there is no cost factor in taking multiple images and digital is more like what we see with our eyes. Film is unforgiving, but it offers greater contrast. Film is a lot harder, but it teaches you an appreciation for the craft of photography, " he says. Regardless of the format the key to great photography is, "getting it right in the field." The best equipment cannot make up for a mistake in composing the shot correctly.
In Gray's mind, the most important quality to being a great photographer is dedication. Of course motivation is critical too. "All the best technical skills are not useful if you can't get up on time," he says. His advice to budding photographers is, "Never give up!' When he teaches students in his photography classes he emphasises, "The overall appeal of the image is more important than the technical proficiency. And always use a tripod!"
---
Gray's award-winning photographs can been seen at Mark Gray Gallery in Main Street, Mornington. Those with the deepest appreciation of the beauty of nature will be transported by his beautiful images.
First published in Peninsula Essence – January 2018