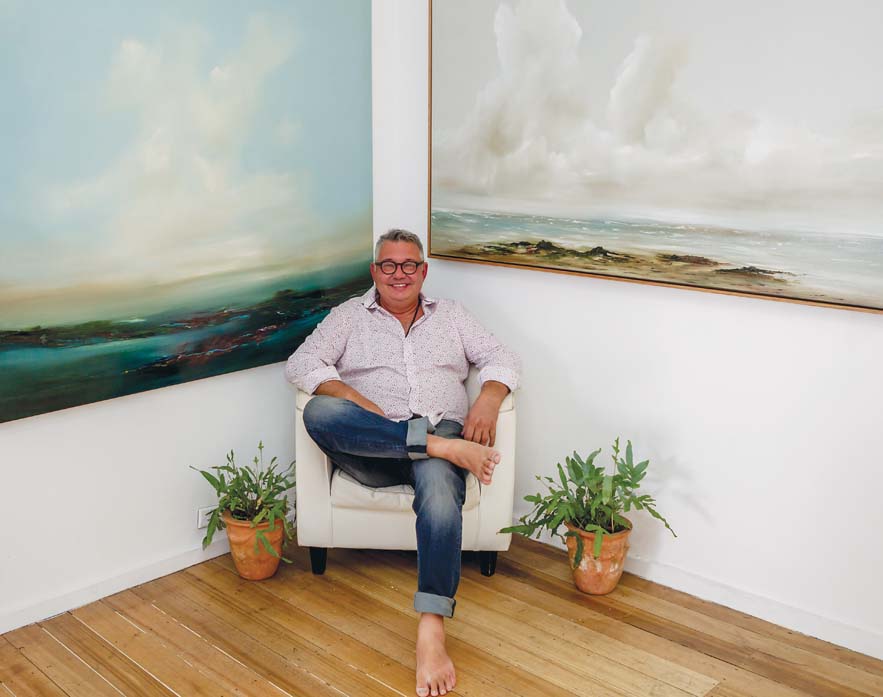 By Melissa Walsh Photos Yanni
Miodrag Jankovic is an artist in the truest sense of the word, his paintings as bold and statuesque as the man himself. His Rye gallery which fully came to fruition 18 months ago displays his art and soul, where his paintings hang on the walls as a collage of places he's been and experiences he has had during his lifetime.
Miodrag is an abstract landscape artist and his paintings are done from memory.
"My paintings are not of specific locations but they portray the overall feeling of what it's like at the place," says the Serbian born artist, whose love affair with art was spawned from playing amongst the ruins of early Roman architecture, listening to gypsy music and growing up with colorful and passionate characters.
A far cry from his youthful days in Serbia, Miodrag's journey has led him to the Mornington Peninsula where he and his wife have raised their young brood.
"We moved down here in 2000 and now I paint full time and play my music," says Miodrag, who explains that he fell into being an artist.
"I was 12 when our family migrated to Australia, and it was such a different life from where we had come from; so conservative and we always felt like we didn't fit in. I think that's part of the reason I started painting and drawing, as an escape and a way to express myself."
Miodrag says he always enjoyed looking at other people's work and, after graduating from art school in 1980, eventually ended up working in a picture framing workshop where he was exposed to original Australian artworks before they even hit the gallery floors.
"There's an element of intrigue and curiosity that you develop being surrounded by such beautiful works of art, and it allowed me to work during the day and paint at night," says Miodrag who had come from a line of tradesmen, so picture framing was an easily learnt skill. To this day, Miodrag keeps his hand in, offering professional canvas stretching services for other artists and galleries.
An abstract artist, Miodrag's original paintings were a reflection of his memories of Serbia, which he calls urban abstract.
Today Miodrag is renowned for his abstract landscapes which have been inspired, largely by the coast, but often by other places to which he has travelled.
He debuted alongside two other painters at the former Powell Street Gallery, South Yarra, in 1985, his works described as embodying 'a weight of personal feeling, that almost make sincerity a tangible thing'.
"Everything around is an inspiration, the sky, the beach, the mountains. I remember places I have been and how I felt when I was there and paint the feeling. There's a lot of energy you pick up on and the challenge is to paint that experience," says Miodrag, whose paintings have an ethereal quality, the light bursting off the canvas.
"Inspiration might come from the light peeping through the clouds on a winter's afternoon, or when my family and I are driving down a country road. For me, nature has always been more valued than we are. Nature will always create its own world."
Miodrag is the epitome of creativity and practicality, explaining that the process of painting is literally applying paint to a canvas.
"You are making pictures, working with colors, the whole experience is about applying paint," he says modestly. "In saying that, when I paint, I get into a zone, my mindscape and basically eliminate everything external. You are totally absorbed to produce a piece of art."
Miodrag's landscapes reflect the juxtaposition of nature's unruly and enchanting quality. His works are a passionate response to the raw beauty and energy of nature, offering an authentic understanding of the artist's own experience.
"Starting this gallery has been a dream of mine. I think it is important for art to be accessible to all the public and this gallery is open for anyone to wander into. It is important for those looking at art to understand where it came from so I will talk to them about all the background, techniques or my inspiration if they wish," he said. "For me it is also important to have a gallery where colleagues and friends can show their work. As an artist, I know how important it is to be able to display your work as you see fit so I am putting on an exhibition midyear called 'Local 7' where seven local artists will display their vast variety of work."
---
Gallery Art Up Stairs is at 2375 Point Nepean Road, Rye
Phone 0478 362 798
www.jancovicart.com.au