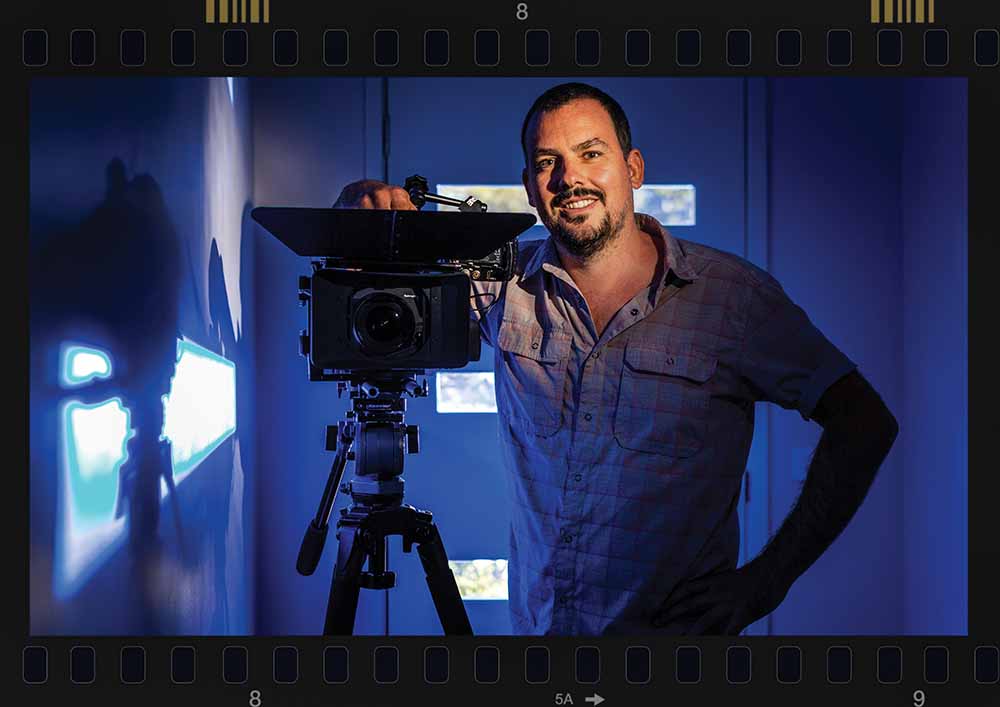 By Melissa Walsh Photos Garry Sissons
Shot in Dandenong over two days, Mornington Peninsula filmmaker, Damian McLindon proved that quality movies are not about extravagant locations or high finances by winning this year's Peninsula Short Film Festival with his heart rending film, 'The Last Time I Saw You'.
The short film outlines the story of a Muslim refugee girl who flees from the conflict in Afghanistan after she and her best friend step on a grenade. It reflects her struggles to assimilate into Australian society and the bullying she receives at school. However it is also a message of hope and the human spirit to survive.
After taking home five awards at the Tropfest Film Festival the year before, Damian said to win Peninsula Film Festival was a great thrill, and one he was not expecting.
"The film grew out of an earlier script I wrote for a feature length film about refugees, which is such a powerful topic and I have been so touched by what people will do to save their own families," said Damian from his home in Balnarring. "The inspiration came from the true story of a young Afghani asylum seeker. I was incredibly moved by the trauma, sadness and ultimately the joy of a girl finding her place in a new and contrasting society. This is a small slice-of-life story of a larger refugee crisis and the plight of so many – leaving behind their home, friends and family – in the hope of a better future."
For Damian it was important to cast the film authentically and so the producers flew girls in from across the country.
"After months of searching we were about to give up when a final effort unearthed a remarkable non-actress right under our noses in Victoria," said Damian, who hopes that audiences will be both moved and entertained by the story of the lead character, Aaseya. "It is about her ultimate triumph over schoolyard bullies. Her small victory speaks of her resilience and determination that she will carry forward in her life."
'The Last Time I Saw You' addresses a wide range of issues including the fact that fitting in as a teenager is challenging at the best of times.
"Imagine what it's like when you're a 16 year old girl, Hazara, Muslim and a refugee. This parallel experience is what intimately connects our protagonist, Aaseya to our lead actress, Mahdia Bakhtiari in the movie," said Damian. "Mahdia is a 17 year old Hazara refugee who fled to Australia with her family from Kabul, Afghanistan in 2013. Hazaras are one of the most persecuted ethnic minorities in the world. Sema Mirzae, Mahdia's little cousin who plays her younger self in the film, was born here in 2007 after her family arrived from Kabul in the early 2000's. After an extensive national search for an authentic cast, we found Mahdia and Sema in local Dandenong."
Damian, who wrote, directed and produced the film, said it was important to address the issues of race and prejudice with a mixture of poignancy and humour.
"I think a serious issue needs to be handled with a balance of light and dark in order to highlight the importance of tolerance, empathy and humanity towards our newest Australians."
Starting his career as a photographer, Damian says he has always loved the story telling element of film and photography but it would be filmmaking that would ultimately capture his creative interest.
"The first short film I made was about a guy trying to open a can of beans," said Damian with a laugh. "I was living in share houses and eating beans from a can so I figured 'Why not write about it?' That film ended up doing really well overseas as it worked as a silent film."
While Damian did attend film school after trying his hand at a few short films; he says it is the experience and trial and error that has helped him the most.
"I think going to film school was great though and it can be a spearhead for your career as it is very difficult to get into filmmaking in general," said Damian, who has now made about six short films and works full-time in a commercial film and television role. "I have always got a lot on the go with TV projects and longer format films and I have recently started Peninsula Films.