By Andrea Louise Thomas Photos Gary Sissons
Mount Eliza artist Rosie Barber creates huge, multi-panel artworks. Her favourite subjects are landscapes, seascapes and flowers. Because of their scale, her floral works are particularly arresting. She highlights the sculptural form, brilliant colours and intricate patterns of each variety of flower.
When Rosie started secondary education in Melbourne, her mother insisted that she get a Saturday job. It just so happened that the job was at a florist shop where she made floral arrangements. She became very familiar with the shapes, colours and intricate anatomy of flowers. It gave her an eye for detail.
When she was 21, she travelled to Europe to see the work of the great masters. The art and architecture were a great source of inspiration. She was particularly struck by Rembrandt's use of light and shade. She employs some of the methods of the great masters in the work she produces today.
Her favourite painter is British/Australian, Russell Drysdale. She loves his use of colour and portrayal of rugged outback scenes. She also loves the style of Australian painter, Jeffrey Smart for his simplicity, clean lines and use of shadow.
While she has been painting for over 30 years now, Rosie is predominantly a self-taught artist, but to hone her drawing and painting skills, she took classes with Melbourne artist/teacher, John Lawry. With him she also learned the 'trompe l'oeil' technique.
Rosie began her art practice when her children were young. She did porcelain painting because she liked the way she could apply the paint, fire it, and add new layers after each firing to build up the image. It can take up to a dozen firings to create the desired painting.
She also painted and decorated ceramics which she sold at markets. When she moved to Mount Eliza in 2005 and discovered that her new home didn't have the right kind of power to operate a kiln, she donated her kiln and molds to Oak Hill Gallery in Mornington.
Once she gave up ceramics, she set up her home studio and began painting. "I wanted to express myself and learn something new," she says. Though she has worked quite a lot with acrylics, she prefers oils.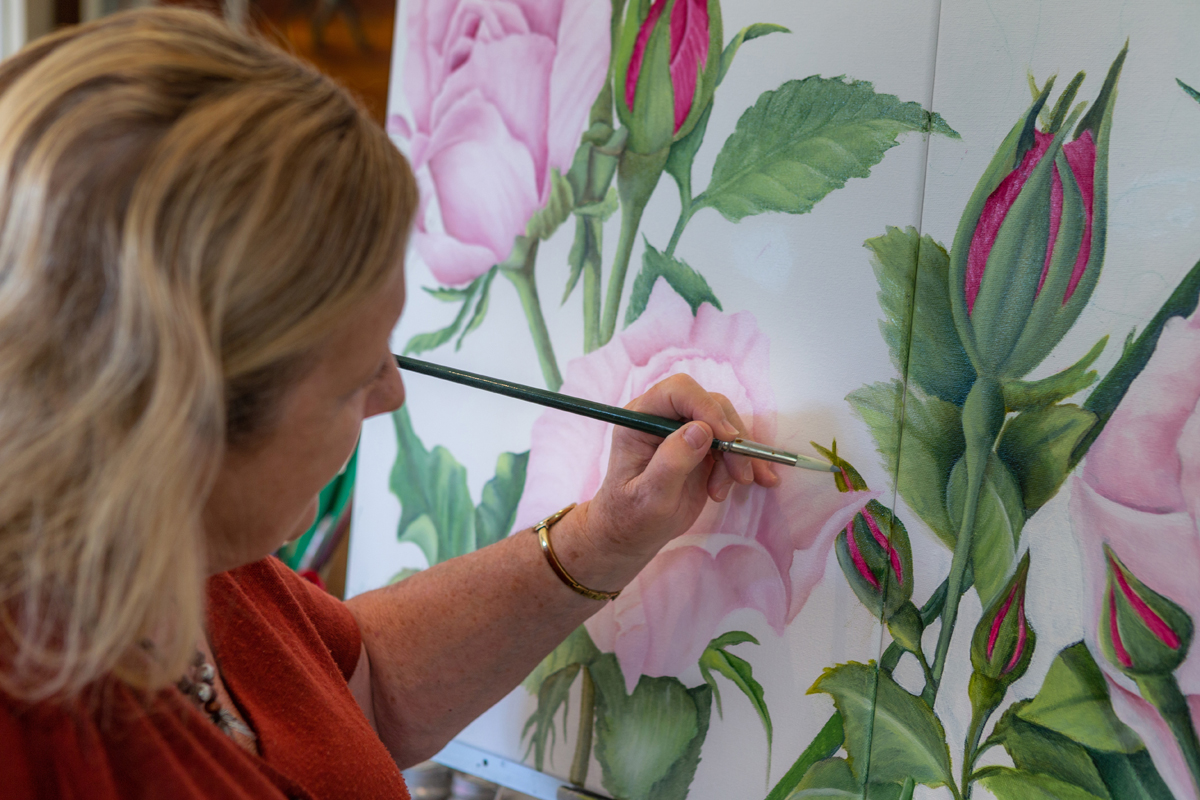 "Oils are more flexible. I can get better definition with oils. Acrylics dry quickly and are more resistant. I can keep working with oils, keep coming back to the painting. Oils also better convey the mood of my subject."
Rosie hadn't planned to become a professional artist. She was drawn to it and her work has evolved over the years. Living on the Mornington Peninsula provides her with an endless source of inspiration being surrounded by natural beauty and vast uncluttered views. She also loves the Peninsula's colour palette.
Spending her childhood summers at the beach in Sorrento built an affinity with the sea. Peninsula beaches are the source material for her seascapes. She loves looking across the unbroken expanses of Port Phillip Bay and Bass Strait. Her hinterland, farm and vineyard landscapes are a counterpoint to the seascapes.
Rosie describes her art as clear in its intent, graphically strong with complex detail and shadowing that makes her paintings very realistic. She loves working on large canvases to bring all those elements across.
Despite her love for both seascapes and landscapes, she says her real comfort zone is her floral paintings. Her love of flowers and the beauty of their sculptural form is reflected in her detailed works. She believes that as a subject, flowers stand alone. She works to make them three dimensional and push them out by putting shadows behind them.
Rosie also finds inspiration in the support and camaraderie of other artists in the Peninsula Studio Trail (PTS) group. It's a pleasure to be surrounded by like-minded people. When she found that they not only worked from their homes, but exhibited from the homes through open studio days, she knew it was the right fit for her.
In addition to PST open studio days, Rosie has exhibited her work at Sorrento Rotary Art Show, Mornington Peninsula Art Show, Oak Hill Gallery and the Continental Hotel at Sorrento. Her work has also sold across Australia to private collectors.
One of the most important things to Rosie is the buyer's reaction to, and regard for, her work. She believes art reflects the personality and style of the buyer so she is excited to see where the work will hang and how it complements the space. There is nothing more satisfying than seeing her art in situ.