He's six foot one, weighs 90 kilograms, and is a professional boxer and Australian Cruiserweight champion. She's a five foot 10, slim, brunette international model who was runner up in the sixth season of Australia's Next Top Model. Genetically they are a match made in heaven which they soon discovered after Sophie gave birth to their beautiful baby daughter, Laylah, on April 30 this year.
These days, life has slowed down for the young couple who met on New Year's Eve four years ago and found out Sophie was pregnant while holidaying in Bali.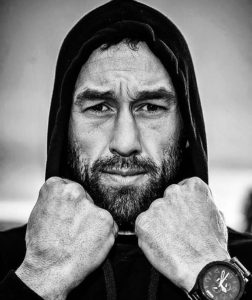 "I met Kane at an event on New Year's Eve but it took ages before I would go out with him. He was very persistent so I finally agreed to go on a date. Within the first ten seconds of being on our date, I texted my mum 'keeper'," said 26 year old Sophie, from the home
she shares with her partner Kane in Langwarrin, while little Laylah rests snuggled up in her arms.
For the model who has worked alongside Rachel Finch, Eamon Sullivan, Ruby Wilkins and Jennifer Hawkins, finding out she was pregnant came as a lovely surprise.
"We were in Bali on holidays and to wind down after Kane's fight with Danny Green," said Sophie. "I was in a café and a Balinese girl started laughing at me saying I was pregnant. So I rushed to the shop and bought five pregnancy tests."
Peninsula born Kane said the biggest challenge was to get their house ready for the baby, as they were doing a massive renovation.
"We bought the house in December and spent the next couple of months madly getting it renovated," said the 34 year old, admitting the fact they were having a baby didn't sink in until they were on the way to the hospital. "We were so busy getting the house ready it is funny but it didn't really hit me until Sophie was in labour."
The couple agree that the pregnancy was a dream with Sophie only being unwell at the start.
"I was a little bit unwell at the beginning, and then had a bit of back pain towards the end but all – in – all it was really good, although there was heaps of pressure on Kane to get the house finished in two months," she said.
Having the baby at Frankston Hospital was a wonderful experience for the young couple with Sophie's labour lasting seven and a half hours.
"Good people come out of Frankston," said Kane who was born there, and loves his new life with his two girls. "It is a huge adjustment having a baby. It's all about timing and taking things with you when you want to leave the house."
Luckily Kane and Sophie adapt well to change and their relaxed attitude is helping them get through the inevitable sleepless nights.
"She has been a good sleeper until the last couple of nights," said Sophie. "I get up to her and I don't mind as Kane has to go to work in the plumbing business during the day."
It seems pretty clear that these two have got it all sorted. While they are both loving parenting, Sophie will get back into modelling and Kane is already in training for his next fight.
"My last fight was in November so I took a few months off before Laylah was born and started back at training a few weeks ago probably for another fight around July or August," he said.
For Sophie, modelling was never far away during her pregnancy, doing maternity shoots for Ripe Maternity and Legoe.
"I will get back into it but at the moment I am enjoying this new chapter in our lives with our little girl," said Sophie.