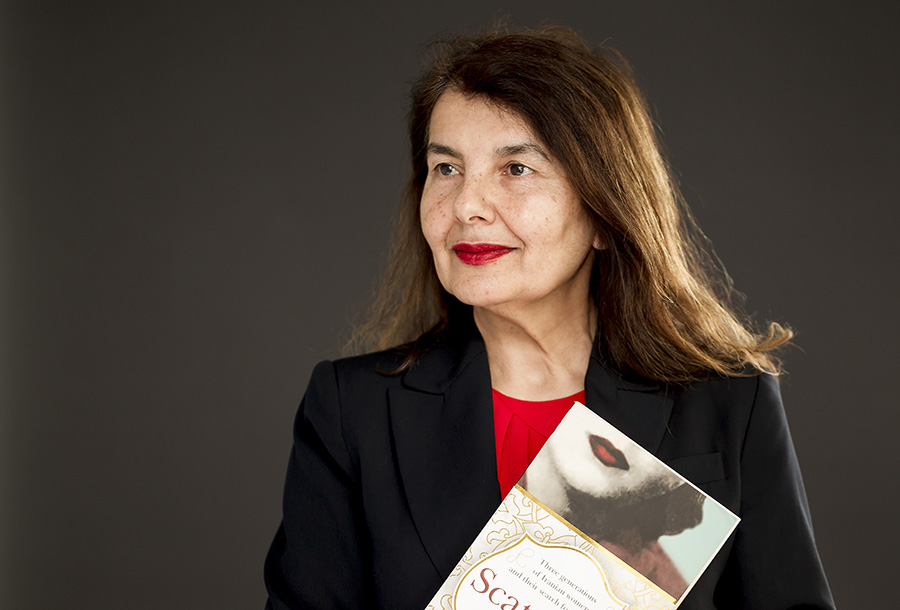 By Melissa Walsh   Photo Yanni
"Life shrinks or expands according to ones courage." Anais Nin
When Sohila Zanjani was a little girl, she was surrounded by strong women with the role models of her mother and grandmother. Little did she know that one day their three stories would be intertwined in her book Scattered Pearls, which spans 100 years and tells the story of Sohila, her mother Shahin and grandmother Laya. It tells of the injustice and abuse meted out by the men in their lives, and the resilience and courage of three generations of women.
"Scattered Pearls is the work of 35 years," said Persian-born Sohila who lives on the Mornington Peninsula, and started writing her memoir on the flight to Australia in 1981.
"I wanted to write my mother's story. She was an extremely beautiful, elegant woman. She had class, but with my dad she was brought down to a totally different level of social standing.  I saw she was hurting at times and her pride was shattered, and I am talking about the days when my mother was not aware of her rights."
Scattered Pearls is a story of cultural misogyny in both Australia and Iran, and the women's search for a loving, equal relationship. It opens in pre-evolutionary Iran, where Sohila grew up under the threat of violence, intimidation and the control of her father. Resolving never to tread in the footsteps of her mother and her grandmother, both survivors of domestic abuse, Sohila tried to find a new life for herself in Australia. But to her horror she discovered that living with her father had been gentle in comparison to the reality of her new married life.
"Writing the story about myself, my mother and grandmother was something I had always wanted to do and when I came to Australia and was married I felt so alone that it became a way of communicating with myself on the paper," said Sohila, who by this stage had found herself unwittingly in the same domestic abuse situation as her mother.
"By 2002, it was over 2500 pages long and by 2009 it was over 3000 pages, partly in English and partly in Persian. I had to give the essence of the story so I hired a ghost writer, David Brewster, who helped condense and put everything in order. It turns out the essence of 3000 pages is 300."
Determined to make a difference in the world with a pure heart to help others, Sohila is the epitome of a strong, empowered woman, with the same elegance and style that she talks about in her mother.
Not only did the mother of four create a beautiful piece of writing with her memoir, she has also run a successful business for 18 years and is now a qualified lawyer after returning to university as a mature aged student.
"I arrived in Australia in 1981 and seven years later I divorced my husband while I was pregnant with my twins," said Sohila, who although educated, had been unaware of her rights and highly intimidated by her violent husband.
For Sohila, the idea of Scattered Pearls came from the realisation of how destructive fear is in our lives.
"After I left my husband and left the fear of that environment within seven years I was running a successful business. I had constructive energy and,  with the support of family and the law in Australia and financial assistance I was able to find myself again," said Sohila who is now a strong advocate for family rights and hopes to work permanently at the Legal Aid offices in Frankston to give back to the community. "If you give people the pension and provide a roof over their heads this investment will come back with a return that is much more positive. It is all about prevention, and Scattered Pearls shows that prevention and help pays back tenfold. The Victorian Legal Aid was so helpful to me and I want to give people the same experience I was fortunate enough to have."
Sohila says that it is very important to always treat people with respect and that is something she makes sure she does when helping people in court cases and domestic situations.
"When you go through a period of hardship and despair, it feels like there is little hope for the future but I know that with resilience, faith and courage it is possible to succeed against all the odds," said Sohila. "I want people to be inspired with reality. This book is really about love. There is no hatred there. Life is what we make of it and Scattered Pearls is an example of that. The book is not just about three Persian women. It is about a universal theme and that is love."
Scattered Pearls is available in paperback and eBook at all good bookshops.