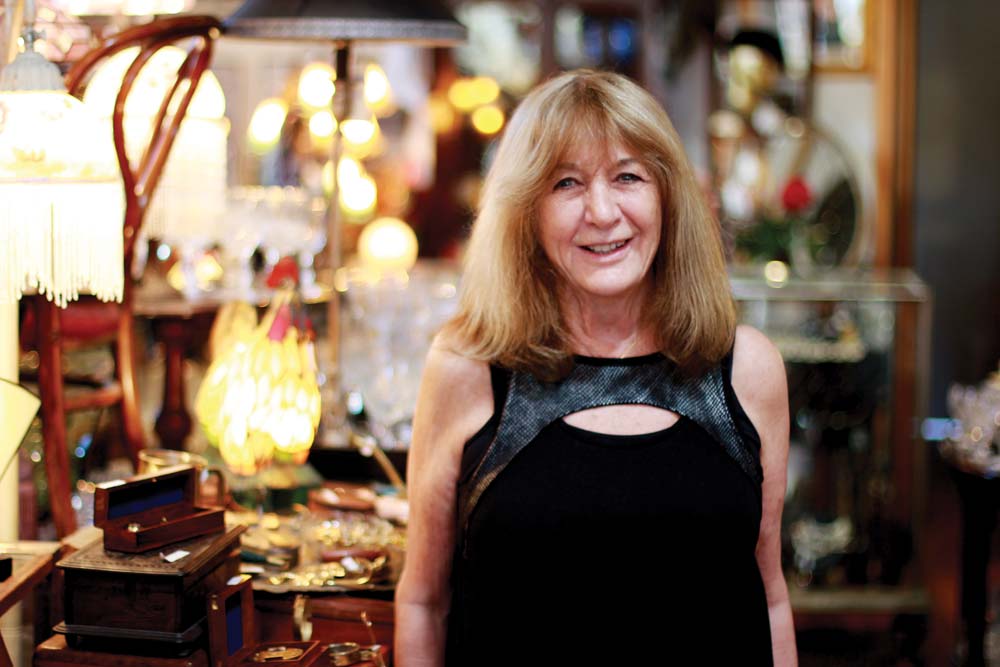 As you wander along the glamorous Sorrento shopping strip, you simply have to visit Marlene Miller Antiques, an Aladdin's cave of unique and unexpected treasures.
Marlene has owned her antique shop since 1985, after earning her living as a law clerk assistant in Melbourne, and longing for a sea change.
"We used to come here for holidays all the time and one year decided to restore an old building in the main street. We pretty much didn't leave after that, ran art stores and soon antique shops," says Marlene.
As soon as you walk into the shop, there is so much to see, with two storeys of antiques and bric-a-brac, from crystal, coach lamps and fine china to fur coats, hats, dining furniture, photographs and frames.
"Upstairs is a great range of antique books dating back to the 1700s. We even had a book from circa 1600".
And upstairs is where one of Marlene Miller Antiques regulars spends a lot of time.
"We have a ghost here. Her name is Catherine Ellis, and she has been with me for a long time. In fact, she resided in the building next door and came across to my new shop when it was built."
It doesn't concern Marlene in the slightest though when she goes up to the mezzanine level of her store to find things moved around.
Downstairs there is a stunning collection of jewellery, with a selection from top Melbourne jewellers including Simon Kushnir, who is well known for his handmade rings and jewels of the finest quality, and very popular for engagement rings."
When you wander around the store, you will be amazed at what you can learn, as Marlene takes you through the enchanting world of old wares.
"A favourite is gold rush jewellery, which was actually made during the gold rush, with intricate detail modern jewellers cannot imitate," says Marlene.
She has a large selection of mourning jewellery, beautiful and macabre pieces that were created to mourn the death of a loved one, which became popular in the 1800s.
"We have lockets with the person's hair on one side and their photo on the other, rings with the hair intertwined in the design, and jet-black enamel rings surrounded by pearls. The black signifies death and the pearls represent tears."
Marlene Miller Antiques has a wonderful eclectic mix of English china, 1920s oil lamps, furniture by Jacob and Josef Kohn – established in 1849 – hat boxes, candles and Japanese room dividers.
With a large variety of treasures in her store, sometimes it's hard to let go of some items.
"You do become attached at times, especially when it's something you know you will never see again, but there are always new pieces coming in."
Marlene Miller Antiques has been in Sorrento for 32 years but in a purpose-built building for the past eight years.
---
Marlene Miller Antiques 128 Ocean Beach Road, Sorrento
Phone 5984 1762