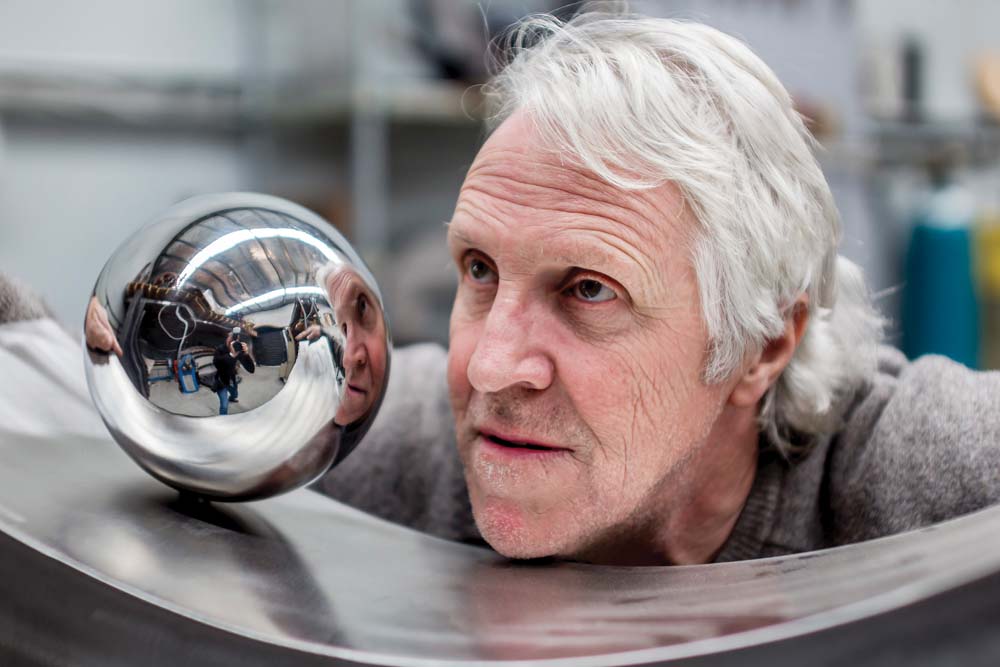 By Andrea Louise Thomas   Photos Yanni
In a nondescript industrial warehouse in Tyabb some extraordinary things are being created. Award-winning sculptor Rudi Jass specialises in wind-driven kinetic sculpture, but he makes a wide range of sculptural work. His designs are innovative and constantly evolving. He works with stainless steel, corten steel, copper, stone and glass creating pieces that are both elegant and strong.
A common thread throughout much of his work is the influence of the natural world. "I have a relationship with nature. I value the shapes that I find in nature," he says. Fittingly, many of his sculptures and water features are prominently placed in gardens in Australia and internationally.
Jass would never have thought he'd be a sculptor. He began his professional life as a motor mechanic in his hometown, Hamburg, Germany. He worked as a technician for VW/Porsche in Germany and Canada, but longed for a warmer climate. Then the company sent him to Papua, New Guinea. He moved to Melbourne next where he started working for Porsche and later opened his own car workshop.
While working in his workshop, out of the blue, a customer asked Jass if he could make a candelabrum for him. He did. That customer returned a week later saying he knew someone with a shop in Toorak Road who wanted ten. Then they wanted more. A photographer friend took some photos, which Jass sent to Home and Garden Magazine and then the orders started flowing in.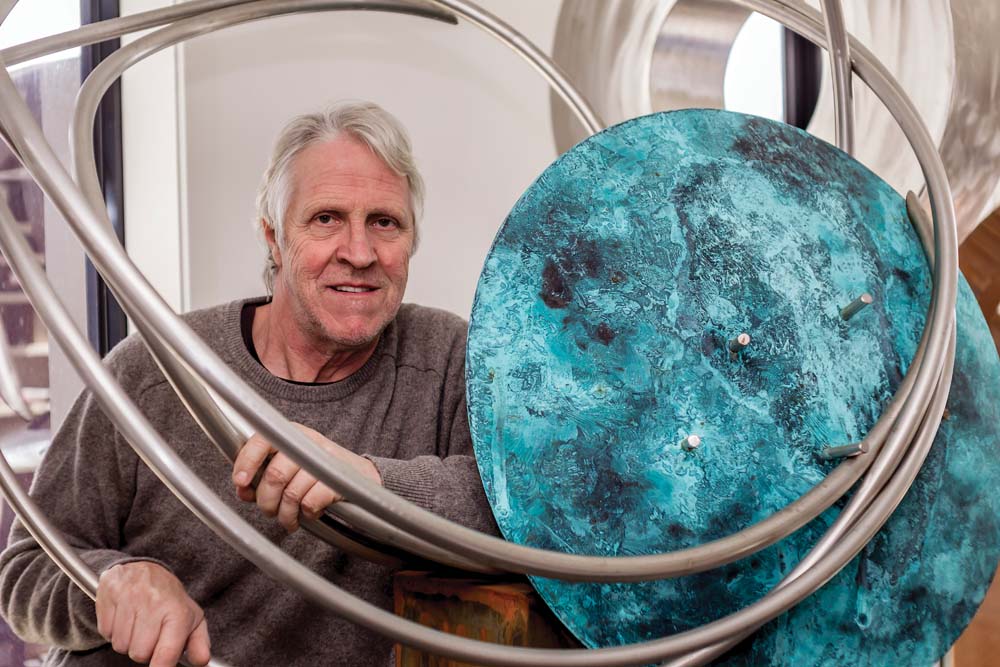 His wife was instrumental in his new professional enterprise always encouraging him to try new things. She wanted her husband to make her some garden benches. With his interest in industrial design the idea appealed to him. Satisfied with his creations, he approached some garden centres and they wanted his work.
One garden centre asked if he had ever made a water feature. He made some out of glass and stainless steel and all of a sudden he had a constant stream of orders. He sent some photographs to ABC's Gardening Australia in 2014, and they came to film and feature his work. It was then time to sell the car workshop.
In another bit of serendipity, Jass met sculptor, Lazlo Biro. They became friends and this chance meeting resulted in a "sort of lifelong apprenticeship," he says. Though Jass has no formal art training, he was able to combine his technical skills with his design skills to create clever and unique handmade sculpture that is clearly art. When he found his style was being copied he decided to make his work a bit more complicated and his kinetic sculpture was born.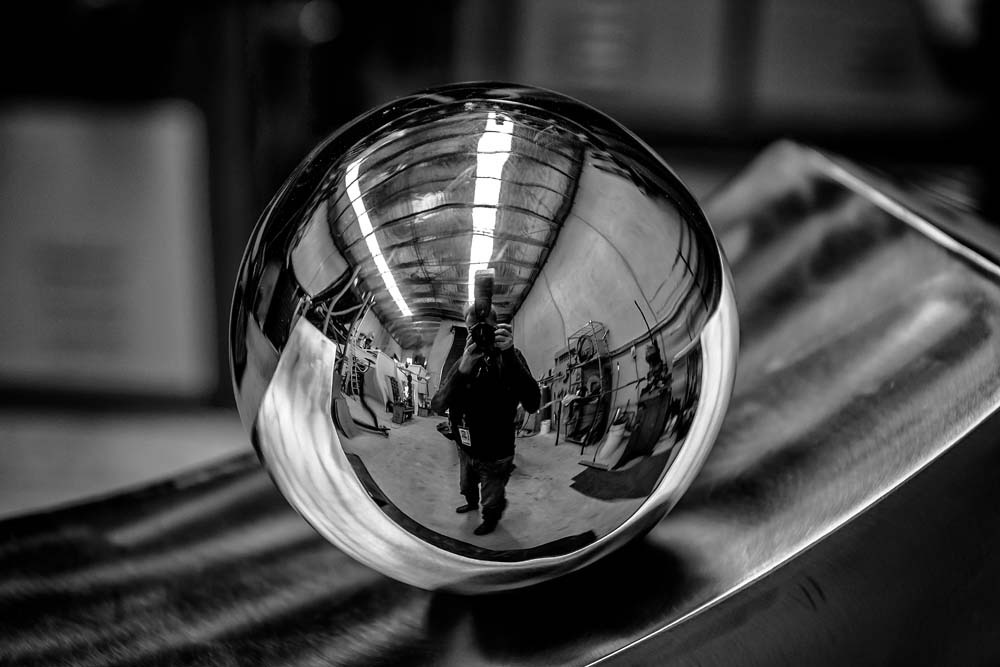 Jass now works with an engineer who is very keen on making unusual things and does all of the laser cutting for the sculptures. He asked what Jass wanted to achieve with his work and told him that together they could do it. With his background in mechanics, Jass already had a notion of how things worked. Some of the kinetic pieces move on ball bearings like the axle of a car. Still, it is the engineer who determines if the artist's ideas can become reality.
An interest in photography also had a big impact on his work. "Photography trains you to have an eye for proportion. I think that was a big step as well," he says. Many of his friendships furthered his goals. He credits a friend in Germany who is an industrial designer for exposing him to interesting projects and processes and how to develop concepts.
Since 2009 his kinetic sculptures have graced all sorts of environments from private gardens and courtyards to industrial and commercial settings. "I have made all different kinds of kinetic sculptures, but in the end, everyone wants the leaf in one way or another," he says, so his emphasis on nature is well founded.
While he makes his living as a sculptor, the main goal for Jass is for people to feel good when they see his work. He hopes that they can enjoy the shapes and the movement. Everybody sees something different, but one thing that people like best is that he makes the wind visible.
The greatest challenge facing Jass is finding new things to make. He doesn't want to create the same things he's made before so he looks to architecture, jewellery and shapes in nature for inspiration. It's the intricacies and details he finds intriguing. " You just have to keep your eyes open," he says. The convergence of many elements in his life: friendship, art, engineering and industrial design have all combined to create a truly unique artist whose work is distinctly his own.
In his 250 square metre studio/workshop he builds pieces as large as 5 metres tall. (He's limited by the 6-metre height of the ceiling.) All of his pieces are an engineering challenge, but it gets really tricky with the larger pieces. There is a lot of trial and error, but Jass is undaunted by a challenge. He has been innovating his whole professional life. It's amazing to think that such remarkable work is being created in a small concrete warehouse in Tyabb, but then you never know what goes on behind roller doors.