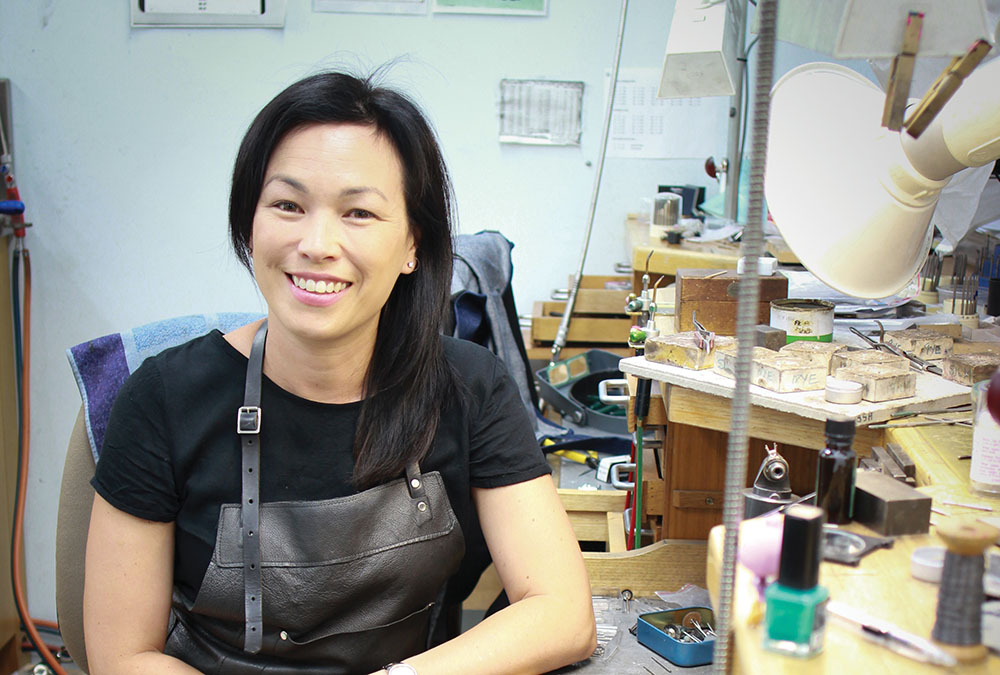 Photos Cameron McCullough
Minzenmay fourth year apprentice jeweller Yuki Mathwin has succeeded for a second time in winning 'The Australian Pearl Jewellery Design Competition' – hosted by Cygnet Bay Pearls – in the Apprentice Category for her ring design 'Prism Layers'. The design competition is run by Cygnet Bay Pearls and it celebrates the iconic and famous Australian South Sea pearl and the talents of Australia's jewellers, silver and goldsmiths.
The concept for Yuki's design was inspired by the natural structure of nacre (mother of pearl) which reveals layers of microscopic hexagon platelets wrapped around a nucleus, forming the captivating iridescence of a pearl.
This is the second year running that Yuki has won this coveted award and follows on from winning Melbourne Polytechnic's 'Most Outstanding Apprentice/Trainee of the Year' 2017, along with an impressive list of other awards spanning her career.
Yuki's eye for detail, self-motivation and strong commitment to developing her abilities has allowed her to begin to carve a name for herself in this competitive industry.
Yuki began her apprenticeship with Minzenmay in 2014 under the tutelage of third generation Master Jeweller Paul Minzenmay.
Paul is renowned in the industry for his fine handmakes and impeccable craftmanship. This is reflected in the high standard of work that Yuki is producing and evident in the strong and loyal customer base that commission Minzenmay to do handcrafted pieces.
Minzenmay boasts the largest on-site workshop on the Mornington Peninsula with four jewellers and a stone setter on-site.
Minzenmay is highly reputed for outstanding customer service, unique creativity and quality craftsmanship.
Its strong heritage was established by Wilhelm Minzenmay in 1911 and is owned and operated by the ambitious partnership of Wilhelm's grandson, Paul Minzenmay and his wife Bridie Minzenmay.
Specialising in genuine quality stones, hand chosen by Minzenmay, there is an elaborate range of engagement, eternity and wedding rings, offering natural, visually non-enhanced diamonds.
Minzenmay jewellers and designers bring you unusual and eclectic pieces that speak to the very heart of who you are. We see jewellery as a personal visionary statement resembling little pieces of fine art.