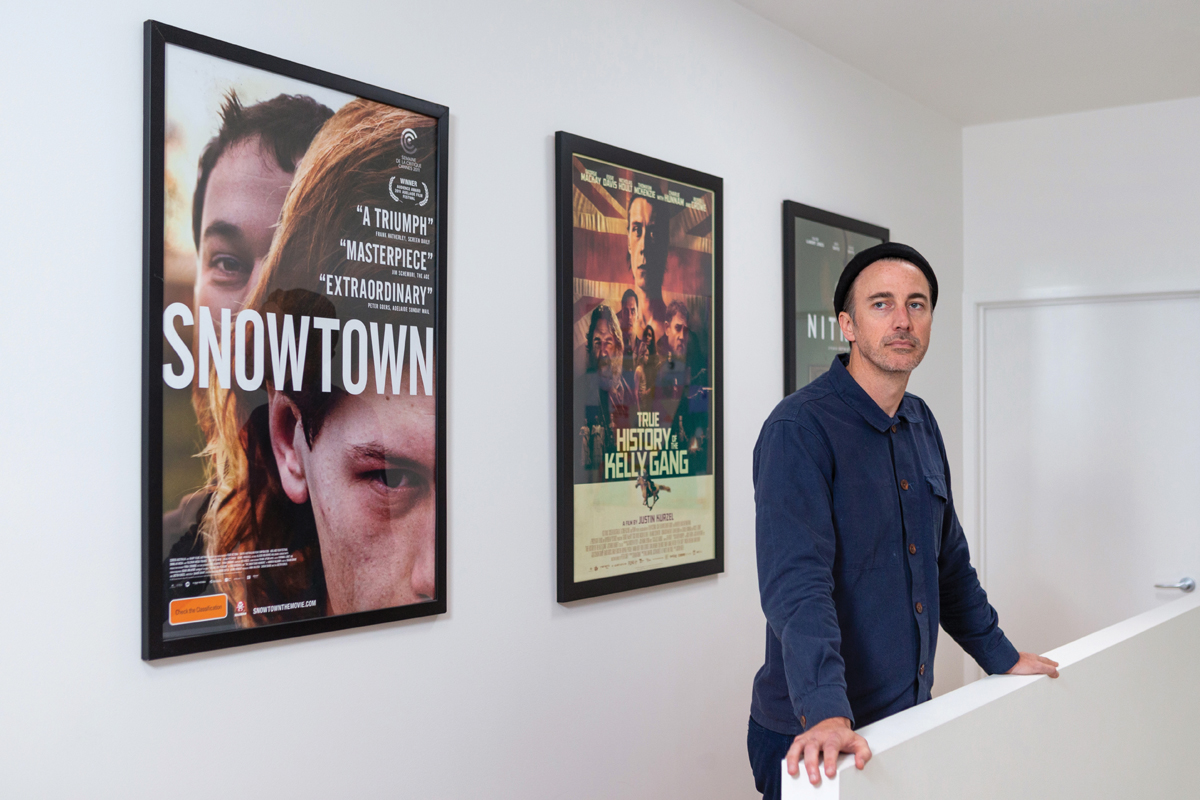 By Cameron McCullough Photos Gary Sissons
Sitting on the judges' couch at the Peninsula Film Festival this year will be a face not as familiar as other on-screen personas.
You may have walked past him in Mount Martha or seen him at a local café with his wife.
His name is Shaun Grant, and he is a highly acclaimed screenwriter whose films have premiered at the world's most prestigious film festivals, including Cannes, Toronto and Sundance.
Shaun's journey from a childhood in blue collar Kyneton, to the judges' couch on the peninsula he now calls home, was one of twists, turns and chances of fate.
"It didn't start out this way," said Shaun.
"While I always knew I wanted to be a film maker, my mother convinced me there was no money in it and I eventually became a schoolteacher."
Shaun still thinks teaching is the "most important job in the world" but working in that role left him with an unscratched itch.
Eventually the pull became too much, and he enrolled in film school in his late 20's.
It was there he wrote a film script as an assignment. It was a life changing script that would end up being produced into his first feature film: 'Snowtown'.
Directed by Justin Kurzel in his directorial debut, the film was based on the real-life murders of 12 people in South Australia in the 1990's.
Described by SBS's Fiona Williams as "a gripping, discomforting watch", it went on to win multiple awards including "Best Adapted Screenplay" at the Australian Academy of Cinema and Television Arts Awards.
The next film he worked on with Justin was an adaptation of the Booker Prize winning Peter Carey novel 'True History of the Kelly Gang'.
A wild and engaging re-telling of what Shaun describes as "one of the greatest Australian novels ever written", 'True History of the Kelly Gang' does not attempt to embrace historical accuracy, but an abstraction on the story we all know so well.
Shaun had now moved to Los Angeles to work, and it was while there he wrote the script for his most recent film, 'Nitram'.
"The inspiration for 'Nitram' came after two mass shootings in the United States. I really felt 'enough is enough'. I had the idea to write a film taking you inside the life of someone who shouldn't have access to guns. Take you into a gun shop with that person and show you what happens."
'Nitram', Martin spelled backwards, is the story of Martin Bryant the notorious mass killer who murdered 35 people and injured 23 others at Port Arthur in April 1996.
'Nitram' is the third film he has collaborated on with Justin and is the third in what he refers to as his 'wrath trilogy'.
Uncomfortable, confronting, but meaningful, the film world premiere took place at the Cannes Film Festival, the first Australian film to do so in a decade.
'Nitram' went on to win eight AACTA Awards in 2022, including "Best Film and Best Original Screenplay". 'Nitram' also saw Shaun win his sixth Australian Writers Guild Award for "Best Original Screenplay".
It was controversial. Some survivors and relatives were against the film.
"I don't take their concerns lightly and understand that some people didn't want to see it," said Shaun.
"I think I have tried to always delve into the psychology of why."
"And I do believe that some of those who were against the film had an understanding of why we made it once they saw it."
Shaun has been involved in numerous other projects including films 'Penguin Bloom', and 'Jasper Jones'. In television, Shaun has written for multiple series, including 'Deadline Gallipoli', 'Slide', 'Janet King' and Netflix's 'Mindhunter' for which he, and the show's writing team, received a Writer's Guild of America nomination for "Best Drama".
It was Covid-19 that finally brought Shaun to the peninsula; part of an Australian exodus from Los Angeles as the pandemic took hold.
"I love it here. I work from home, so my environment is important for inspiration," said Shaun.
"I have a park behind me, and the sea in front. What more could I want?"
Shaun has his hands full working on a television project with Justin; a five-part series based on another Booker Prize winning novel, 'The Narrow Road to the Deep North' by Richard Flanagan.
And, of course, judging at this year's Peninsula Film Festival.
"I'm excited to be part of the Peninsula Film Festival as I love both the Mornington Peninsula and film. Put those two things together and I'm in!" said Shaun.
"I'm excited to see all the talented filmmakers we have here and hope lots of the locals come out to offer support, not just film but the local community."
The Peninsula Film Festival runs from 3 to 5 February.
The short films will be showcased at Rosebud's Village Green on Saturday 4 February.
For tickets or more information visit the website.