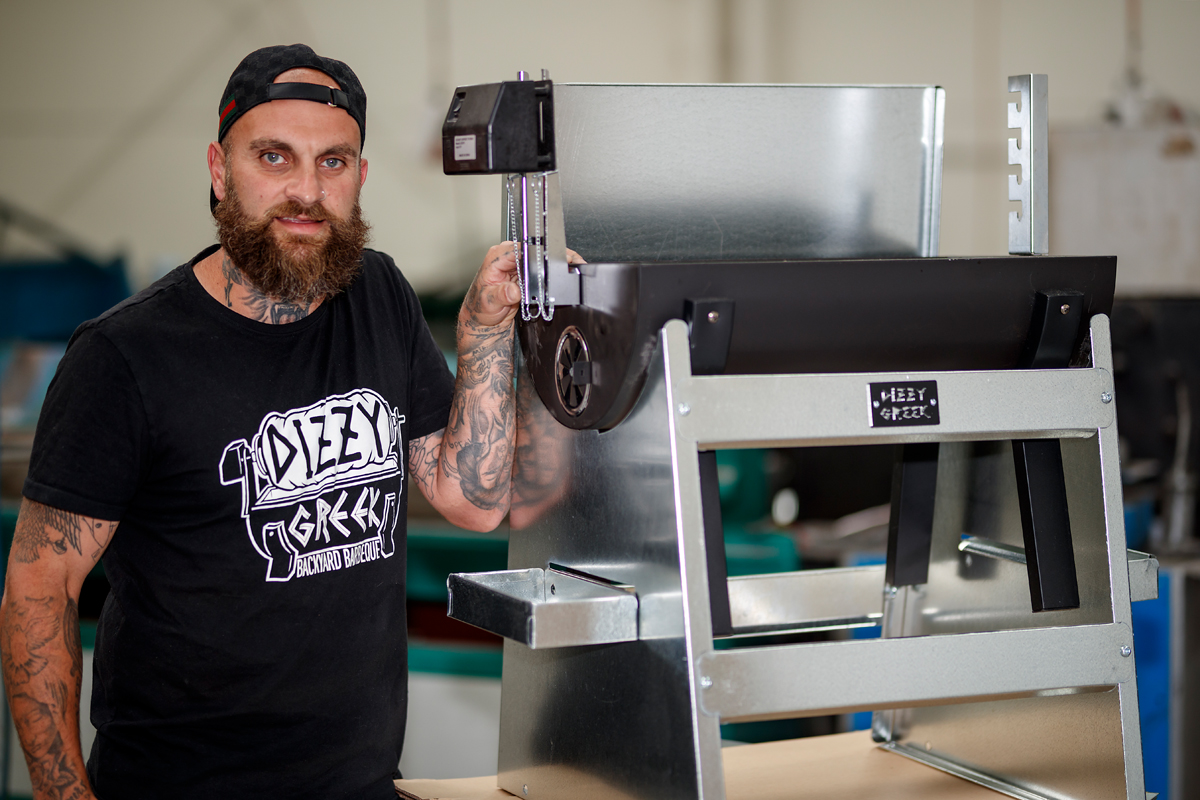 By Joe Novella Photos Yanni
People become famous for all kinds of crazy reasons in this modern day and age. Being a dab hand on the BBQ is not one of them; well, not until now. Ross Fountis, aka The Dizzy Greek, has achieved a cult following on social media. He has been interviewed on prime time breakfast radio; he has even made it to the UK via the Daily Mail, all on the back of his passion for rotating-spit-style barbequing.
It all started when Ross joined the $85 Bunnings Jumbuck Mini Spit Society on Facebook back in 2020, when we were all trapped in the Covid nightmare. And, just like the rest of us, Ross was looking for anything to brighten up his days. The Facebook group describes itself as, "Just a group of people who share the common love of cooking a piece of meat on the $85 dollar Bunnings mini spit. Nothing more nothing less."
That's right, a group made up solely of fans of the Bunnings (or as the group like to call it 'The Big Green Shed') Mini Spit BBQ. It's an exclusive group of spinners (a term for aficionados of the rotating spit form of cooking) and not everyone can join. In fact, it's a bit like the cult classic movie 'Fight Club' where group members must abide by certain rules. First and foremost, you have to have the Bunnings Mini Spit to join; other brands are not welcome.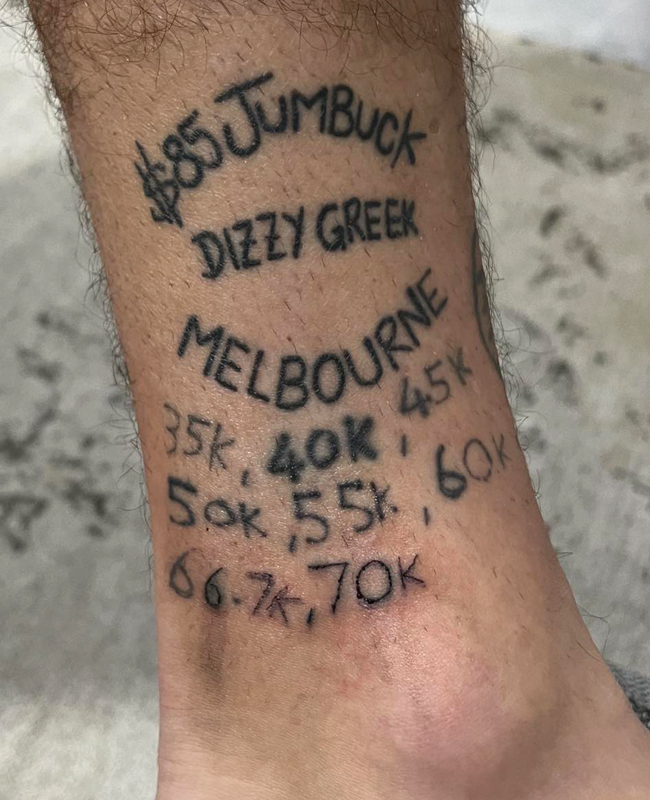 You must cook with charcoal briquettes; Ross uses the Heat Beads® brand. Thirdly, you must also have a meat-related nickname— the creator of the group being 'Mr Crackleman', while other notable members include 'Albert Einswine' and Happy 'Grillmore'.
Ross joined with the moniker 'Dizzy Greek' on account of the feeling he gets when watching a piece of lamb spin as it cooks. When he joined, the group had under 100 members and such was Ross's passion for the group, he had his daughter, a budding tattoo artist, tattoo '$85 Jumbuck, Dizzy Greek, Melbourne' on the back of his ankle.
That's when everything 'blew up', according to Ross: "I spoke to Ross and Russ on 3AW who wanted to talk to me about the Facebook group and my tattoo, and after that everything unfolded. We started to get heaps of people join the Facebook group and I started to get asked to do other media." The $85 Bunnings Jumbuck Mini Spit Society on Facebook now has close to 72,000 members and as a result of its growth, the Big Green Shed has regularly sold out of the $85 Mini Spit.
So how did this fascination and passion for rotating spit-style BBQ start? "I come from a Greek family. We grew up in the south-eastern suburbs of Melbourne and, typical of Greeks, there were a lot of us, and we got together almost every weekend. So, I had heaps of cousins and uncles and aunties and we'd get together often and when we did, there was always a lamb on a spit rotating in the backyard, watched over by my Papous Spiro or Illias (grandfathers). That's how I learned, by watching my grandfathers, what they did, how they prepared the meat, managed the heat, what herbs to use. There is nothing like gyros from a Greek backyard BBQ, wrapped in pita with some salad and tzatziki. The best!"
For the uninitiated, 'gyros' means 'to turn' in Greek; it is the meat that is shaved off the rotating spit. Souvlakia or souvlaki is grilled meat that is put on skewers. Since achieving fame on radio, print and social media, Ross has been busy setting up his own Facebook page and website, where he shares cooking tips and sells accessories to complement the Mini Spit. "I have lower back problems and the Bunnings Mini Spit is low to the ground, so I designed a stand and with the help of F&J Metal Fabrications, we started knocking them out. We also sell wheels so you can make your spit more mobile, plus wind breaks and meat trays."
Ross has even set up a temporary shop front in Seaford to show his wares and hopes, in time, to make it his full time gig. "Right now, Dizzy Greek is just a side hustle, I have a concreting and home renovation business but one day I want to be full time in the BBQ industry because that's where my true passion lies.
That is mainly because I worry that we're losing the heart and soul of Aussie culture which is the backyard BBQ. When I was growing up, the backyard BBQ brought everyone together, it kept families and friends together, and I want my kids to experience that.
"So, I think it's important to teach the next generation about barbequing and get them passionate about it before it's totally lost, which would be real shame. That's what I'd like to do going forward; spread the love. I'm determined not to let an Aussie tradition fade away."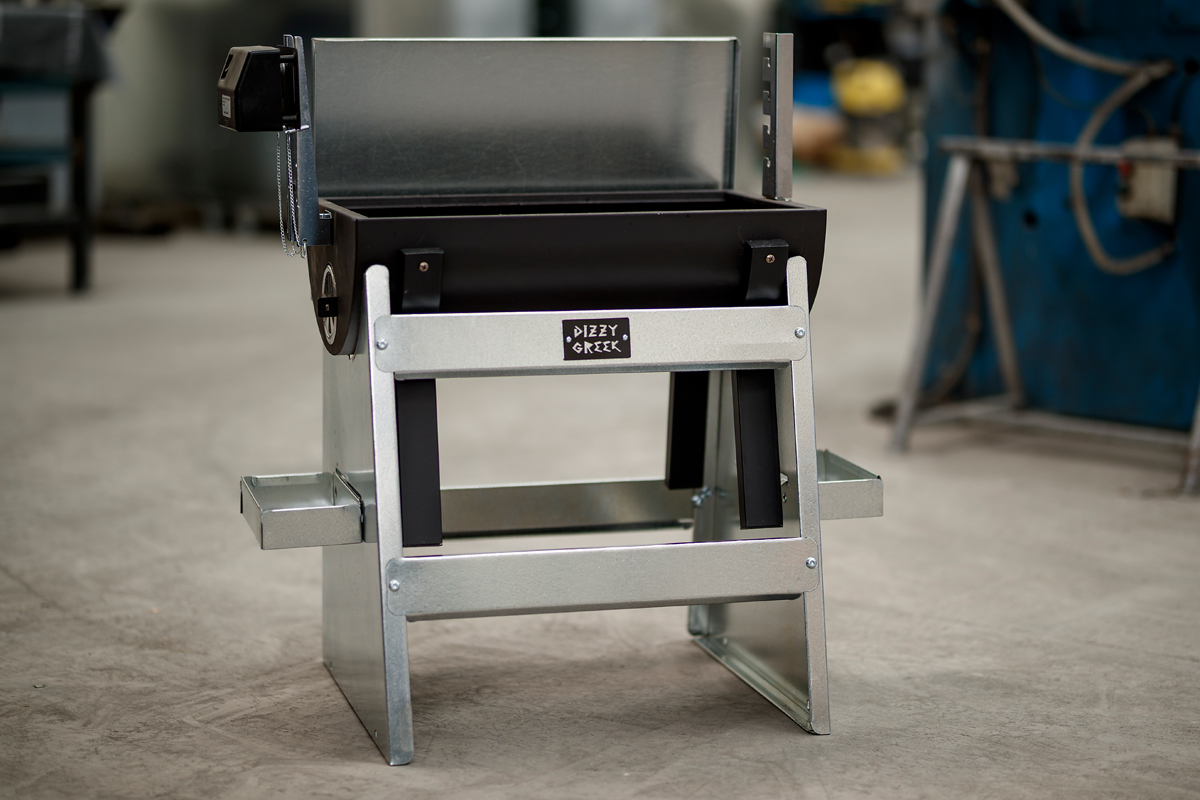 When Ross isn't spinning meat or doing live streams on his social media pages or working in his businesses, he loves taking his family down the road to the Peninsula for some time out. "I love the Peninsula. Love it! We used to go as kids when the Greek Festivals happened on the foreshores at Rye and Sorrento. Thousands of Greeks gathered together, meat spits turning everywhere and music playing; it was unreal. The sounds. The smells. Nothing like it anymore unfortunately. Nowadays I like to chill out fishing for squid from Mornington Pier or take the family to grab a gelato and check out Main Street."
It's clear that Ross's passion is the spit BBQ, but it's one born of the love of family and tradition. A tradition he intends to keep alive to be enjoyed by the generations to come.