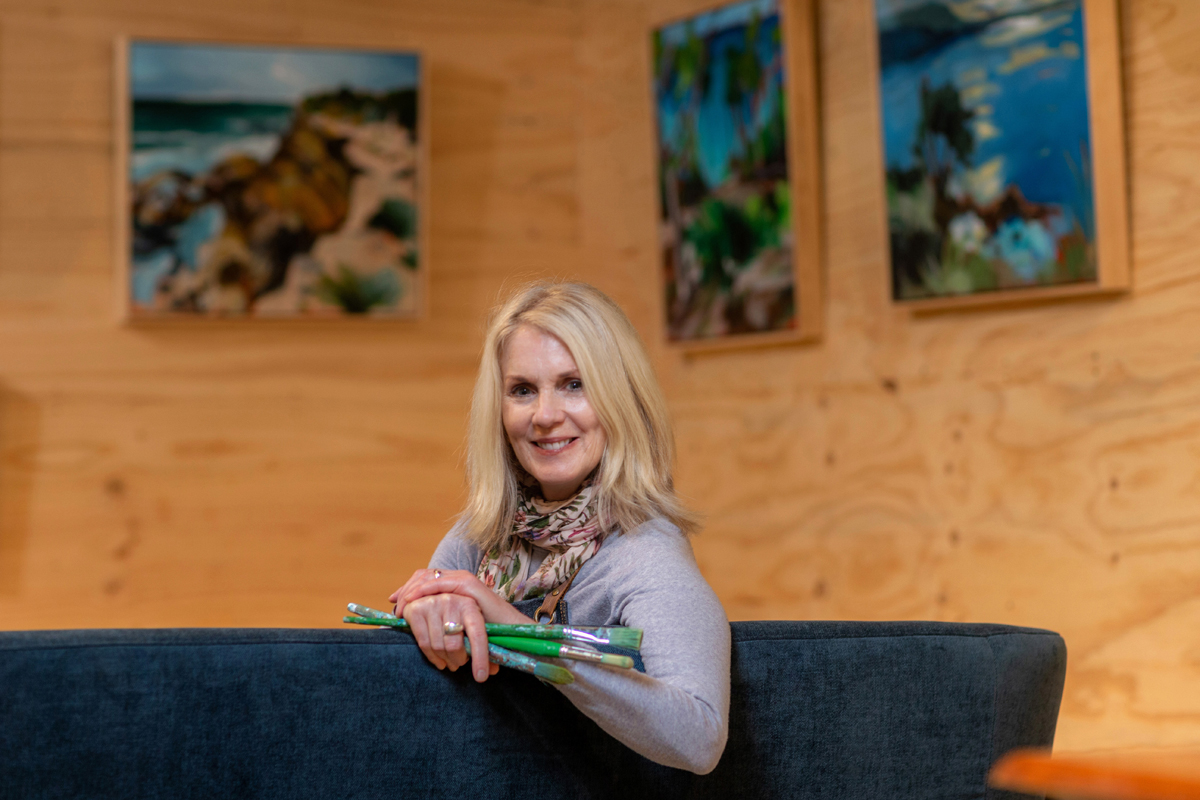 By Andrea Louise Thomas Photos Gary Sissons
Mornington painter Liz Fitzgerald has lived on the Mornington Peninsula her whole life. It's her key source of inspiration. "I grew up on the beach. I cannot imagine living away from the coast. Coastal landscapes are an endless source of awe," she says.
Liz loves the variety and changeability of the Peninsula and how accessible those differences are. One doesn't have to travel far to be in a completely different environment: bay beaches, back beaches, hinterland, wetlands, forests, bushland. There is no sameness. Biodiversity abounds.
In high school, she started taking art classes as well as graphic communication. Art and writing were her favourite subjects. Her mother suggested she study graphic design as she noticed Liz always liked to draw as a means to describing the world around her.
She studied graphic design at Caulfield Institute of Technology (now Monash). The graphic design course included photography, life drawing and illustration. Liz worked as a freelance designer for three or four years, but felt teaching would be better suited to life with a young family. Completing a Diploma of Education at the University of Melbourne, she started a 25-year career teaching secondary school Visual Arts and Technology. "I loved teaching!" she says.
Liz made a gradual shift to becoming a full-time artist. It was an alignment of many things. Her transition from full-time teaching to part-time teaching when her children were grown gave Liz more time for painting and exhibiting.
Predominantly, Liz paints coastal scenery in vibrant blues and greens juxtaposed with earthy tones. These are semi-realistic impressions of place, what she calls 'abstracted representation'. Seascapes and landscapes dominate, but Liz also paints abstracts. "Abstraction is a challenge. It's so elusive – it keeps me coming back. It's so exciting to get it right. It's like finding that missing piece of the puzzle," she says.
Beginning a painting of a place, she will have visited, sketched and/or photographed the scene and often journaled about it too. A journaled notebook filled with beautiful paintings and narration about her thoughts and feelings about the place as well as its challenges accompanies her. For Liz, the feeling a piece evokes is more important than what's on the canvas.
"When I photograph a scene or do a sketch of it, the light changes. Sometimes I'll do several versions at different times of the day. I'll get a completely different mood, colour palette and different shadows," Liz says.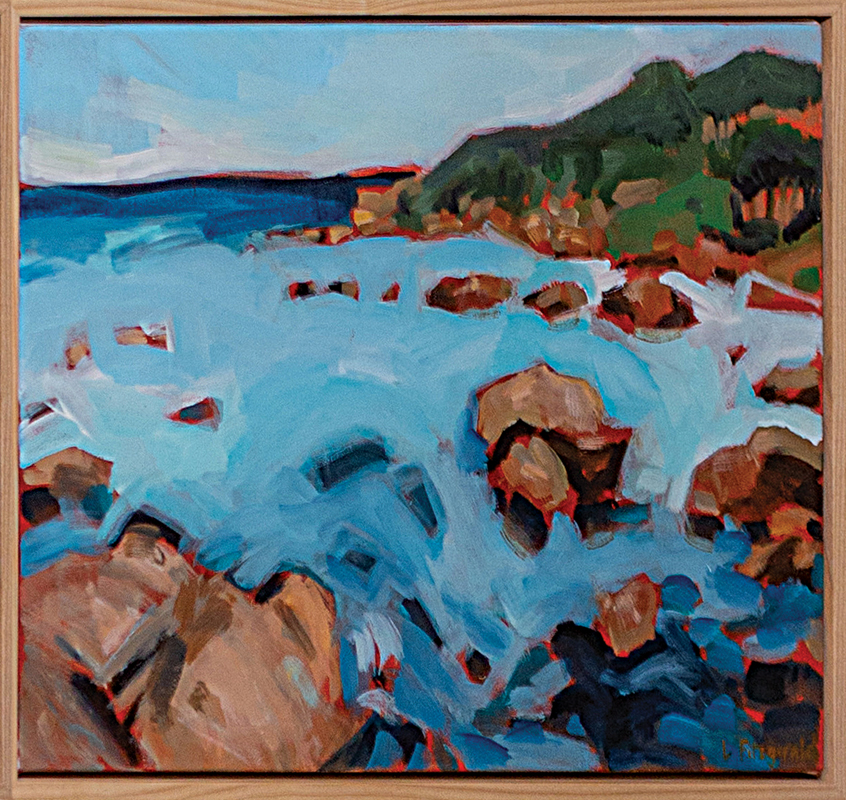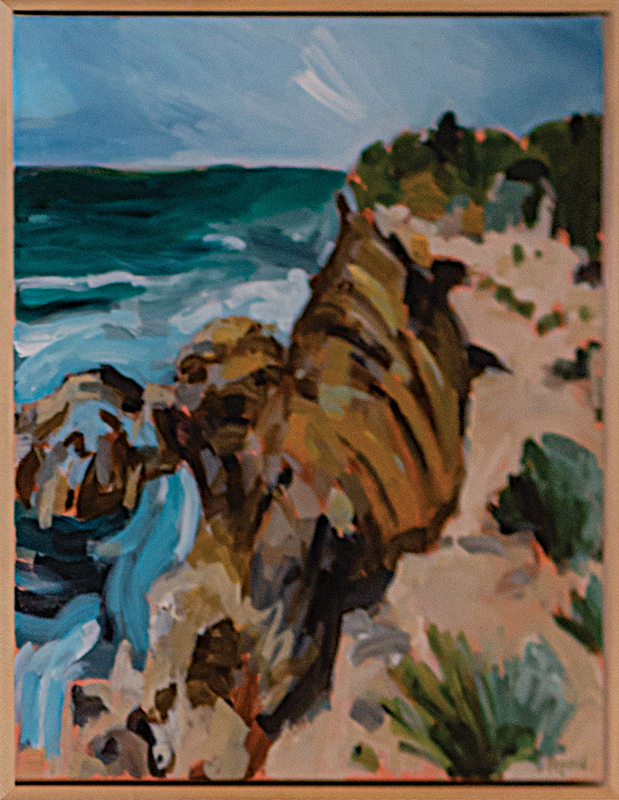 Keeping her work loose and interpretive is the aim, but not without considered mark making. "I like a bit of ambiguity – it's why I rarely identify a location in my landscape works – so people don't go in with a preconceived notion. Also, memory is connected to familiarity. I want to give a sense of a place without overtly setting the scene so the viewer makes his/her own interpretation," she says.
One of the best things about being a creative person is the opportunity to be grounded in the moment, uncluttered by thoughts of the past and future. "When I paint, I go to a different state of mind. I am totally present. For me, painting is a kind of meditation," she says.
Painting is a totally immersive experience for her and, therefore, mainly unplanned. It's a constant process of addition and subtraction. Liz prefers her work to emerge and loves to discover what reveals itself.
Liz used to work from a little garden studio at home, which was lovely, but had its limitations. In May 2021 she moved to her current studio in Mornington that she shares with three other female artists. The support and camaraderie are wonderful.
In addition to painting, Liz loves printmaking and, in the past, darkroom photography. She likes the element of surprise when the paper is peeled off the printing surface or the image emerges. She enjoys making things that reveal themselves in unexpected ways.
Liz is planning an exhibition for late 2023 after travelling to Europe. She's currently busy working on commissions keeping a mix in her artwork between figurative, imaginative and abstract. You can view her paintings online or come to visit her studio by appointment.
---
Insta: @lizfitzgerald_art