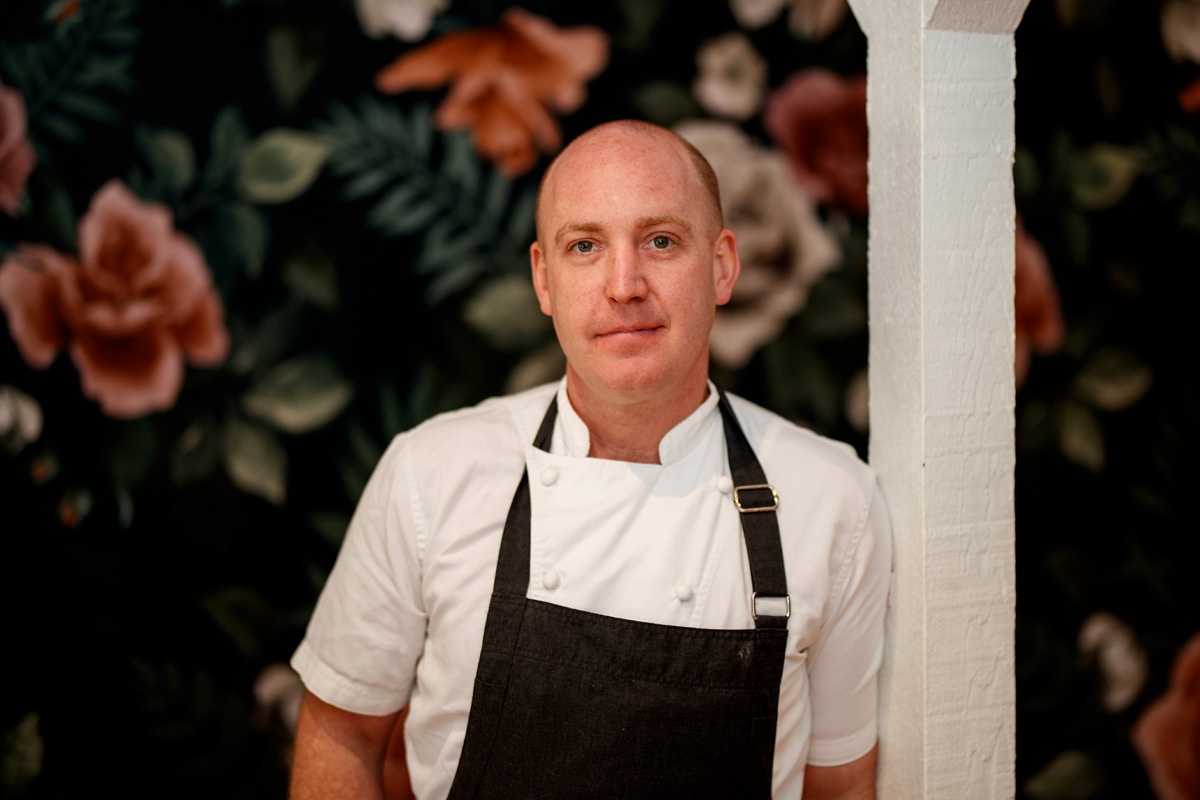 By Andrea Louise Thomas Photos Yanni & Supplied
In the sleepy little seaside village of Flinders, you'll find something quite unexpected. Where the Flinders Bakehouse used to be, is an unassuming little restaurant called Moke. The surprise is inside where you'll find one of Australia's finest chefs; world class, in fact. Like the restaurant itself, there is nothing pretentious about owner/chef Michael Cole, which is all the more remarkable considering his achievements.
Michael won Foodservice Australia's Chef of the Year twice (2019, 2017). In 2019 he also competed for Australia in the Bocuse d'Or, the world's most prestigious culinary competition. Only 24 chefs are chosen for The Grand Final in Lyon, France and it takes two years to prepare. Michael and his commis chef, Laura Skvor, were placed fourteenth out of the 52 countries competing.
Destiny may have played a part in Michael becoming a chef. When he was a toddler, he had a serious accident that took many years to fully recover from. Consequentially, he spent years in the garden and kitchen with his mother picking, foraging, cooking and building a close bond with her and with food. They were living the paddock to plate ideal. He developed his palate and passion for cooking at a very young age.
Michael grew up in Mansfield, where he started working in his first restaurant kitchen at fifteen. He was chosen out of high school to apprentice under Austrian chef, Christian Bergmoser. Michael quickly established a reputation as a naturally gifted chef and all the best places in town wanted him. Bergmoser set Michael up with weekly one-on-one tuition with a Swiss chef. By his second year, he was writing the menu.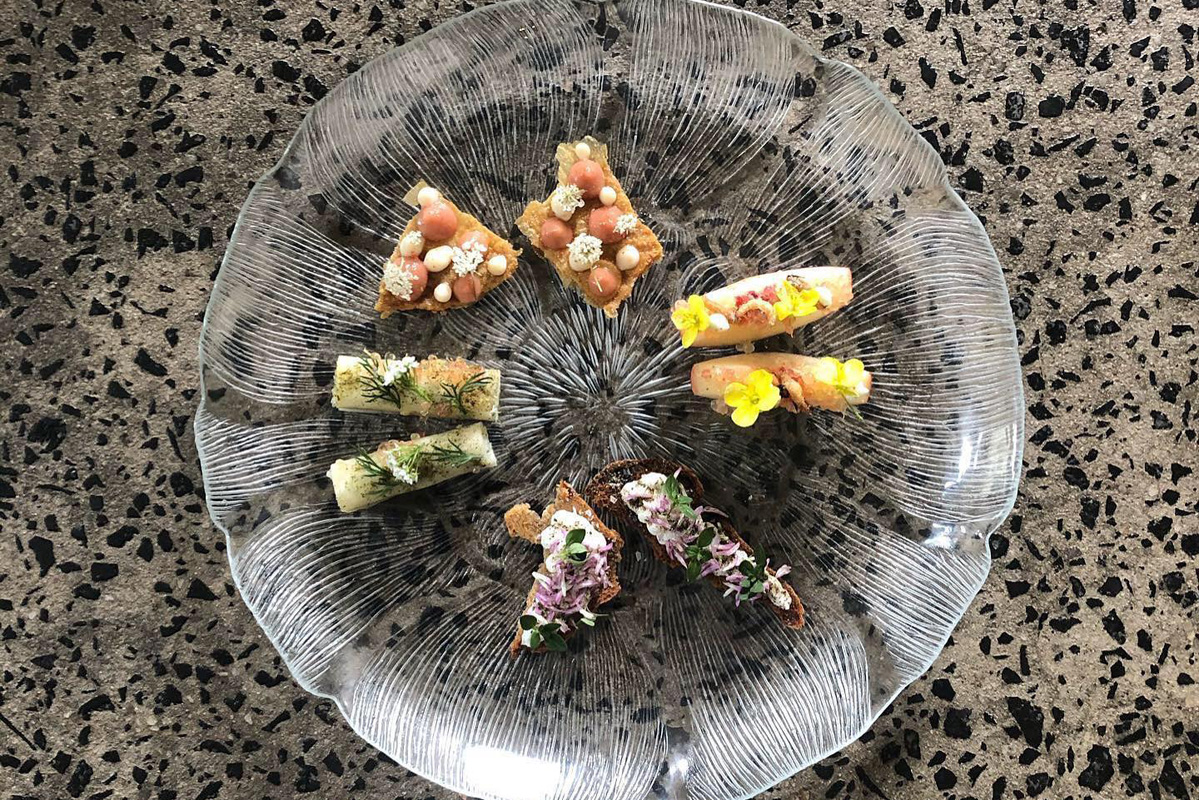 To complete his training, Michael went to William Angliss Institute in Melbourne to study Commercial Cookery. He had to commute from Mansfield so he did his training in week-long blocks, studying or working seven days a week. At the end of his apprenticeship, Bergmoser sent Michael to work at Le Gourmet in Melbourne under chef Eric Mohr.
Through Mohr, Michael joined chef club, Les Toques Blanc, broadening his network. Then, he started entering competitions and winning. Michael consistently built on his skills, working in high end restaurants at home and abroad. He cooked and tasted his way through France, Italy, Switzerland, Spain, Malaysia, Thailand, China and Japan – constantly refining his palate.
France and Japan had the biggest influence on his cooking. He worked in a former nunnery converted to a bed and breakfast in Nice. He loved going to market every day to choose fresh ingredients for that night's menu.
He learned the best French cooking techniques to enhance flavours. In Japan, he learned the value of simplicity – creating perfection with the freshest ingredients. He brings these skills to his current menu.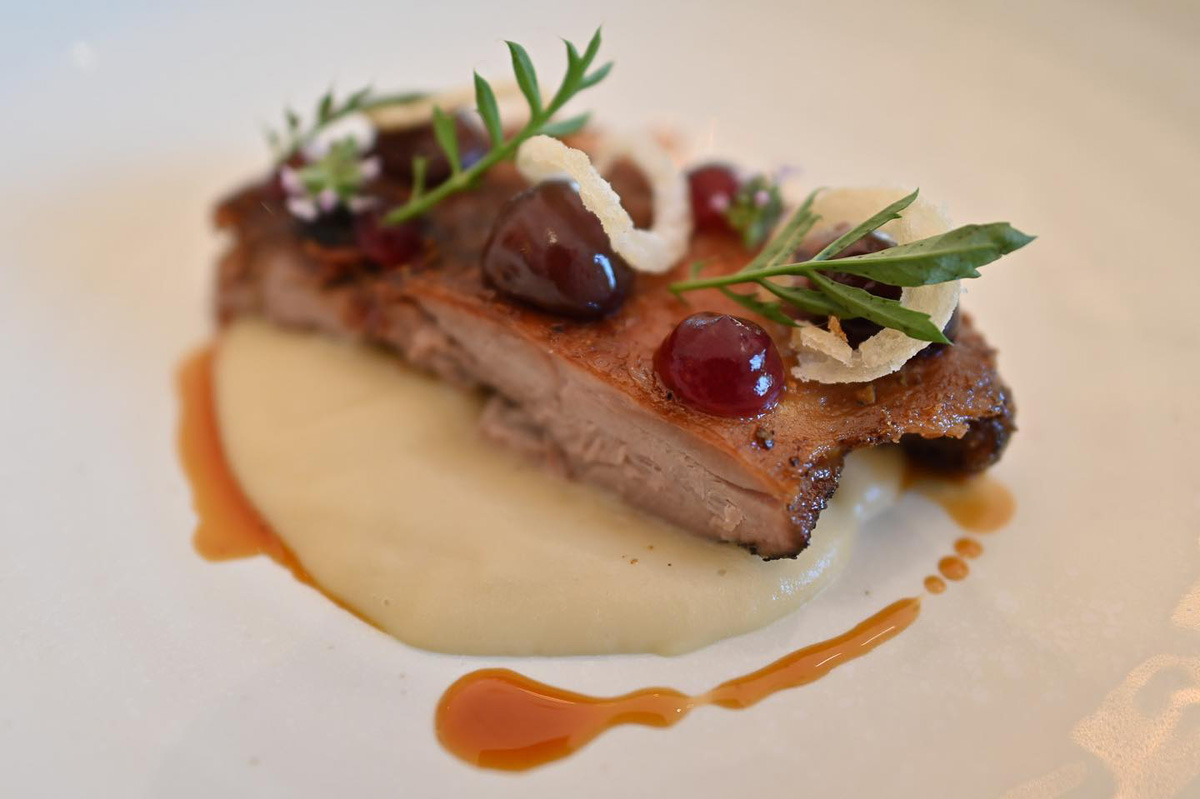 What drew Michael to cooking in the first place was the sensory experience; the smells, colours and flavours. What has kept him in the game is the unending opportunities to learn. "You open one door and there are ten more. The more you learn, the more you realise there's more to learn. Cooking also opens you to culture and history. It gives you a reason to travel; to explore new cultures and the cuisines attached to them. I also love the fast pace of the kitchen. It's exciting," he says.
At Moke, Michael aims to give diners a taste of his consummate experience offering exemplary dining in a relaxed space. He loves cooking on the Mornington Peninsula because its unique climate produces beautiful fresh produce and superb wines. On its menu, Moke features 27 different local wineries and a few iconic international ones. Moke capitalises on all the best producers.
Dining at Moke is a set menu refined gastronomic experience over several courses; a tasting journey for all the senses. Diners will have their interest piqued with starters, a first course that intrigues, a main that is nostalgic, a pre-dessert shock and a sweet, but not too sweet, dessert finish. Each dish is beautifully presented with fresh herbs and flowers.
Michael wants dining to be a shared experience so the entrees are served to share. "Sharing is the gift of being a part of something, giving and experiencing a moment; breaking bread together, so to speak. It encourages conversation," he says. He also says, "Any foodies who haven't been to Moke should consider it a world class destination on the Peninsula."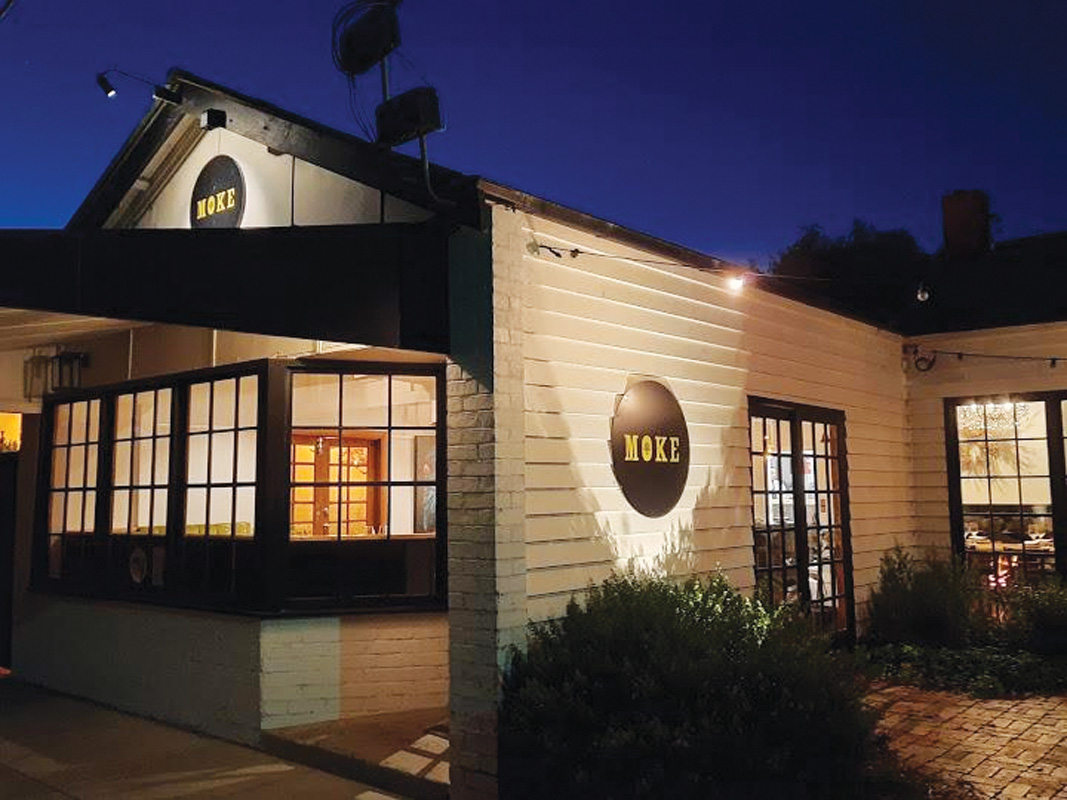 Recipe
Mandarin Cake with Lavender Ice Cream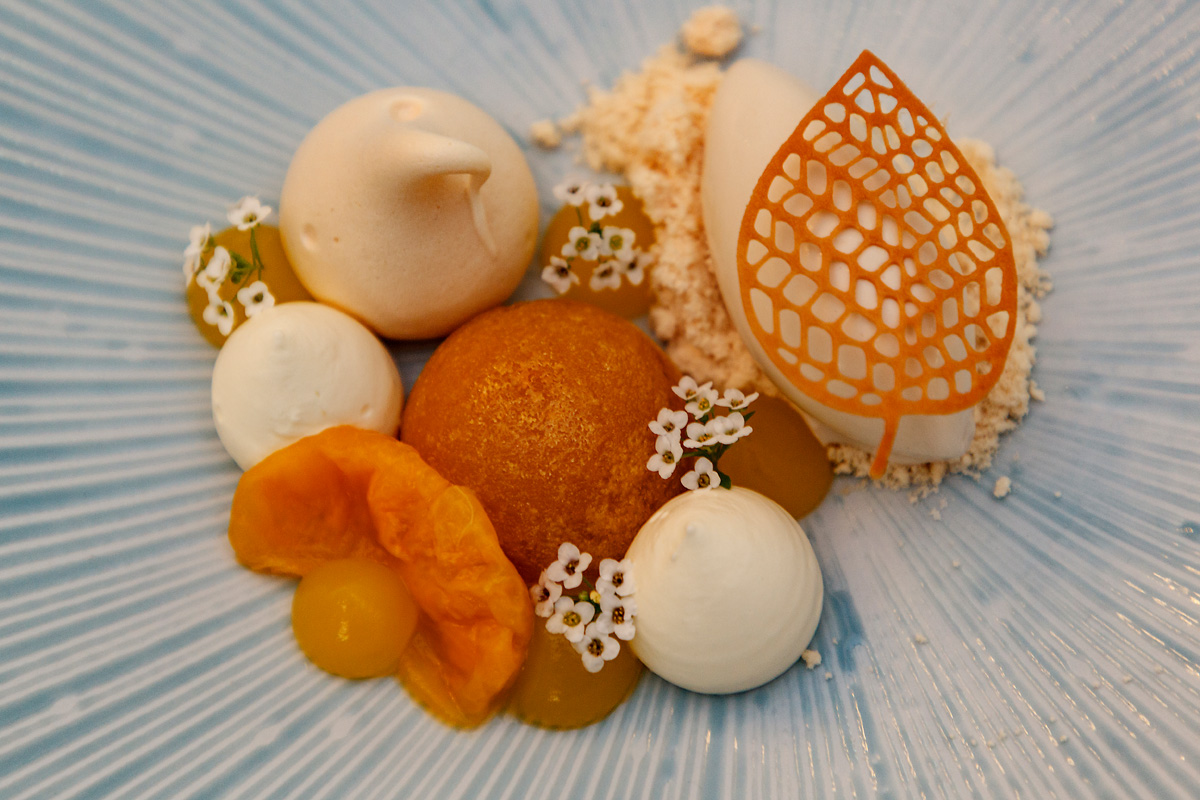 Mandarin Cake
Ingredients
6 Organic mandarin's
300g Pepo farm's hazelnuts
3 x free range eggs
200g raw sugar
10g baking powder
Method
Cover the mandarins with cold water in a medium pot and gently simmer for 2 hours.
Strain the mandarins, discarding the water.
Once the mandarins are cool simply puree all of the ingredients until a smooth consistency.
Bake in a pre-heated oven at 150 degrees Celsius for 30 min
or until set.
You can use a skewer to check the batter is cooked.
The cake should be firm but moist.
Mandarin Jel
Ingredients
500ml mandarin muice
100g sugar
5g agar agar
Method
In a saucepan bring all the ingredients to a simmer whilst whisking and continue to stir for approximately 2-3 minutes.
Pour the sauce into a heat proof dish and place into the refrigerator until set (1 hour).
Blend the ingredients until completely smooth.
Store in a squeeze bottle or pipping bag until needed.
Lavender Ice cream
Ingredients
500ml organic milk
500ml cream
10 egg yolks
150g sugar
10g organic lavender flowers
Method
In a saucepan bring the milk, sugar and cream to a simmer then turn off the heat.
Add lavender to the milk and cream and cover with cling film.
Add the egg yolks to the milk and cook until 72 degrees – either using a double boiler or Thermomix.
Once cooked, Strain the mixture to remove lavender
Let the ice cream base ripen for 14 hours before churning in ice cream machine as manufacturer instructions.
Tuile
Ingredients
3 egg whites
120g gluten free flour
120g sugar
120g melted butter
Method
Add all the ingredients together and whisk to make a batter.
Chill the mixture for 20-30 min.
Spread mixture over chosen mat.
Bake at 150 degrees for 6 min.
Remove after cooking and store in airtight container until needed.
Moke Dining, 60 Cook St, Flinders
Ph 5900 9848