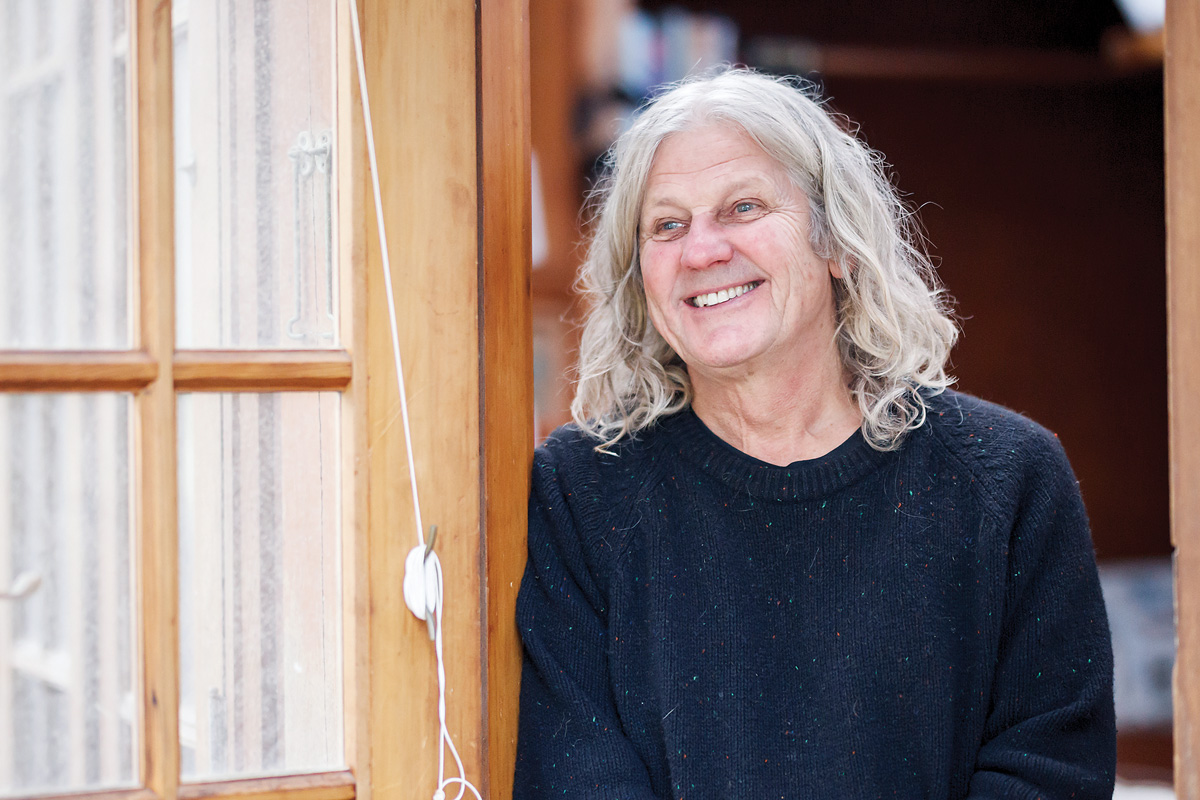 By Liz Bell Photos Yanni
EVEN for people who know very little about football, the name Billy Baxter rings of luminary fame, like the pseudonym or alliterative moniker of a screen star or wanna-be pop star.
For those who don't know, that name is attached to one of Australia's most 'under-the-radar' and down-to-earth superstars of the entertainment sector, who says he was "shocked", "humbled" and "grateful" for the recent honour of an Order of Australia Medal.
The award is not just for Billy's 42 years of non-stop involvement in the music industry as performer and broadcaster, but also as author and actor, and for his part as a team player in that loveable, long-running, radio footy program The Coodabeen Champions, alongside Jeff Richardson, Ian Cover, Jeff "Torch" McGee, Simon Whelan, Andy Bellairs and Greg Champion, all of who made the Queen's Birthday OAM list for 2022.
Billy was initially so surprised about his Order of Australia Medal for services to the performing arts and to radio, he figured it must be "a prank".
"It was almost like something we could have 'pranked' on the Coodabeens, so I just wasn't sure at first when I received the letter; then I realised it was genuine and I was quite humbled," he said.
Of course, the ever-modest broadcaster and performer has accepted the compliment with genuine pride, as he does when I tell him the 'Coodabeens' have legendary status in my world, and the worlds of hundreds of thousands of listeners who have grown up with them.
At 63 and living on the Mornington Peninsula for the past 15 years to "escape the rat race", Billy says it delights him that the Coodabeens have at least three generations of audience, even after moving from their long-time home of the ABC to their new "but basically the same" gig at ACE Radio's 3MP. He says the move gives the AFL radio show a wider reach in regional Victoria, while still keeping the loyal Coodabeen fans listening and laughing.
"We have little kids who listen because their dad or mum listen, and they in turn listen because their mum or dad listened, so there are generations of families who know the Coodabeens and have welcomed us into their homes," he said.
"That's pretty special."
What many new Coodabeen fans wouldn't know is that Billy's links to broadcasting span four decades. As part of The Coodabeen Champions he has been on air since 1981 when the show kicked off on community station 3RRR before moving to the ABC for the next 27 years. He has also co-presented on 774 ABC, ABC Victoria and Tasmania (1988-1995), co-presented on 3AW (1995-2003), and was a founding presenter of 102.7 3RRR (1981-1988).
In 2003, Billy was inducted into the MCG Hall of Fame, which cemented his position among Australia's football 'royalty'.
But there is so much more to the versatile Billy Baxter, and long before he gained fame from a footy show like no other, he had earned his performance badge as a musician.
His name was best known in the '80s and '90s, which were the halcyon eras of live music and international recognition of Australian rock 'n roll. He has been lead vocalist of Ghetto Blasters, Big Fans of Jesus, the Hollow Men, and also worked as a solo artist in the early '90s.
If you watch it closely, you might even notice a slightly younger Billy as part of the rock group The Cicadas, in the cult comedy Spotswood, in 1991.
A sometime author, Billy has penned a few books, including Half a Chicken and Chips (2021), Coodabeen Champions: 40 Footy Seasons (2020), The Coodabeen Champions Take a Good Hard Look at Australia (1992), The Coodabeen Champions Big Book of Things (1992) and The Coodabeen Champions Big Bumper Footy Book (1990)
He even has a "day job" as a gardener and has earned quite a reputation on the peninsula for his flair in landscaping and design.
But despite all his personal successes and accolades, Billy says he is proudest of the mentorship and encouragement he and his fellow musicians have provided for younger musicians coming up through the ranks, particularly in the latter part of the '80s and '90s when every second teenager had a garage band and many morphed into headline acts.
"I love the peninsula. I love that the beach is at the end of my street and I can either be there after a 10 minute drive I can be in the country," he said.
"And having brought up a kid, believe me a beach nearby is 'free fun'.
"But if there was one thing I could do to improve the peninsula it would be to strengthen the live music scene.
"We need to provide more spaces for young artists to perform in intimate, non-intimidating settings, and we need places where people can go regularly to listen to live music and hear what's out there.
"I'd really like to see the kids who are playing music get a chance on stage, to hear what they have to offer."
Although his own participation in the music industry today involves listening more than playing, he fulfils that mentoring passion these days by jamming with his 17-year-old son Gulliver.
"Sometimes we just sit in the bungalow and play guitar, and it's great, I love it," he said.
"At 17 I didn't know what I wanted to do with my life, but now I look back and am proud of having been part of the Australian music scene since the '80s, and I love seeing young artists have a go.