By  Andrea Rowe Photos Gary Sissons
Mel and Chris Melbourne know the secret to a good cheese platter is stunning visual styling, and fresh and fabulous produce. As the Wholesome Foodie they're delivering beautiful grazing boxes to front doors, workplaces and special events across the Mornington Peninsula.
They've plated up cheese boards and sweet treat boxes, high teas and hampers for private picnics, isolation celebrations, care packages, staff and client thanks and pay-it-forward gestures. And they've catering for intimate celebrations and gatherings with deconstructed grazing tables showcasing style and sophistication and wholesome, bounteous feasts that's a joy to share.
It's a catering business with a start-up year like no other. A new beginning was thrust upon them as they welcomed a newborn baby.
When Mel and Chris's professional hours were reduced during COVID, they fast-tracked their dream to deliver door-to-door cheese and dessert platters with a WOW factor.
Mel's background in food and beverage management in West Australian iconic venues, and Chris's in hospitality wholesale management and logistics aligned perfectly. Combining forces, their gorgeously generous food presentation, and ordering and delivery communications, has really made an impact, providing a "five-star service with a personal touch."
"COVID actually afforded us time to take this small business leap," says Mel.
"We suddenly had time to invest and take a few risks in backing ourselves." Their first social media post in March 2020 resulted in 50 orders in one day.
"On Mother's Day we assembled and delivered 141 orders by midday, from Portsea to Packenham. We're now providing to over 98 suburbs."
The couple have established a loyal repeat customer base. They're as generous with their platter produce as they are in spirit and were humbled to be a part of self-care and recognition deliveries during tough times.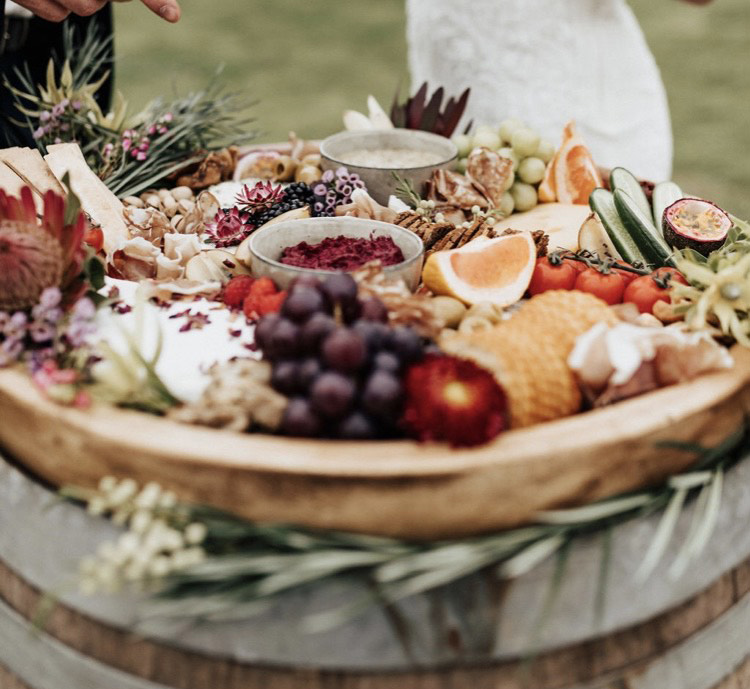 Lockdown restrictions meant locals were forgoing milestone celebrations, while family and friends further away were looking to send messages and gifts to boost morale.
"Healthcare staff, carers, frontline workers, family members who were missed or having a hard time were a big part of our delivery during lockdown. Interstate families were sending treats to older family members and we knew conversations and connections were important. Chris took time to chat during deliveries."
Mel enjoys challenging herself to assemble affordable and unique platter combinations that look stunning, including vegetarian cheese platters and vegan desserts, offsetting product packaging and ensuring sustainable practices in her busy kitchen. "I can put together 160 boxes in no time while baking scones, making rocky road and chocolate bark."
The couple take time to transcribe handwritten notes and offer personalised updates for order tracking and delivery.  "We've shed a few tears transcribing messages or sharing messages at doorsteps. Sometimes people are in an emotive state, and it doesn't take much time out of our day to recognise that. We're in the business of delivering smiles with our grazing platters."
Chris says it's a seamless process from ordering to delivery, "Customers deserve that reassurance and we acknowledge their generosity."
Committed to giving back to the community, Wholesome Foodie has paid it forward through a Scone-a-thon morning tea raising money for the Starlight Foundation.
Restriction easing has meant that special events and small gatherings have increased. "We're setting up luscious, deconstructed grazing tables, offering additional on-site services. It's a visual feast as well as a taste to savour."
Real estate agents have formed part of their business for settlement gifts and open homes. "We're aligning with corporate clients and collaborators who reflect a generous spirit that we value. We can all complement each other and lift each other up. You can't have all the business, but there's ample goodwill and generous spirit to go round."
Mel delights in watching people's faces when they see her platters. "I love seeing how they react to my food."
"The day after I gave birth, I was making a list for Chris to assemble and deliver a hamper that night.  Creating platters for others is just something I love doing."
She's recently added her own boutique tea label, the Tea Circle.
Being a parent to a new business and a newborn baby isn't easy, but Chris and Mel have taken it in their stride. Along with 6-month-old Jasper, they co-parent Chris's son, 8-year-old Oskar who lives nearby in Cranbourne with his mum and her partner.
Chris grew up in the Western Port area. Crib Point, Balnarring and Merricks were his playground and they hope to settle there. "The whole of the Peninsula is a small town really. You're on Ninch Time when you're here; you can take a breath and relax."
It's no surprise that Mel and Chris's own commitment to each other started over a cheese platter. Chris proposed at Craig's Hut in the Alpine National Park, producing a self-styled cheese platter from the esky to mark the occasion.
They've come full circle, marrying business skills and visions to deliver freshly assembled, abundant platters for others to share and celebrate special occasions.
Follow Wholesome Foodie 
www.wholesomefoodie.com.au
Instagram: @wholesomefoodiemelbourne
Facebook: @wholesomefoodiemelbourne