By

Andrea Rowe

 

Photos

Yanni & supplied
We caught up with the wholesome chef Dani Venn to talk MasterChef Mystery Boxes, healthy eating philosophies for families and how she has navigated the lockdown from her kitchen.
Dani Venn is no stranger to plating up immunity-winning dishes that get the nation talking.
Immunity pins are familiar to her (Dani was the first MasterChef Australian contestant to win two), but isolating in her Mornington Peninsula home to safeguard her family during a pandemic is a whole new experience.
The isolation hasn't stopped Dani from embracing nourishing ingredients and whipping up wholesome comfort food for her family. She has also been sharing those recipes online with fellow foodies.
A 2011 MasterChef Finalist, Dani returned for MasterChef All Stars in 2012, and again in the Back to Win MasterChef 12th season. Mornington Peninsula-based Dani says MasterChef has been life changing.
"It's allowed me to explore so many opportunities, to be creative, and to celebrate my own style of cooking and the aromatic flavours I love."
Dani says a stand out MasterChef experience was cooking for His Holiness, the Dalai Lama in 2011. "That was amazing. I'd followed his teachings for years, so cooking a Sri Lankan Vegetarian curry for him and winning the challenge was one of the best moments of my life."
With Sri Lankan flavours making an appearance in many of her dishes, Dani is  equally tickled to have been declared an honorary Sri Lankan: "That's such an incredible honour; Sri Lankans are such wonderful people."
With just a camera and a backpack, Dani first travelled to Sri Lanka to share the incredible stories of women's losses after the Boxing Day tsunami.
"Resilience and hope kept them going, and food was a wonderful connection. Sri Lanka was life changing for me: meeting incredible people, and learning to recreate amazing curries."
"Sri Lankan food really heroes the produce. You get mind-blowing meals that are vibrant, unique and so fragrant in flavour – full of foundation spices, and aromatic ingredients."
Many of these ingredients find their way into Dani's signature dishes like her Season 12 opening winning dish, Pineapple Mud Crab Curry.
Dani had felt similar cuisine connections volunteering in Vietnam years earlier on a high school gap-year programme. "South Eastern flavours are as generous as the people who welcome you."
"For me, cooking has always been about recreating food memories and I've loved helping share that with others."
Fast forward to her Mornington Peninsula kitchen in 2020 lockdown, and bubbly Dani has an apron full of thoughtful observations.
"Like many of us, my concept of time has changed, the urgency to fit everything in has slowed, and it's been a time of growth and change for me. Lockdown hasn't been ideal, but it's been nice to find pleasures in the simple things."
While many of us spent isolation glued to MasterChef to watch Dani's immunity winning curries, she's been focused on whipping up nourishing meals at home for five-year-old Harlow and two-year-old Oscar. With a focus on family wellbeing, her Instagram account shows she just as nifty with the leftovers as the fresh produce, and she shares the fun of wholesome cooking with her kids.
"I enjoy wholefoods and what they represent. When I became a parent, I looked for healthier ingredients and experimented to make them work for family-friendly dishes. Wholefoods became my passion."
"Going into MasterChef Mystery Box challenges this time around, I was using ingredients I hadn't used in a long time – like white flour and sugar. I had to retrain my brain a little, but that has equipped me to be a versatile cook in times of scarcity. I've placed value on different ingredients again, and experimenting with using them in moderation."
Dani says her own home-kitchen Mystery Box must-haves are fresh curry leaves, coconut and pineapple.
Dani's advice to other isolating families right now? "This is the perfect time to get in your kitchen, try something new, and just go back to basics. Even in these challenging times, everyone is so open to sharing and suggesting recipes."
Dani says her mum, Jenny, influenced her appreciation of food.
"When I was five, she went to cooking classes with the wonderful chef Elizabeth Chong."
"I loved the exotic ingredients mum brought home, tasting salted black beans and oyster sauce, or watching mum pull out the portable gas cooker and lighting the wok. I fell in love with the theatre of it all."
Known to many as 'The Wholehearted Cook', Dani shares her food philosophies through partnerships with Coles and Melrose Health. And while her Wholehearted Wellness Retreats are on hold for now, she has been equally generous in sharing her recipes through social media.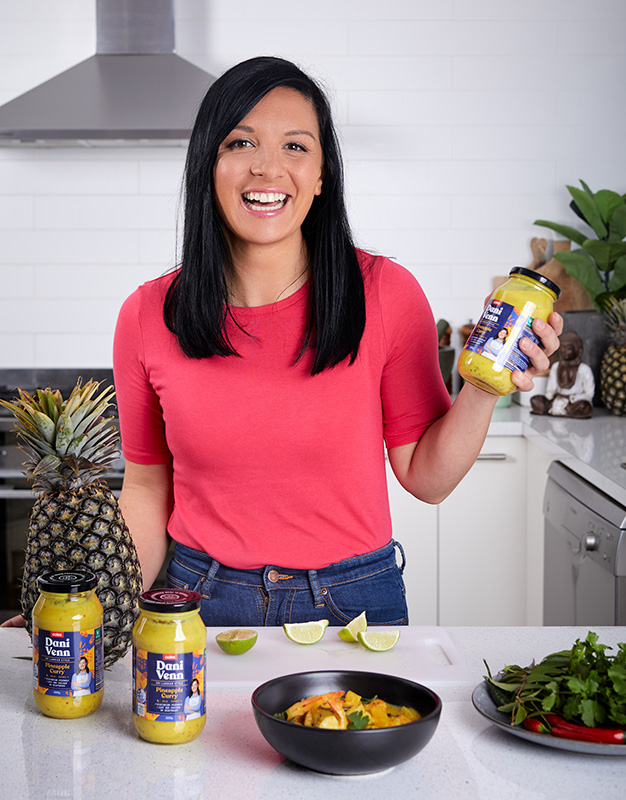 While Dani's culinary journey has taken her into new territories, moving her family to the Mornington Peninsula from the Yarra Valley in 2018 has been equally fulfilling.
"It was all about being close to the ocean. I love that in 20 minutes I'm driving up quiet country roads to Red Hill, or walking the Mornington to Mt Martha foreshore with gorgeous views."
Dani has also enjoyed making Peninsula connections, acknowledging that "finding community is about putting yourself out there and being open to experiences."
She is continuing to make our own home cooking lives easier, recently releasing a series of family-friendly Dani Venn Sri Lankan style sauces in partnership with Coles Supermarkets
"They capture the flavours of my favourite cuisine and make family dinners easier to pull together. I've adapted my cooking during times of scarcity, but when it comes down to it, we're all cooking nourishing food from a place of love."
---