By Erica Louise  Photos Yanni
The 2020 Two Bays Whale Project is calling on sharp-eyed locals to watch out for whales along Victoria's southern coastline this winter. This Citizen Science-based initiative expects to log between 250-300 sightings in the waters of Western Port Bay, Port Phillip Bay and the nearby open coast.
Sightings occur throughout the year but the peak is from June to mid August, when humpback, southern right and killer whales are spotted between Barwon Heads and Inverloch as part of their annual migration. Their path moves from the wintry waters of the Antarctic, alongside the coast to the warmer tropical waters of Australia. Here they give birth and raise their young.
When temperatures increase in spring, they return south to feed on krill in the Antarctic.
The Two Bays Whale Project was founded in 2015 by David Donnelly and Dr. Sue Mason and operates within the Dolphin Research Institute (DRI) framework, and works in collaboration with Wildlife Coast Cruises. Tourists can book a 4-hour winter whale cruise with Wildlife Coast Cruises from Phillip Island and a 6-hour cruise from Wilsons Promontory. John Dickie from Wildlife Coast Cruises manages the data collected from tour vessels, although the project is very much a collaborative effort combining both land and sea sightings.
"Everyone is a key player and together we make sense of the chaos that is the Victorian whale season," said David.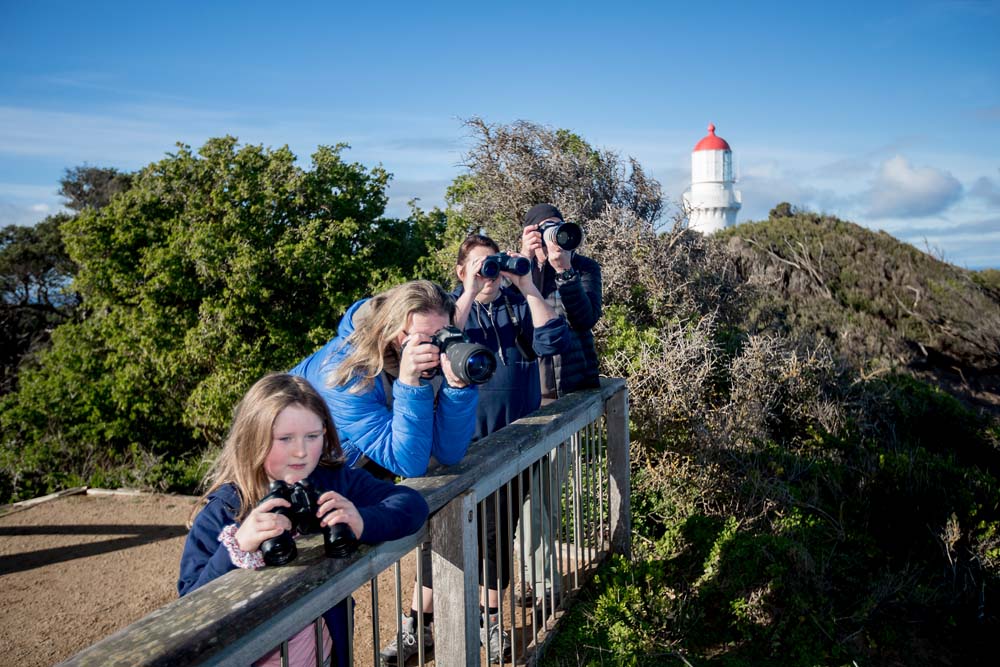 The project was designed to formalise the sightings within Port Phillip Bay, Western Port Bay and adjacent state waters. The data is then compared with previous years' recordings. While around 450-500 whales are expected to be logged in 2020, each year sees a growth in the number of whales sighted so David believes this to be a conservative estimate.
"The average pod size is around two whales with some pods exceeding five animals. The growth in sighting numbers can be a result of more people looking, so it's difficult to determine. The numbers of humpback whales in the east Australian population are growing though, so it makes sense that we would see evidence of this growth in the Two Bays region," he said.
David's cetacean research work spans more than two decades. He joined the Dolphin Research Institute (DRI) after seeing a newspaper article in 1995, shortly after returning from a whale research project in Hervey Bay, Queensland. The Dolphin Research Institute (DRI), led by Jeff Weir, is a registered charity based in Hastings. The Institute has clocked over 25 years of cetacean research. Their work aims to answer critical questions to protect Victoria's dolphins, whales and their environment.
Despite the seasonal nature of southern Victoria's whale research, David's work is continuous. In recent years, he has been contracted by the Australian Antarctic Program to join whale related projects in Antarctic waters. He has also been involved in an ethical, science-based whale swim tourism project in Tonga.
"Each time we think we've found an answer, the whales prove us wrong and we have to keep going. Other than that, I am fascinated by the social behaviour of these animals," said David, of his interest in whales.
David's endless encounters with marine life over the years would be the envy of every whale enthusiast. He has been involved in countless research trips, and has discovered just how curious nature's heavyweights can be. While working at the head of Bight, South Australia, he experienced his very own Moby Dick encounter, as he was lifted from the sea in his four-metre boat by a southern right whale. He recalls another encounter in Antarctic waters with a blue whale, which came within three or four metres of the research vessel during scientific operations.
"The first time you see a whale underwater is unforgettable," he said. "And every time you venture into the water with a whale, it is a completely different experience."
David leads the Citizen Science Project, an essential part of the Two Bays Whale Project research. The Citizen Science Project asks members of the community to document their cetacean sightings with photographic evidence and, where possible, to record these sightings via the PodWatch web-based app. This allows anyone to actively assist in the gathering of important data used in scientific whale research.
David says the best vantage point to look out for whales is from high ground. "But especially from the headland at Cape Schanck, which is the separation point between the Port Phillip and Western Port regions. At this southernmost tip of the Mornington Peninsula, whales pass close by and are clearly visible to the naked eye."
---
Report your winter whale sightings to the Two Bay Whales Project via PodWatch.
This can be accessed via the Dolphin Research Institute's website by going to www.dolphinresearch.org.au/research/report-sightings.