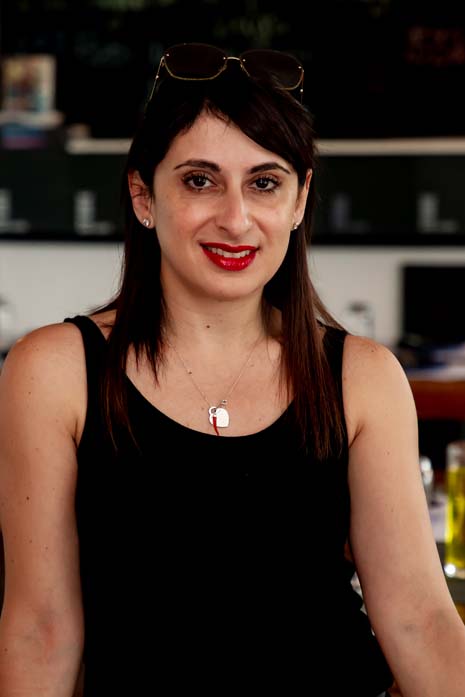 Strong, determined and resilient are all good words to describe restaurant owner, Michelle Zedda, but underpinning all of that is a kind heart. Having faced serious challenges in her life, she bravely rose up to meet them and came out stronger on the other side. She feels blessed to have been so fortunate and because of that, she wants to give back.
Michelle had a good role model for strength in her father. When she was a child, her parents were in a horrific car accident. Her mother was killed and her father was left in a coma for six weeks. He rehabilitated himself, reclaimed his children (10, 9, 3 and 18 months) and raised them on his own as the rest of his family was in Italy. He worked three jobs to support them.
Strength and determination have pulled Michelle through many difficulties. In 2015, she faced her own mortality when she was diagnosed with cervical cancer. Fortunately, it was operable, but she was told she would never have more children, yet not long after she became pregnant with her third daughter. She and her partner welcomed a healthy baby they were told Michelle would never carry to term. Mia Grace (my blessing in Italian) was a miracle baby.
Her partner, who had been a chef in Milan, had a dream of opening a restaurant. It would be a new venture for both of them as Michelle's career was in human resources. Together, they decided to take it on. With help from friends, they transformed an existing Capel Sound restaurant into their own in only four and a half weeks.
It opened in November, 2016. They called it Unica Cucina (unique kitchen in Italian).
A year after they opened, her partner was diagnosed with cancer. A year after that, he died. Michelle has been running Unica single-handedly since. "I'm a very determined lady as most people who know me would tell you," she says.
"For me it wasn't just about building a restaurant. It was about creating a place people could bring their families and enjoy traditions that are fading away," she says. Coming from an Italian background where food is shared and enjoyed throughout the course of a day, she wanted to recreate that experience, bringing authentic Italian food to the table.
Responsible for that great food today is head chef, Michele Zedda. Michelle met Michele by chance dining at a Sorrento restaurant.
He always made a fuss when she came in telling her she was the most beautiful woman he had ever seen and wooing her with wonderful food. She thought he was having her on, but for him, it was love at first sight.
She finally agreed to go out with him. On their first date he said, "I've been in love with you for a long time. I know you don't know me, but you're going to love me and we're going to be together." Four months later they married.
They have been working, living and raising three children together comfortably ever since. Last year they went to Sardinia to meet Michele's family for the first time. His parents warmly embraced Michelle and their 3 instant grandchildren. To them, they were all a blessing.
Feeling blessed has inspired Michelle to give back to her own community. It started with Wednesday nights providing free dinners to families battling cancer. Michelle knew first hand how little money is available for enjoyment when so much is going to fighting the disease. She's also raised tens of thousands of dollars to help charities such as the Make a Wish Foundation and Tour de Cure.
"Going through a journey of loss and grief helped me cross paths with people I never thought I'd meet," she says. Through the Tour de Cure fundraiser, she met Greg Hunt, Federal Minister for Health.
He was interested in fundraising at a grassroots level. Michelle's work impressed him. From that, he asked her if she would consider running in the next election to represent the Mornington Peninsula's Nepean ward.
He asked her how tough she was, if she was up for public scrutiny and taking on the Peninsula's diverse community. She told him he'd never find a tougher person and she would be honoured to take it on. She wants to help bridge the gap in the Peninsula's socioeconomic divide.
"If it hadn't been for Unica, being a part of the community, learning about people and realising the Peninsula's diversity at ground level, I wouldn't be able to be on this next path," she says.
There is a lot more to Unica than spectacular Italian food. There's love, there's spirit, there's collaboration, a lovely staff and one amazing woman behind it all.
"I'm used to miracles. I've never been left without food, shelter or love," she says. That's why it's her mission is to give back. She's certainly putting her money where her mouth is.