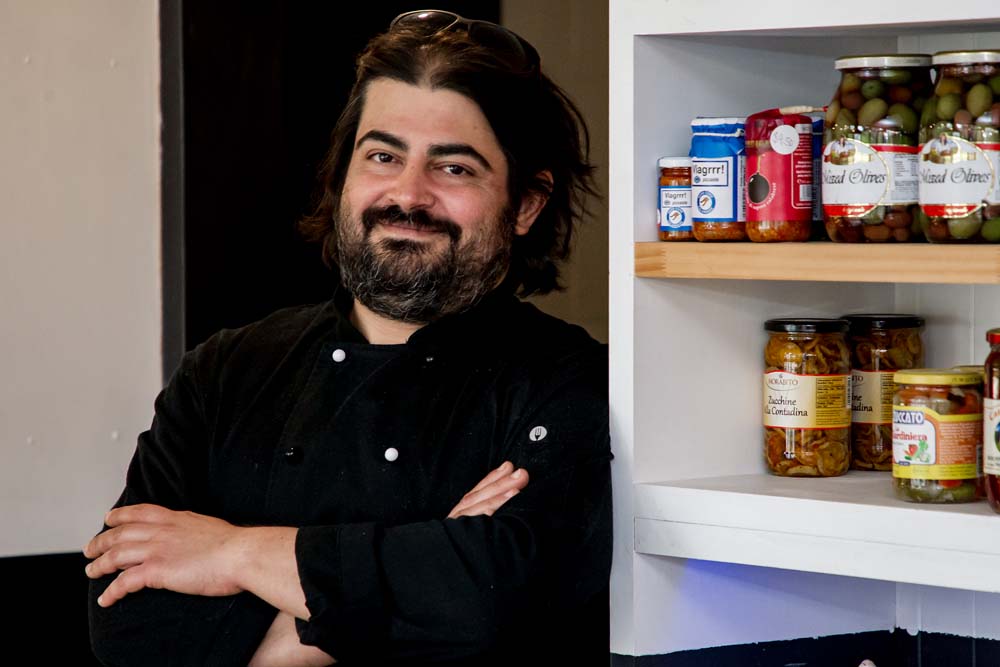 Michele Zedda, head chef at Unica Cucina e Caffé in Capel Sound comes from Cagliari on the Italian island of Sardinia. Food and dining are part of the culture. Becoming a chef would seem natural in such an environment, but his parents had other ideas. All of the men in his family, including his father, were doctors so that's what they expected Michele to become. He went to medical school, but his heart wasn't in it. His dream was to become a chef.
So he went off to Rome to study at one of Italy's most famous culinary schools, Gambero Rosso Academy where he trained with Michelin star chefs.
After completing his studies, he was sent to provincial Rimini for work experience.
He then spent five years working at two Michelin star restaurants in Lucca, Tuscany before starting his own restaurant, La Pineta Due, in Cagliari. After selling his restaurant in Cagliari, has was executive chef at La Pailotte in Cagliari.
When Michele felt he had done everything he could do in Italy, he decided to spread his wings. He wanted to learn English. He came to Australia because of its beautiful beaches and started his new life in Byron Bay. He began working as a chef at Basilico in Byron, which just happened to be owned by fellow Sardinians, making his transition a bit easier.
He later moved to Melbourne where he continued working as a chef. One of the restaurants where he worked had a sister restaurant in Sorrento so he found himself on the Mornington Peninsula. This was very lucky because it's where he met and married Michelle Loielo (now Zedda) who owns Unica.
Having come from Italy where food is very rich and robust, Michele had to change his approach to cooking. He discovered that Australians have a different palate and generally prefer milder flavouring. He also comes from a tradition of making pasta by hand and creating sauces from scratch so the idea of packet pasta and sauces that come from a jar are foreign to him. You won't find any of that at Unica!
Michele cooks using the traditional methods he learned in Italy, but he's also developed some techniques of his own. When asked about his favourite technique, he quipped,
"a pan and some fire." Originality is the key to his success.
He makes all of his own pastas, broths and sauces from scratch.
He has also brought some family recipes to the table, but altered them slightly to suit local tastes.
Being the sole chef in the kitchen, Michele dishes up hundreds of entrees, mains and desserts in any given night, yet each dish has its own individual personality. Diners can rely on the quality of his cuisine, but won't be bored ordering the same dish time and again. And the majority of Unica's patrons are regulars. They know quality when they taste it.
For Michele, cooking is a labour of love. "It's nice work because you make something special that makes the customers happy," he says. He takes great pleasure in pleasing the patrons. That's one of the reasons they keep coming back. The restaurant is consistently booked.
According the owner, one of the most impressive things about her chef, outside of the beautiful food, is his zen-like calm under pressure. The busier it gets, the more focused he becomes. There could be 85 patrons in the restaurant ordering dozens of different things, yet he never gets flustered. He gets lost in the cooking.
Looking at the expansive menu at Unica, it's even more remarkable that there is only the one chef. Patrons can choose from over twenty items on the regular menu, as well as half a dozen choices from the specials board. Specials change every day depending on the availability of local meat, seafood and produce. The Mornington Peninsula offers an abundance of quality ingredients.
What to select is the real challenge for diners, but most people come for something from the specials board. Michele's signature dish is seafood marinara, but there are other fresh seafood items on the menu. He likes these dishes because he says, "You can taste the sea from within."
Unica, in Italian, means unique. When you dine at Unica, this is the kind of food you will be served. Like all other creative professions, no two chefs create the same cuisine. At Unica, you can taste the personality in chef Michele's food and it's delicious!
UNICA CUCINA E CAFFÈ
1571 Point Nepean Rd, Capel Sound
Ph 5986 1262
www.unicacucina.com