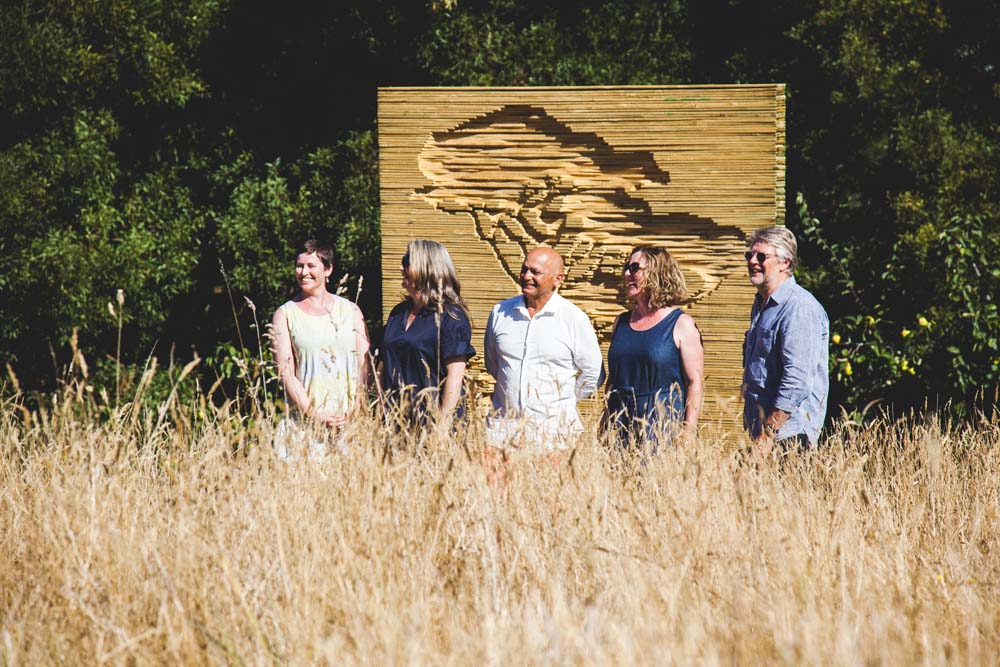 Last year's winning sculpture 'Moonah' by Kylie Stillman (pictured left).
MONTALTO SCULPTURE PRIZE 2020 FINALISTS ANNOUNCED
The finalists are confirmed, and Montalto is excited to announce an incredible roll call of Australia's finest sculptors and visual artists for Montalto Sculpture Prize 2020. As many as 24 sculptures will be installed with the winner announced at Montalto on Sunday, 23 February.
Montalto Sculpture Prize is among the most valuable private sculpture prizes in Australia: founders John and Wendy Mitchell have, once again, confirmed a prize value of $40,000 for 2020. The winning piece becomes part of the stunning Sculpture Trail at Montalto in Red Hill, on the Mornington Peninsula.
Montalto Creative Director, Neil Williams, comments, "The Montalto Sculpture Prize has grown to become one the most anticipated events in the Australian art calendar, and it is astonishing to be celebrating 18 years of Montalto Sculpture Prize in 2020! We're particularly delighted to see so many returning artists, many of them amongst the very best in their discipline."
It is especially pleasing to have artists Shawn Begley, Ralf Driessen, Philip Cooper, and Faustas Sadauskas as finalists in 2020, as they were also finalists for the inaugural Sculpture Prize in 2003. These artists are affectionately coined Montalto's "MSP Originals". Many other artists are also returning: 11 times finalist Christabel Wigley and 10 times finalist James Parrett form a unique club of what they've termed the "MSPX+" group; those artists that have been finalists more than ten times. 13 times finalist Ralf Driessen has the amazing distinction of belonging in both groups. In future celebration of Montalto Sculpture Prize and its artists, they will recognise those that have reached the elite MSPX+ group. Lastly, they also congratulate and recognise Luke Neil, Louis Pratt, Alex Seton, Benjamin Jay Shand, James Voller and Julia Sides (in collaboration with Martin George) for their sculptures to be announced as finalists for the first time in 2020.
Many pieces confirmed for 2020 are already completed. However, over the next few weeks many artists will be completing their work and people are invited to follow #montaltosculptureprize on Instagram to keep up with all of the updates from the artists.
Montalto Sculpture Prize 2020 is an Acquisitive Sculpture Prize – among the most valuable private sculpture prizes in Australia. 2020 is our 18th annual Exhibition and Prize! Our first exhibition was in 2003, with 17 finalist artists competing for an $8,000 award. From 2003 through to 2019 Montalto have exhibited 444 sculptures and awarded over $368,000 in prize money.
The permanent collection on the Montalto Sculpture Trail is now 33 sculptures and is one of the most visited attractions on the Mornington Peninsula, open daily from 11 am – 5 pm. The 2020 finalists will be on display and available for purchase from the 23rd of February through to the end of August 2020. Sculpture is an integral part of life at Montalto and a highlight of any visit to the estate. The Montalto Vineyard Sculpture Trail winds its way through the property and the beautiful natural gallery provides diverse settings for the pieces. You might find monumental works sited in open spaces through to more intimate pieces amongst the wetlands and vines.
"A visit to Montalto is an experience not to be forgotten; A moment out of the ordinary."
Photos: John Mitchel, owner of Montalto, welcoming the crowd to the 2019 Sculpture Prize event.
A full list of Montalto Sculpture Prize 2020 finalists can be viewed at montalto.com.au/sculpture-prize.
Montalto is located at 33 Shoreham Road, Red Hill South.
The grounds at Montalto are open daily between 11 am – 5 pm and they recommend allowing one hour to enjoy the sculptures throughout the property.