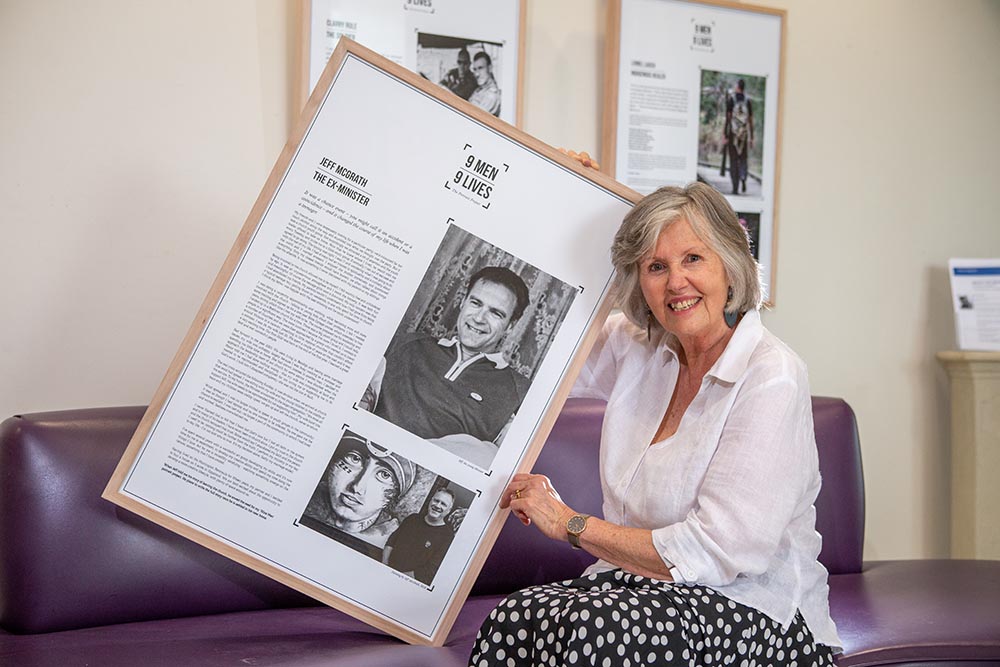 By Cameron McCullough Photos Gary Sissons
Every man has a story. But men are often a closed book.
One local author and photographer has managed to break through the barriers and present a fascinating exhibition entitled "Nine Men – Nine Lives".
Blairgowrie resident Amanda Stuart is intrigued about the story behind the person.
Having spent 15 years as a relationship counsellor, she has heard it all, and eventually realised it needed to be written down.
"In 2012 I wrote a book about the journey of my ex-clients in counselling," said Amanda.
"That led me to the journey of writing and photographing nine men for the current exhibition."
The men are from all walks of life. Indeed, their portraits and stories are titled: The photographer, The artist, The sailor, The soldier, The woodwork teacher, The athlete, The spiritual healer, The gardener and The ex-minister.
"I was drawn to writing about men," said Amanda.
"Men don't reveal everything the way women do. But once we started talking, they knew exactly what they wanted to talk about".
Sometimes their stories were their life's journey. Sometimes they concentrated on a specific formative period in their lives.
"As the stories came out, there were extraordinary coincidences among them and extraordinary parallels", said Amanda.
"And what the men decided to talk about always led to an interesting story".
One hundred year old Les, for example, talked about two-and-a-half years of his life; his experience in war. Clarry revealed how he survived as a Vietnam veteran. These experiences define both men; it was what they wanted to talk about.
There were stories of pain and loss. And stories of survival against the odds. Painful. Cathartic. Therapeutic.
"I had no idea when I started the project just how interesting their stories would be, nor how significant it would be for the men to tell their story," said Amanda.
"I can honestly say it was life-changing for many, as they had never spoken of these things before".
It wasn't just the men who benefitted from the experience. The stories took Amanda along for the ride.
"There is so much meaning in this; for the men, for the audience but also for me," said Amanda.
"It deepened my understanding of these men, but also men in general.
"It incorporated all the things I love; photography, writing, and people's lives.
"From the beginning, I believed there is purpose in this. Meaning.
I like life to have meaning!"
"Nine Men – Nine Lives" exhibition is presented as large posters containing the stories of the men, their portraits and other photos from their lives.
The exhibition will be on display in the Mornington Library Foyer Display area until 6 March.
---
The exhibition will be on display in the Mornington Library Foyer display area until 6 March.
Peninsula Essence – February 2020