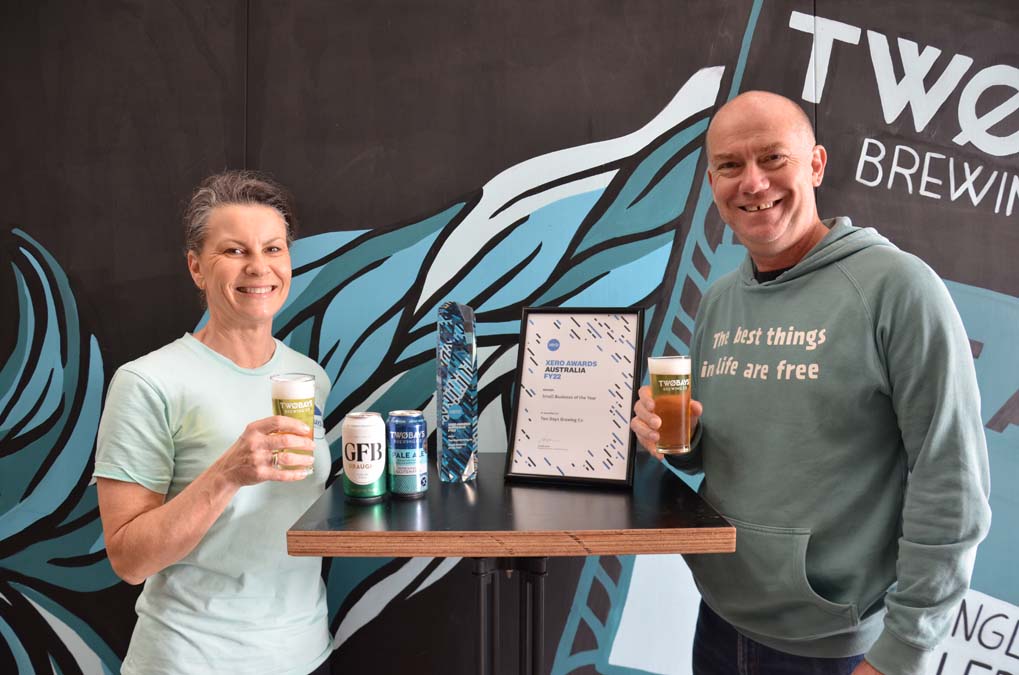 DROMANA BREWERY WINS SMALL BUSINESS OF THE YEAR
Despite eight months of Taproom closures, TWØBAYS Brewing Co has been crowned Xero Small Business of the Year for FY22, and is now the nation's largest independently owned gluten free beer brand.
The Dromana-based brewery, which opened its doors in December 2018, has proved that small business can thrive in the most challenging of conditions. With a dynamic team, innovative strategies and a unique product, Mount Martha residents Richard and Sarah Jeffares have brought a range of craft beer to a community of approximately six million Australians who have previously had to miss out – just because they avoid gluten.
"It's been a challenging period for everyone, but winning this award is testament to the fantastic team we've built at TWØBAYS – the majority of whom are Mornington Peninsula residents," said CEO and Founder Richard Jeffares.
"With more than 80% growth in FY21, our mix of revenue streams have enabled us to weather the challenges that COVID presented. We generate strong revenue from our direct- to-customer online sales across the country, and our national distribution is split well between 'off-premise' (bottle shops) and 'on-premise' (pubs and restaurants). Now we're very excited to have our Taproom again."
The Taproom, in Dromana's Industrial Estate, has nine gluten free craft beers on tap, with everything from Fruit Sours to Hazy Pale Ales and Double IPAs, as well as Lagers and award-winning core range Pale Ales. The dedicated gluten free venue serves a range of gluten free pizzas, along with local wines and cider, with indoor and outdoor seating, and live music in the summer months.
"In addition to relationships with Australia's major retail chains (such as Dan Murphy's) and independent outlets across the country, our focus is getting beer on tap in venues now that the country is opening up again," said Jeffares.
"Our beer is in lots of great peninsula venues, but we would like to see more! We know that everyone – locals and visitors – loves a cold schooner with food, family and friends, and people who have to, or choose to avoid gluten, should not have to miss out!"
In 2020, a report in the Medical Journal of Australia said that 25% of Australians (six million people) are regularly avoiding gluten. For that reason, TWØBAYS launched a second gluten free beer brand in September 2021 named GFB. The first beer in the new range is an easy- drinking full strength Aussie-style Draught beer, and complements TWØBAYS four core beers.
Earlier in 2021, TWØBAYS also ran Australia's first gluten free beer tap takeovers in pubs and hotels across the country.
These events allowed gluten free consumers to go to a local pub and safely enjoy a range of beers and food.
"That is something that everyone else takes for granted, but it is a big deal for a gluten free person – and I would know," adds Jeffares.
Jeffares was diagnosed with Coeliac Disease in 2015 which means a lifetime avoidance of gluten – and beer has plenty of that. For a couple of years, he played around with craft ciders – but it was an interesting IPA that he really missed, and he thought that there would be many other people that avoided gluten who might feel the same.
"Our vision is to have a TWØBAYS gluten free beer available for our community to enjoy – wherever and whenever they want it. This could be at their favourite pub or restaurant, or just at their local bottle shop so they can grab a pack and bring it to a friend's BBQ."
TWØBAYS may still be a relatively small business, but it still looks to give back where possible. In Autumn 2021 the brewery collaborated with Queensland band Ball Park Bloom (which has two gluten free members) to brew a limited-edition beer and raise money to help support musicians in need. The collaboration raised more than $10,000 for SupportAct.
In addition, all of the brewery's spent grain (after brewing) is collected by a local farmer who uses it to feed their livestock, and food scraps from its Taproom become chicken and goat feed.
---