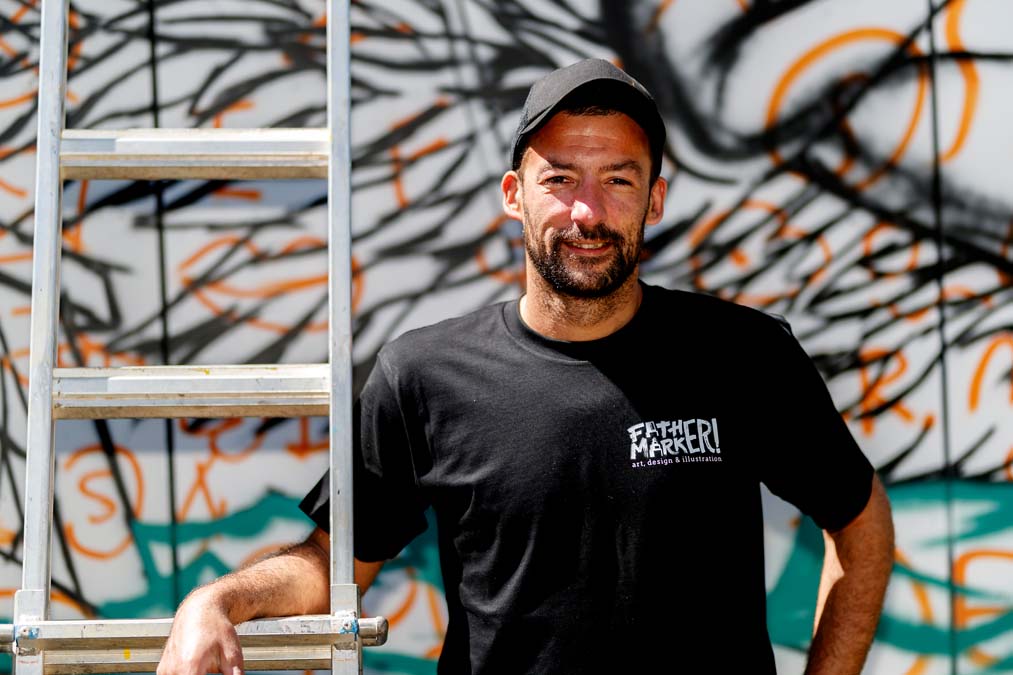 By Andrea Rowe Photos Yanni
Ever since he was a kid at Tootgarook Primary School, Tyson Savanah's fingers have itched to draw and illustrate. But it wasn't till he began designing artwork for his successful street food business that he returned to his artistic passion. Before long he was aiming his aerosols at the concrete canvasses of the Mornington Peninsula as the emerging illustrator and street artist, Father Marker.
Now 37-years-old, Tyson is leaving big impressions through large scale murals and is now a respected multidisciplinary artist, with his "weapons of choice" ink, pen, and paints. But getting to this point required the Rosebud born artist to paint outside the lines for a bit.
When his Dromana Secondary College career counsellor urged him to explore design, Tyson pursued a Bachelor of Industrial Design which he completed with Honours.
"Product packaging and industrial design was useful, and I still call on those base technical skills when collaborating with clients, but it wasn't a direction I wanted to follow," says Tyson.
Instead, Tyson took the path towards Melbourne's creative city life, cooking in venues with memorable vibes, and painting murals for restaurants and nurseries on the side.
"When went off overseas, I discovered street food culture.
My entrepreneurial spirit loved being exposed to the possibilities of combining my cooking and industrial design knowledge, and a mate and I then set up Overdosa."
Overdosa was a destination food truck, frequenting cultural events and arts precincts, Melbourne's Night Noodle market, Rainbow Festival, and Lost and Found market.
However, their signature dosa dish had competition; patrons began seeking out Tyson's eye for design, ordering a side serve of illustration, signage, and marketing imagery. His return to the Mornington Peninsula heralded a return to design, developing Boneo Maze's branding as well as unique lantern designs for outdoor events.
"I was back where I was meant to be; delivering onsite industrial design work and creative illustrations with Boneo Maze's Lantasia installations and illustrating Sandsculpting Australia events. Creating three-dimensional entities was really rewarding and that's evolved into lantern events and commissions across Australia."
Tyson and his partner Evie Wittingslow became parents to twin girls, Aska and Luna, around the time Father Marker was born.
"Evie's been a great support to me. She's made so many sacrifices to allow me to follow my dream of becoming a full-time artist. Without her support, I wouldn't have had a chance. The name Father Marker is a tribute to this point in our life as parents, and marked my start as a career artist. It's also a little tongue in cheek: say it three time and you'll know what I mean."
With murals experiencing a renaissance across the Mornington Peninsula, businesses and communities are keen to showcase creatives like Tyson. Father Marker is now leaving its mark on once unremarkable or unseen walls, as well as some unexpected outdoor spaces. Elevating the visual landscaping of the peninsula is Tyson's new focus.
"I'm certainly busy throwing colour around – and I'm loving it – as well as painting these unique places," says Tyson.
His output is vibrantly captured on the walls of cafés like Penni Ave in Rye, underfoot in the streets of Rosebud, and adorning the outside of the Food for Change storage container at the Briars. His current works, A Day on the Bay at Benton Community Centre have him scaling scaffolding for five-metre-high whimsical tribute to our coastal wildlife.
Tyson designs and hand-paints each commission by himself and he loves "experimenting with clashing colours to draw the eye." While his preferred medium is a 5mm grey lead technical pencil, he loves ink and brush markers, acrylic paints and venturing into spray paints as a new medium to complement mural work.
"I'm very Australian with my outputs; I'm inspired by what's around me and how different images are digested from different age groups. Animals are always relatable, appealing to a mass audience. And I love using humour, surrealism and an almost psychedelic approach in how they're represented."
"My process is in constant development. Each time I am giving life to something that didn't exist before. That's pretty cool."
Tyson cites street artist friends Shawn Lu (Shamus Lu) and Mahtous (El Ghosto) as inspiration, along with Melbourne based Adnate, The Everfresh Crew, Rone and Phibs.
"Murals are so important to our culture; they can brighten up small spaces, capture history, they're anti-graffiti deterrents, social media marketing backdrops and part of an evolving branding culture. And murals have been around since the Egyptians, so they've got street cred."
"My philosophy has always been to 'embrace the chaos'. I think chaos pushes you through the discomfort to find solutions and new skills. Whether it's creating art, raising twins or even surviving the pandemic."
"If I can get someone to stop and look twice at my work, I consider my creative job done. Knowing my work is immortalised is cool too. I still pinch myself that I do this for a living."
---
www.fathermarker.com
Insta: instagram.com/father.marker
FB: facebook.com/fathermarker