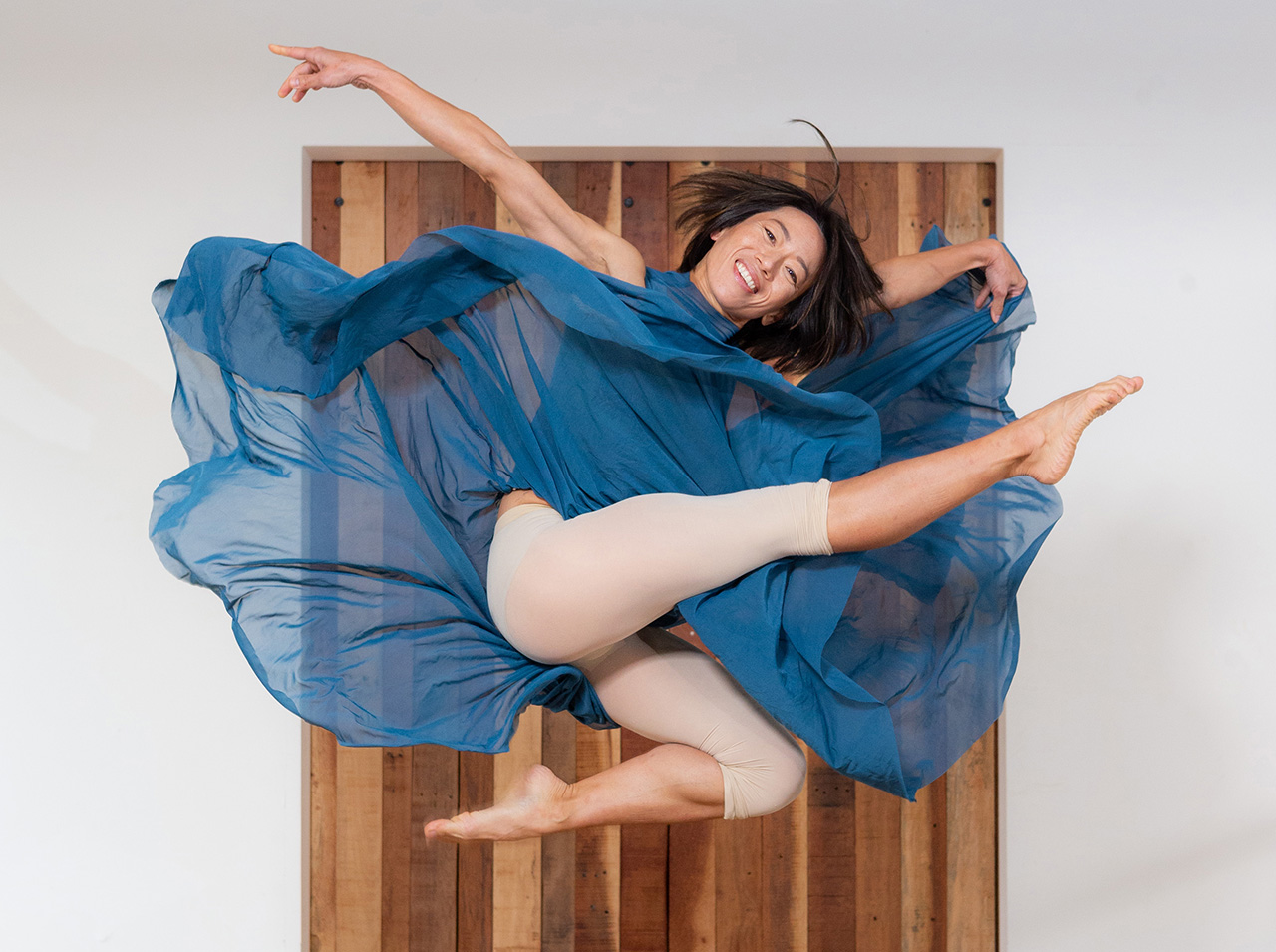 By Andrea Louise Thomas Photos Gary Sissons
Looking into the eyes of dance instructor Tomoko Inamura when she talks about contemporary dance, makes her dream visible. Her whole being lights up.
Watching her dance is witnessing joy. While she didn't become a professional dancer due to life circumstances, she is very much a contemporary dancer with her own unmistakable style. Tomoko is proud to bring her enthusiasm and joy into the classroom when she teaches dance.
Born in Mishima, Japan, a picturesque rural town with Mount Fuji over its shoulder, Tomoko's life was upended when her engineer father accepted a job in Montgomery, Alabama. The family moved to a country that was completely foreign to them. Without a word of English, Tomoko had to start school in Year One. Most days she used her hall pass to go to the bathroom and cry, but within six months she learned to communicate in English.
That same year Tomoko started gymnastics. It gave her a sense of belonging as well as strength and coordination which proved useful later for dance. Her mother was a huge fan of Fred Astaire. Mother and daughter spent many happy hours watching old movies together. Tomoko thinks this is where her passion for dance was born.
When she was in Year 7, the family moved back to Japan and Tomoko had culture shock in reverse. The school year had already started and having spent her primary years in America, she was ill-prepared for the rigours of Japanese schooling. Once again, she rose to the occasion. Gymnastics throughout high school helped with social connection and confidence. She choreographed her first dance piece in Year 8.
When Tomoko went to Sophia University in Tokyo to get a degree in Business and Economics, she pivoted from gymnastics to dance re-igniting a passion that had been percolating since childhood.
Working in the Tokyo finance sector, she met her Australian husband to be. They became engaged and registered their marriage in Japan before he was transferred to Hong Kong for a great job opportunity. Their families met later in Bali for their marriage ceremony. Back in Hong Kong, Tomoko had to operate in another foreign culture and learn another new language. Again, she met the challenge.
Due to an economic downturn, Tomoko was made redundant from her job, but as the world of high finance in Hong Kong was very male-dominated, she was happy to leave it behind. It was serendipitous because a month later, she found out she was pregnant with their first child. A second child followed, then a third. Life became very busy.
A pivotal moment came after her third child was born. Tomoko opened her own dance school in Hong Kong, teaching children jazz and contemporary dance. "Through teaching I developed my own dance style. Having the freedom to choreograph what I wanted to do was amazing," she says.
You can be free with your expressions in movement and interpret the music any way you like
When COVID hit in March 2020, Tomoko and her husband thought it would be safest to move the family back to Australia. They chose Mount Eliza and lockdowns kept them there. Tomoko continued teaching her students via Zoom. Though they expected to return to Hong Kong, they decided to stay in Mount Eliza. Culture shock number three plus lockdowns took a toll.
Lockdown six brought major depression, but escaping into movement in her home dance studio lifted Tomoko out of it. When businesses started opening up, she began teaching Zumba – a gateway into teaching dance again. "I like Zumba because it's got so many dance styles incorporated into it from merengue and salsa to hip hop and belly dance and everything in between," she says. Tomoko also choreographs her Zumba classes which has proved a lot of fun, though her greatest joy still comes from contemporary dance.
"At heart, I'm a lyrical contemporary dancer. I like conveying a message so each movement has meaning and builds on the one before it. I love contemporary because it mixes all the foundation dances. You can be free with your expressions in movement and interpret the music any way you like," she says.
Tomoko works at a number of gyms in Frankston and on the peninsula teaching Core and Mobility, Barre Pilates, Zumba and Aqua Zumba – all with a dancer's flair. She has a real knack for showing people how to move correctly, safely and, of course, with style and grace. Tomoko's students love her and are not shy about expressing their gratitude for the joy she brings through dance.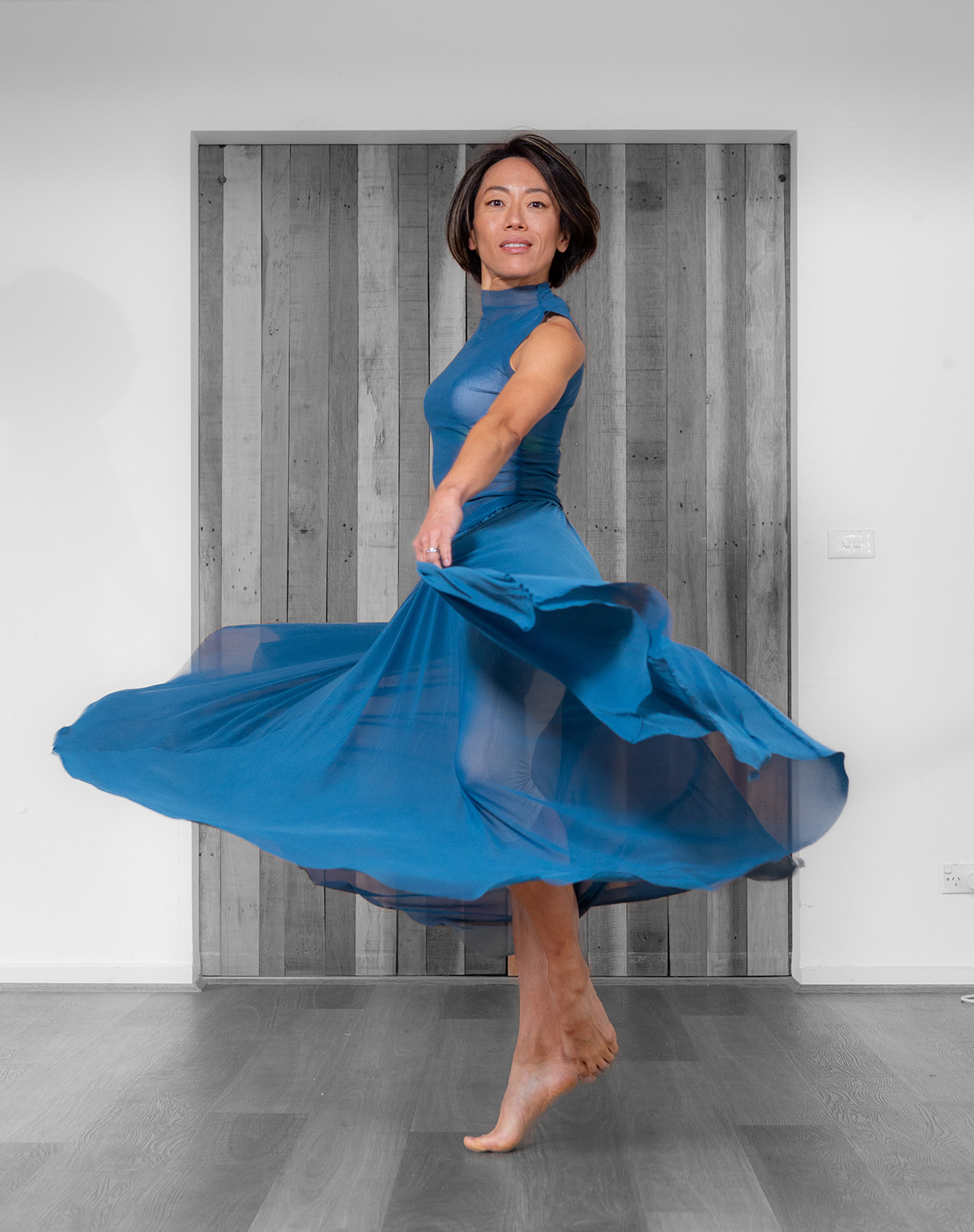 ---
dancingsoultomoko.com
@dancingsoultomoko