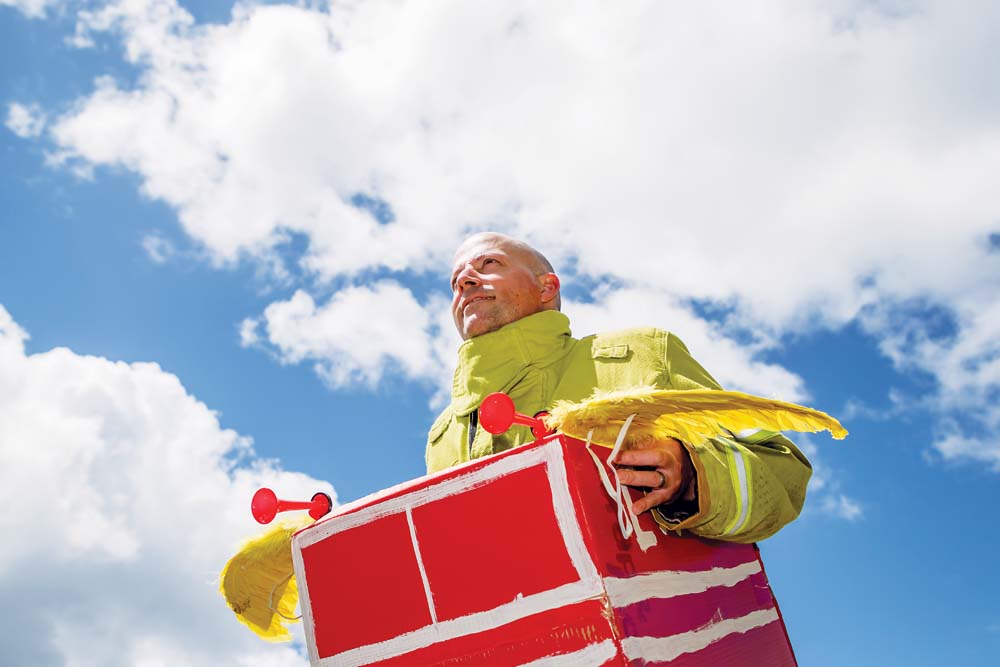 By Melissa Walsh  Photos Yanni
James Whelan is a fireman who has discovered a passion for raising money for good causes. Since he discovered how great it is to raise funds to help the community and charities that are close to his heart, there has been no stopping him.
The CFA firefighter started off doing the 'CFA Somers – Melbourne Firefighter Stair Climb' a few years ago and has now moved on to another great cause with a bit more quirkiness as he prepares to participate in the Moomba Birdman Rally.
"This is the first birdman rally I have ever done," said the firefighter from his home in Somers. "I'm jumping and hopefully flying for two reasons. One is to raise awareness about volunteering for the CFA and secondly to raise much needed funds for Lifeline. The CFA is a great organisation supporting Victorians through tens of thousands of volunteer firefighters and support crews. Many semi-rural and rural areas need more volunteers to take on various roles and give back to the community."
James created his flying contraption out of a cardboard box which was painted by his children.
"The kids helped me make the flying machine with some yellow wings and then painted a fire engine on it," said James, who has been involved with the Somers CFA for the last five years.
"I have met some great people while supporting my community and in return had some great experiences and I encourage everyone living near a CFA to pop in and start by saying hello and finding out about your local brigade," said James. "We are actually in need of volunteers."
For James, being able to be involved in the Birdman Rally is a chance to raise funds for Lifeline in a fun way.
"I know the rally is a bit of fun but it is also great to be raising funds for Lifeline which is also a volunteer organisation that provides a 24 hour phone service for suicide prevention and crisis support that sadly impacts many households," he said.
After watching the Birdman Rally for many years on the television, it is James' own involvement that uncovered a family history for the Moomba activity.
"I actually found out that my dad had been involved in it with a corporate team in the 80's," said James whose family will all be on the banks of the Yarra when he does his jump.
"I know jumping into the Yarra is a bit of a worry but apparently they spray Listerine into your mouth the moment you get out," he said with a laugh.
---
To donate to the cause go to birdmanrally.gofundraise.com.au/page/JamesWhelan1 or visit www.cfa.vic.gov.au/volunteer-careers/volunteers