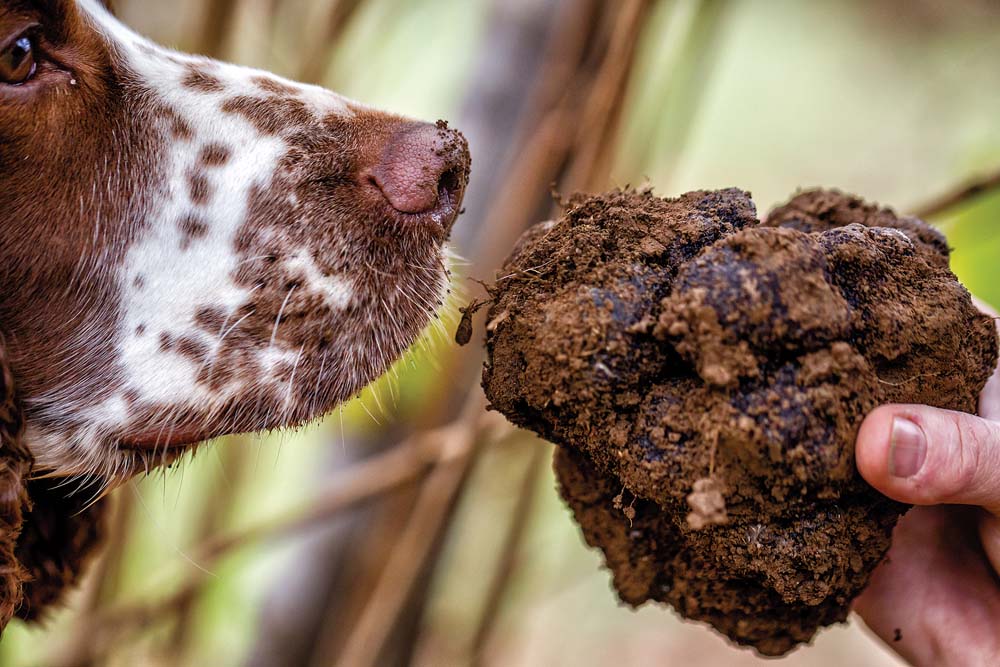 By Melissa Walsh    Photos Yanni
They're ugly, they're lumpy and intoxicating, and the most profitable legal crop you can grow. If you've ever watched a MasterChef episode you'll know that I'm talking about truffles, that elusive element used with just a pinch, often finely shaved onto a dish, and served in the most exclusive restaurants.
When the cold winter mist sets over Red Hill, that's when truffle hunters gather around to unearth the elusive truffle, the black gold of the hills. Thanks to truffle farmer, Jenny McAuley and her canine companion, Thomas, guests can experience first-hand a truffle hunt through the oak and hazelnut trees on her private truffiere that she established in 2005.
"I have always loved mushrooms and loved mushroom hunting. I first heard about the mysterious fungus that grows underground and is wonderful to eat, when I was travelling in Italy in 2002. On returning to Australia I did some research and found out that truffle was being commercially grown in Tasmania. I visited a truffle farm in Tasmania and thought the conditions and soil were similar to my property at Red Hill. I knew a wide variety of fungus grew naturally on my property, so I decided to buy some trees and see if I could produce truffle," says Jenny, who initially bought 320 trees, a mixture of oaks and hazelnuts. "It is very difficult to grow truffle. The soil requires careful qualities and has to be prepared to create the specific conditions in order for truffle to grow. My first trees were planted in March 2005, and I had to wait five years before I found a truffle. In the first year I found only one, but I was very excited; as I had proved that truffle could be grown in Red Hill."
The following year, Jenny found three truffles and since then the production level has increased every year, from her property "Glenbower" which has been in the family since 1886, and was her great grandparent's original farm.
"It is beautiful land and I decided to do something different with it. Truffles are such an exciting venture.  I still feel very excited every time I find one," she says with a laugh.
"Last year the original truffiere yielded four to five kilos of truffle, but will reach capacity within the next two years."
Although Jenny knew it was a risky venture, with the low statistics of successful truffle growing, she recognised that the soil and environment conditions at her family property were ideal.
"I could see that there was plenty of grapes and wine in the area, and I knew fungus grew well on the property so thought maybe I could trial growing a commercial fungus, and it has been a great success," says Jenny, who went into the venture knowing full well that only 10 per cent of truffiers produce truffle. "We now have around 1700 trees on the property."
Truffle dog Thomas is a celebrity in his own right on the truffle hunts, a far cry from the dog pound he was found in several years ago.
"At two years of age, he was found in a dog pound in Hobart. Simon French, an experienced dog handler and trainer, bought him and trained him to find truffle, which took only 10 months," says Jenny, who accidentally found Thomas on a visit to Simon's truffle farm in Tasmania. "I really liked Thomas and we quickly bonded so Simon trained me to handle him and within five days I was bringing him back home."
Growing truffle for commercial purposes started in Australia about 20 years ago, firstly in Tasmania and then a group of farmers in Western Australia decided to have a go at it, planting predominantly hazelnuts. Western Australia now produces the largest quantity of truffle in Australia.
"You can grow truffles for simple personal pleasure or for profit and plantations might contain a few trees or thousands, but truffle growing is not a 'get rich quick' project and should be viewed as a long term investment," says Jenny, whose combination of patience and passion has paid off.
"The truffle hunt takes about an hour and a half on the property. I explain about truffle growing and conditions and then we walk down to the truffiere, where the group stands a bit behind me and watches me work the dog, observing Thomas hunting for truffle. When he finds one I uncover it and smell it to see if it's ripe," says Jenny, who has had to attend courses to understand the aroma of a ripe truffle.
"A ripe truffle has a very strong, earthy smell that you learn to distinguish, but there's nothing like good, fresh truffle in cooking. In season we use it in pasta, risotto, eggs and it's great combined with vodka too," she says.
"This season we are holding 26 special truffle events at the Red Hill Truffle Farm. There will be eight truffle hunts and tastings. Participants will learn about the history of truffle, how it is grown, how the farm operates and finally taste truffle in a selection of delicious food prepared by an experienced local truffle chef. This season we offer four special events with Michelin star truffle chef from Paris, Romu Oudeyer."