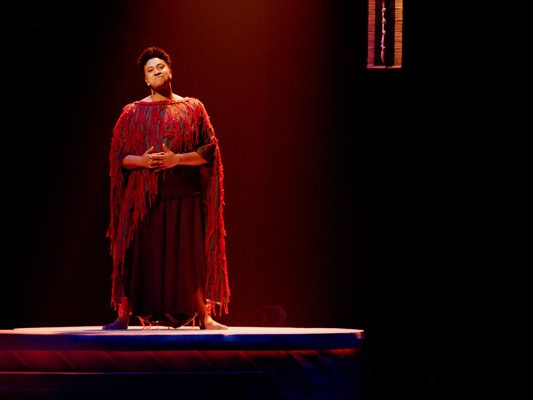 Hailed for its original music, striking blend of different art forms and authentic storytelling, RECKŌNING – The Sounds of Woven Souls is not to be missed.
A cross cultural, multi art-form performance work which fuses Indigenous cultures from Aotearoa, New Zealand and Te Whēnua Moemoeā (Land of the Dreamtime) Australia, RECKŌNING features the talents of artists Samuel Gaskin, Candice Lorrae, Kristel Kickett, Piri Neho, Paula Barbee and Mahana Maihi-Taniora.
The performers combine personal stories of their ancestors with original song writing, which explores the power of connecting to their indigenous bloodlines.
Co-creator and performer, Samuel Gaskin, says: "RECKŌNING has always been about showcasing the magic and power we as Indigenous people hold in our blood lines.
"My ultimate goal throughout the whole creative process was to showcase the beauty, power and wairua (Spirit) of every single performer on that stage. The collective power we all share as humans, creators and warriors.
"First and foremost, the anchor is always love. A love for ourselves, a love for our culture and a love for the strength and tenacity our people have always held."
Samuel adds: "What got me really interested in sound healing was attending various sound healing sessions in different places like Bali and places around Melbourne.
"I'm so naturally drawn to sound. I've always loved music and dancing and the sounds that are born from nature. Being introduced to the power of sound healing was magic."
The movement in RECKŌNING is a fusion of both cultural and contemporary with Samuel noting it was important to him that the two were blended effortlessly.
"I have a commercial dance background but relied heavily on my amazing Kapa Haka performers for advice and guidance on anything I was unsure of culturally when blending the two together.
"A point to clarify is that these beautiful people are not just 'dancers' doing movements. They are Whānau and Mob from many different tribes. I feel like we were able to easily represent what makes each of us unique.
This is purely because the wairua we each hold is so strong it shines through.
"Anybody connected to their own ancestry, whatever that may be, will be able to feel it. This is unbelievably important because the children are always our future and the ones who will change the world.
"I have four generations represented; my mother who is in the opening shot – then both our beautiful children Maxwel and Raelah, who you will see rocking it with me.
"The most poignant representation is the projection of my Great-Great-Great Grandfather, Hitiri Te Paerata, who was one of the only Māori who survived the battle or Orākau with his sister Ahumai, where almost my whole tribe was wiped out by the colonisers. I am able to be who I am and do what I do because of all those who have come before me," Samuel says.
Samuel says RECKŌNING began as an exploration into what may happen if we merged Indigenous language and culture from Australia and New Zealand with sound healing and a pop music producer – quickly turning into something much more powerful.
Winner of four Melbourne Fringe Awards, RECKŌNING is a one hour show tackling the modern-day effects of racism and intergenerational trauma.
Employing strong visuals projected on screen, emotionally charged song, deeply personal story telling and genuine raw emotions of anger, grief, sadness and joy, RECKŌNING leads its audience through a process of truth-telling and truth accepting that subtly triggers states of empathy and understanding, while the music uplifts the audience.
Aboriginal and Torres Strait Islander audiences are advised that the show may contain images, voices and videos of deceased Indigenous persons.
RECKŌNING will be performed at Frankston Arts Centre on Sunday, 8 May at 7.30pm. For more information, please visit thefac.com.au
The performance is part of Frankston City's South Side Festival, which will be held from held from 6 – 15 May. The Festival features a wide array of contemporary multi arts ranging from theatre, live music, visual arts exhibitions, immersive experiences, installations, workshops, markets and everything in between.
South Side Festival tickets are now on sale. Please visit the website for more information on all events including the full South Side Festival program.