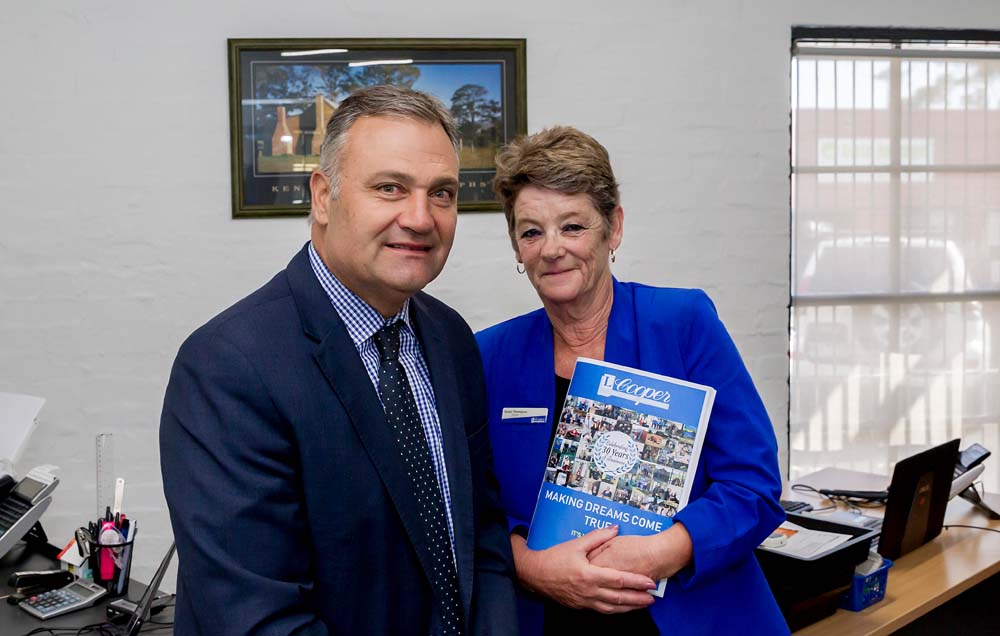 By Melissa Walsh  Photos Yanni
Celebrating three decades in the real estate industry is certainly a milestone, but for L.Cooper Directors, Phil Stone and Jacqui Thompson, the truth is that they have loved every minute.
More than 60 years' experience between the two means these agents have seen a fair amount of change in the area and proudly attest to having been an integral part of that.
"Our company is an independent agency which prides itself on its ability to keep its finger on the pulse of local trends while maintaining a heightened, professional approach with honesty and integrity front of mind," said Phil and Jacqui who, along with Lynne Cooper, opened the business all those years ago with the sole intention of offering personal and professional service the way they chose to.
"We have always remained the same friendly and down-to-earth agency and it is something we are proud of," said Phil of the real estate office that began after the pair met while working for Crowders in Somerville. "We decided to go out on our own, to have the opportunity to run our own business, and treat people the way we like to be treated. It has just been Jacqui and I running it for many years now and we make a great team. Jacqui does the rentals and we have a significant rent roll and I do sales."
Back in the '80's you were not allowed to start a business in the area where you previously worked so L.Cooper first opened an office in Tyabb.
"At first you had to be a certain amount of kilometres away from the business you had worked for, so we started in another town for 18 months until a shop became vacant in Somerville," said Phil. "That was when we opened in Somerville, near Richie's, on the corner in late 1990."
Starting the business in a recession was difficult for the young directors but they stuck it out and said it taught them a lot about resilience.
"Initially when we opened the office in Tyabb we had come out of a big boom and started our business in a recession, which was fairly difficult for us and our families," said Phil. "It was when Paul Keating said: 'This is the recession we need to have'. You quickly learnt that, in real estate, you have to roll with the times; enjoy the good and be resilient when times are tough. Since then, we have seen lots of ebbs and flow with some incredible times and lows again. It is all cyclic and dependent on interest rates to a large extent."
Phil says the market is heading into a rough time with the Royal Commission into banking and house prices dropping by five to ten per cent.
"We have just come out of a great time but are now starting to see another cycle with banks changing their criteria and price reductions on homes," said Phil and Jacqui, who have seen generations buy and sell through L.Cooper.
"It is great to look back and be part of a community for so many years, and see the way you have helped form an area," said Jacqui, who is in charge of an extensive rent roll. "We are so proud to be part of an independent agency and help guide the growth of the area that we all live in and love."
L.Cooper has been responsible for several residential, industrial and commercial projects over the years, has helped thousands of families find homes, and is proud to be Somerville's longest established agency.
"In thirty years we have seen a massive change in Somerville. When we started there were no supermarkets on the other side of the train tracks and very few housing estates and commercial areas. Now we have a thriving community and feel, in some small way, we helped to shape the township," said Phil and Jacqui, who moved to a larger office on Frankston Flinders Road about 20 years ago. "We have expanded to a larger office but always stayed with the same friendly, professional service, which we began with all those years ago."
---
L.Cooper Real Estate
1067 Frankston – Flinders Rd, Somerville.
Phone 5977 7766