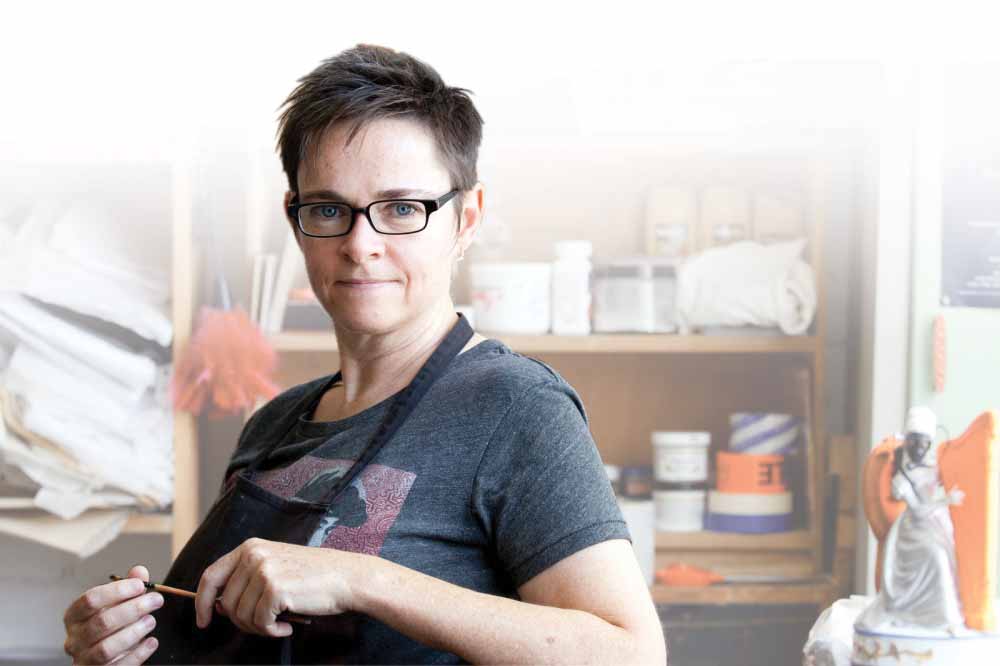 The Mornington Peninsula Regional Gallery is constantly mixing it up with a diverse range of exhibitions and artists, and the upcoming "Craftivism. Dissident objects and subversive forms" is sure to impress.
The exhibition presents the work of 18 contemporary Australian artists who utilise craft-based materials with a political intent. Broadening our understanding of craft-making traditions, the artists in this exhibition subvert and extend these forms into the realm of activism and social change, reflecting on the world in which we live.
Penny Byrne is one of the artists presenting her work in Craftivism, an exhibition that is a perfect fit for her work and philosophy.
"The exhibition uses a craft-based practice to make art work that has a political statement," said Ms Byrne, a visual artist who works in ceramic, glass, bronze and found materials to make artwork that is political while being humorous and engaging. "Craftivism is craft and activism and my work fits perfectly into that. Using craft based practice to make art work that has a political statement and something to say. The work in this show is called Europa Europa and I made it for my show in Berlin last year which was basically an installation in the gallery of hundreds of figurines wearing orange life jackets in cups, bowls and gravy boats trying to get to Europe any way they could."
While the motivation was to draw attention to the migrant crisis in Europe, Penny explains that it also resonates in Australia.
"Even though we have supposedly stopped the boats, we know there are still people trying to get to Australia, and the figurines represent that," said Penny, who is trying to get people to think about these issues. "Through my work being overtly political, my aim is for people to know about the issue. I have my own views but I am not preachy about it."
In Penny's work she used a large number of figurines which she sourced from op shops, eBay and social media callouts.
"I decided to use social media and called it the 'great blue and white figurine hunt of 2017' because I needed as many figurines as I could get for this Berlin show. I wanted them to be blue and white because it taps into the traditional European blue and white porcelain tradition, and I imagined all these people dressed in their blue and white outfits with their orange life jackets trying to get to this utopian Europe. I just wanted them really crowded in as if they were overloading this vessel and I made the jackets out of epoxy putty so that they are small and ineffectual as that is what migrants are often given."
Being made in Australia, then travelling to Berlin and back to a national Australian tour, Penny is thrilled the work is well travelled.
"These figurines that have been donated, found in op shops and discarded get a new life in my art, the same way people are seeking a new life in Europe," said Penny, who would like people to think about the ongoing crisis. "Ultimately, how we treat migrants, refugees, and asylum seekers is about our humanity."
"Craftivism. Dissident objects and subversive forms" includes work from Catherine Bell, Karen Black, Erub Arts, Debris Facility, Starlie Geikie, Michelle Hamer, Kate Just, Deborah Kelly, Ramesh Mario Nithiyendran, Raquel Ormella, Kate Rohde, Slow Art Collective, Tai Snaith, Hiromi Tango, James Tylor, Jemima Wyman and Paul Yore.
---
The Mornington Peninsula Regional Gallery,
Civic Reserve, Dunns Road, Mornington
Phone 5950 1580