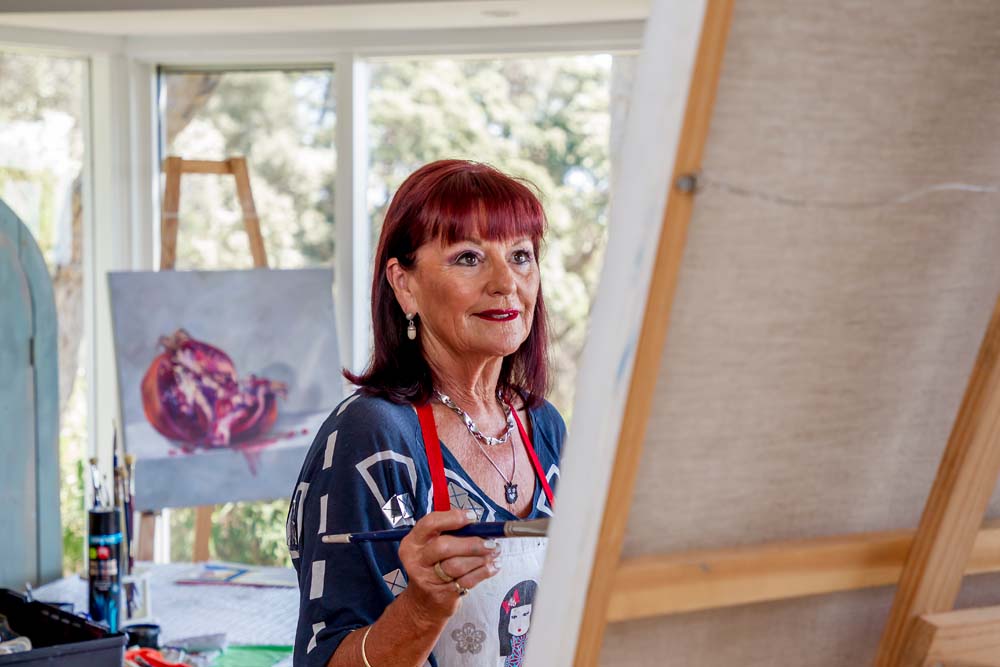 By Melissa Walsh  Photos Yanni
Combining a background in interior design and a love of art, local lady Claire Spring has found a niche in the creative world that is ideal for the Mornington Peninsula.
For the 70 year old artist, life has been a wonderful adventure, with an exciting career in fashion and advertising, running her own business in interior design and then discovering the joy of painting and drawing.
"I had my own business for many years in the city with a background in fashion and design, and I have always loved all things creative," said Claire who moved down to the peninsula in 2000. "My business was in Melbourne, but after I married we moved down to the peninsula for a quieter lifestyle as my husband at the time wanted to do more fishing."
For Claire, who has always managed to follow her creative path, working in her artistic endeavours could be done anywhere, and soon she was studying painting and design.
"I have always had a creative side and found that my experience with décor and interior design led to different artistic pursuits. For many clients I have painted massive indoor and outdoor murals for them in their home. I also do furniture and create a look that the client is going for," said Claire, who shares her time between her studio in Rye and one in the city.
Claire says she has always been creative and remembers, as a child, drawing all the time.
"I would sit in the classroom drawing horses when I should have been doing maths," said Claire, explaining her art style as "loose realism". "My passion is colour with lots of flowers and seascapes. I have also had a lot of commissions doing kuta boats."
Claire's larger-than-life paintings are a result of sixteen years of doing murals and it is something she has become well known for.
"My largest painting commission was three metres by two metres, which I did for a local lady," said Claire who considers herself a hobby artist.
"I love doing commissions and love a challenge. A lot of artists get very nervous when asked to do a commission but I love it. I am quite collectible on the peninsula," said Claire, who uses her interior design skills with artistic influence to create her unique decorative art.
Claire has exhibited in a number of galleries and exhibitions across the peninsula since starting out painting on paper in watercolours and gouache and eventually focusing on oils on both linen and canvas.
"I have a passion for colour and a loose graphic quality that stretches across a number of subjects but my main interest is in dramatic displays of massive flora and fruits, amazing water reflections, seascapes, boats, still life and portraiture including pets," said the artist who has exhibited at Delgany, Manyung Gallery, Portsea and Eden Gardens. "I also run classes and workshops from my hone studio in Rye."