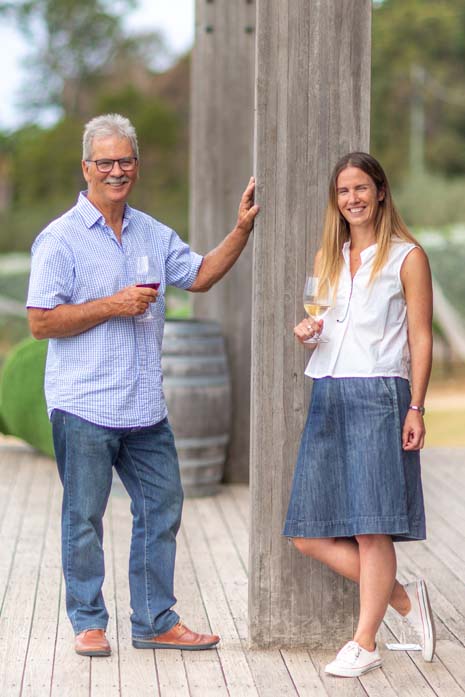 By Melissa Walsh Photos Garry Sissons
With rolling hills dotted with vines and olive trees, and views that span across the countryside, the Mitchell family have certainly created the lifestyle that epitomises their love of food, wine, art and the natural landscape. And, at their winery and olive grove, Montalto, they generously share these loves with anyone who comes to visit. The vineyard was originally planted in 1986, however John and Wendy purchased the property – with the planted vineyard already in place – in 1997. For John and Wendy, and their daughter Heidi, the passion for the winery is as strong as the day they started.
"It all came about from our holidays in the south of France each year. We would go to the supermarket and buy a bottle of rose with friends and drive towards Italy where we would see the hills with vines heading down to the ocean," said John, owner of Montalto. "Every year with the family we would see these vineyards and just loved it. Not because we were big foodies or even wine connoisseurs but we loved the lifestyle."
At the time, John, Wendy and the kids had a beach house at Balnarring beach and John decided when they return home he would plant 50 vines at the front of the house.
"Within two years, I did a short viticulture course while I was still working in the corporate world, we bought this land and planted some vines with the view of having a little hobby vineyard. All I needed was a tractor and some secateurs," he said with a laugh.
It was daughter Heidi, who suggested they make the winery into something more.
For Heidi, who had worked as a lawyer, the idea of a winery appealed as did the idea of moving back to the peninsula.
"My husband and I decided it would be a nicer, quieter life here and I had a chat to dad about doing more in the business," said Heidi, who has worked there on and off while having her children, starting up full time again this year.
For John, it was a no brainer. "If your child comes to you and wants to work with you, you don't say no," he said.
For the family, it then became like six degrees of separation, choosing architects, staff and producing the wine, until eventually they opened the restaurant and cellar door.
"We know what we like with our wine, food, natural landscape, and the art. It all comes together as a package which we love and have the desire to let other people experience as well," said John.
"Our philosophy always been to have a destination that we love with the highest standard of food and wine, but it is the experience people have that we love the most and their connection with the property," said John and Heidi.
For John, the most memorable moments have been the simplest ones.
"The times when it has been a really busy day and we have enjoyed welcoming lots of people through the property, either in the piazza or the restaurant, or just wine tasting at the cellar door. Then when everybody leaves, there is that moment when you look around and know you have created a really good day for people. It's quiet and it feels great," he said.
"I am also really proud of the wine results. Initially we had the wine made under our guidance and set up the winery fully in 2010. In this year alone, we have had 16 trophies and 30 gold medals throughout the country. We have had awards internationally in Canada and Asia, and I am thrilled to have presented the best possible fruit for our winemakers and just let them do their job."
The vineyard is planted to pinot noir, chardonnay, pinot gris, riesling, shiraz, tempranillo and sauvignon blanc with head winemaker, Simon Black, who has been honing his craft as winemaker at Montalto Vineyard and Olive Grove since 2009.
"Simon has been with us for 10 years now and continues to produce the most outstanding wines," said John and Heidi. "We have had a lot of great people going through the journey with us and are very careful choosing staff as it is imperative they fit with our philosophy.
Like all successful families, the Montalto clan have never been afraid of hard work. Heidi opened the cellar door in 2002 and learnt as she went along. They began the Restaurant that same year and since then it has been awarded 15 Good Food Chef's Hats.
"We are so proud of our kitchen and our fine dining but also that we genuinely offer a warm and relaxing dining experience with seasonal local and estate-grown produce and a great menu by our head chef."
Then there's the newest acquisition, Tucks, which the team behind Montalto purchased in 2017.
"We like to think of Tucks as the younger, more fun sibling of Montalto," said Heidi. "We could see that there was a market that wasn't being catered to for our young professional people down on the peninsula. Tucks offers them a new and vibrant place to learn about wine and food in a very relaxed and youthful environment."
Along with a love of wine and food there is, of course, art and John and Wendy are proud to have started the first sculpture show to the area.
"Wendy loves her art as do I and I just happened to be at an art gallery in the city when I saw these sculptures that looked like our building, so I bought them," said John of the interlocking sculptures that sat on the front lawn for many years. "By 2003 artists wanted to display their sculptures through the grounds so we started the national sculpture show which is running annually to this day."
Whether it's the beautiful gardens surrounding the piazza, the 30 permanent sculptures dotted across the vineyard, the fine dining of the restaurant, or casual relaxed vibe of the piazza, Montalto is certainly a reflection of a family who loves life.
---
Montalto is at 33 Shoreham Road, Red Hill South.
Phone 5989 8412